Have you ever waited to eat those sliced leftover apples in your lunchbox/ refrigerator and only been disappointed to find them all brown and tasteless? Worry no more! There are useful and easy tips to follow that can help keep your fruits, such as apples, pears and even vegetables like potatoes, crisp and fresh for longer periods of time.
Ever Wondered Why Fruits like Apples Turn Brown?
Even though consuming brown apples isn't a risk to health, who likes to eat unappetizing and tasteless fruits? Ever wondered why browning occurs? There is a whole science behind it.
Browning occurs because the enzyme called polyphenol oxidase, found in apples and other fruits and vegetables meets oxygen and causes a chemical reaction. This process of oxidation leads to browning- color alteration and lessened flavor.
If you are cutting apples in the morning to be consumed as a pre-lunch snack at work, or just find it easier to slice them in advance and store for consumption later, always store them in resealable bags or airtight containers.
Here are 5 easy methods to prevent those sliced apples from turning brown and flavorless.
These methods will help prevent the color and taste atleast for a while.
1. Dip the Apple Slices in Lemon Juice or Lime Water
Giving the apple slices a spritz of lime or lemon juice or soaking them in a bowl of water mixed with lemon juice can help prevent browning and keep the apples fresh for longer periods.
Fill cold water in a bowl and add juice of half a lemon.
Slice a washed apple
Dip the apple slices into the mixture & store
This is the oldest and most common method of keeping apples fresh and tasty for long. The reason is that the high acidity of lemon deactivates the polyphenol oxidase enzyme and slows the browning- this is done before the enzyme can react with oxygen and cause browning.
So, anything with high acidity or low pH such as citric acid found in oranges, ascorbic acid, sulfites, even vinegar, can help apples stay crunchy, crispy and tasty.
2. Dunk Apple Slices in Honey Water for 30 seconds
Dunking the apple slices in honey water can help prevent browning. The peptide compound found in honey helps deactivate the browning enzyme.
Dissolve 2 tablespoons of honey in 1 cup water
Slice a washed apple
Dunk the slices in the honey water mixture for 30 seconds or a few minutes
Remove and rinse to be stored and consumed later
The video below shows how dipping the slices for 30 seconds helps prevent browning for 8 hours while a good soak left the apples white for one whole day.
3. Soak in Saltwater
Salt- nature's oldest preservative- also known as sodium chloride, prevents oxygen from reacting with the slices. Add ½ a teaspoon of salt in one cup of water, soak the apple slices for about 3 to 5 minutes and and witness the wonder!
Don't forget to drain, rinse and dry the apples to preserve the taste.
4. Dust the Slices with Ascorbic or Citric Acid Powder
Sprinkling sliced apples with citric or ascorbic acid powder, also known as Vitamin C keeps browning at bay. This is the reason why store- bought packaged apple slices are so fresh and crispy.
Just remember to consume these within 8 hours.
5. Dip and Submerge Slices in Water or Any other Liquid
Looking for a quick fix to browning? Soak the apple slices in a bowl of cold water and cover the top with a paper towel. Leave it like that for 10 to 15 minutes. Once wet, the apple slices will submerge. Remove, dry and enjoy, or store for later.
You can even use soda water!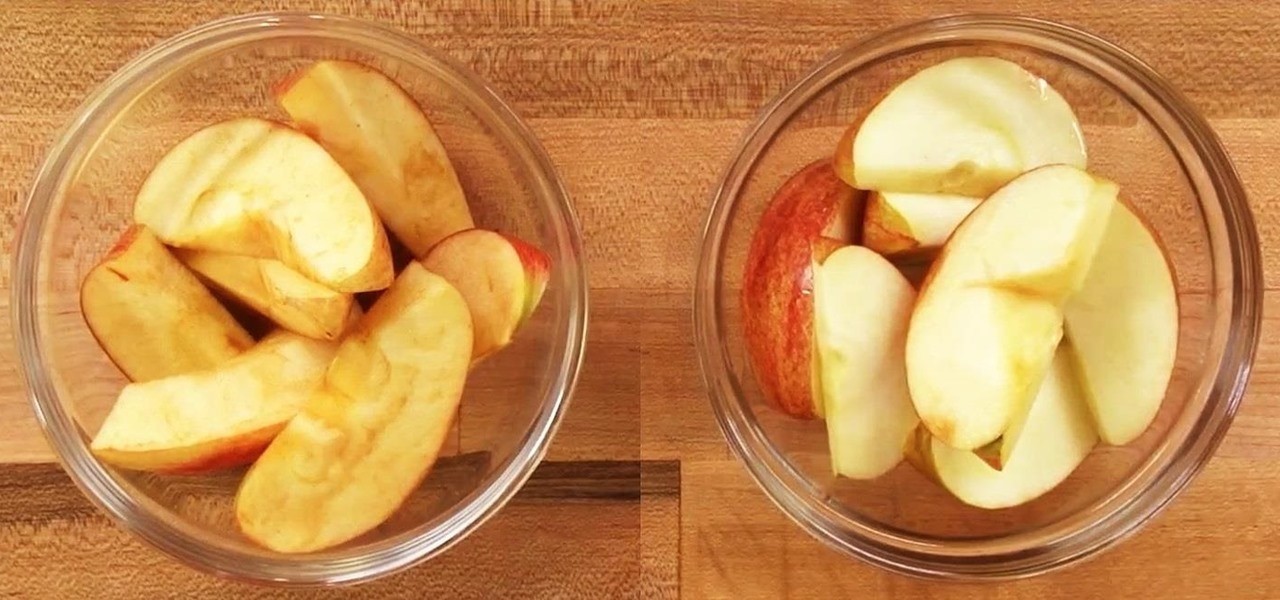 So, the key is to prevent air/oxygen from reaching the apples too soon after being cut. You can always cover the bowl of cut slices with plastic wrap to prevent air from going in if you don't have the time to follow any of the above explained methods. See how long that lasts.
Was this article useful? Share your thoughts in the comment section below.
Stay tuned for interesting tips and updates!