This potato cutlet recipe is a childhood favorite. A carb loaded delight that's a popular appetizer, side and snack in Pakistan. If I could I would eat it every day but alas my genealogy doesn't allow me to eat too many carbs! I use the month of Ramadan as an excuse to indulge in all my favorite fried and greasy treats and then call it a year! well…for the most part!
The History
The potato first came to the subcontinent in the late 18th Century and the South Asians immediately took to the delightful vegetable, pairing it with tangy spices like mustard and cumin seeds. By the late 19th Century potatoes had taken over the region and were showcased in many recipe creations. One of the most popular ones was a vegetarian version of the traditional meat cutlet.
My Story
My favorite cutlets of all time are my grandmother's meat filled ones. Spicy cooked ground beef is surrounded by mashed potatoes in an oval shape, breaded and fried. Much as I love them, they are time consuming to make so I usually stick to these vegetarian ones instead. I often pair them with my tawa fry beef keema, finding that a lot easier than stuffing each individual one with the ground beef.
These cutlets are a great way to use up any leftover mashed potatoes. I often end up having some leftover potato mixture when I make my easy potato samosas and use it to make these cutlets. Similarly, if you have plain leftover mashed potatoes in your fridge just add some spices to them, shape them into patties, bread and fry! No one will even guess they're eating leftovers.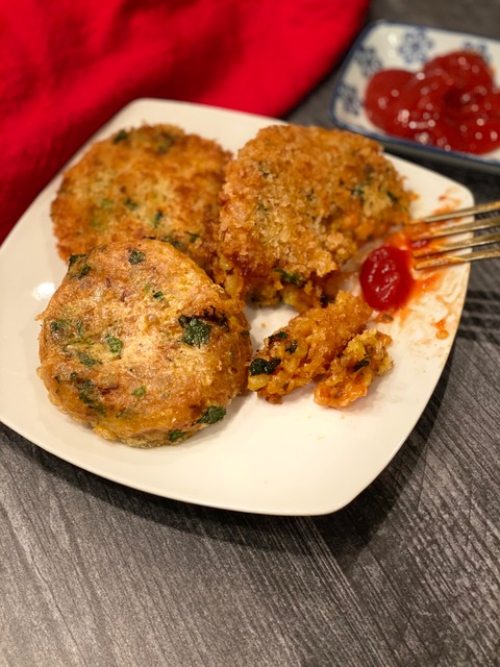 The Recipe
The recipe for the cutlets is fairly easy but here are a few pointers to help you along the way:
When boiling the potatoes, it's best to cook them al dente, slightly on the firm side. This helps the pancakes from cracking when frying them.
Mash the potatoes by hand and don't over work them, leaving them slightly lumpy.
When frying the cutlets, use a cooling rack versus a paper towel to drain the excess oil. This helps keep them crisper.
If you're frying a large batch then keep your oven on a low setting. Place the fried cutlets in it, uncovered to keep them warm while you finish up the frying.
INGREDIENTS
4 red potatoes
2 tsp salt
2 tsp red chili powder
2 tsp white cumin seeds
2 serrano chilies
½ cup cilantro
1 cup flour
2 eggs
2 cups panko bread crumbs
½ cup cooking oil
INSTRUCTIONS
Boil, peel and mash the potatoes
Add the salt, red chili powder and cumin seeds and mix evenly into the mashed potatoes
Finely dice the serrano chilies and cilantro and mix into the potatoes
Shape the seasoned mashed potatoes into small round discs, about 2.5 inches in diameter and ½ inch in thickness.
Lay out a breading station with the flour, beaten eggs and panko bread crumbs
Coat the pancakes in the flour, then dip in the egg and then coat in the bread crumbs
Heat the oil in the frying pan
Shallow fry the cutlets till they're brown and crispy on both sides
Serve with ketchup
For more recipes, visit untoldrecipesbynosheen.com