Muslims across the world will be celebrating Eid ul Adha in the coming week amid the pandemic. This is the second time we will be observing Eid ul Adha during the lockdown.
Eid ul Adha is all about sacrificing your animal, cooking hearty meals, and attending lunches and dinners with friends and family. It is unfortunate that suddenly, the number of COVID cases increase as the date of festive occasions is near, making it difficult for us to protect ourselves and our precious loved ones.
A huge task around this occasion really is to buy an animal, take care of it, and then, of course, sacrifice it, and distribute the meat. This can't be done alone without coming in contact with various people. So to make things easier, and of course, safer, you can book your sacrificial animal online or by calling the listed stores below:
1 – Meat One
Just like all years, Meat one is back with Qurbani Ba Asaani services. They are offering packages for Day1, Day2, Day3, and for charity.  You can order online at www.meatonequrbani.com or call on 11-11-Meat-1.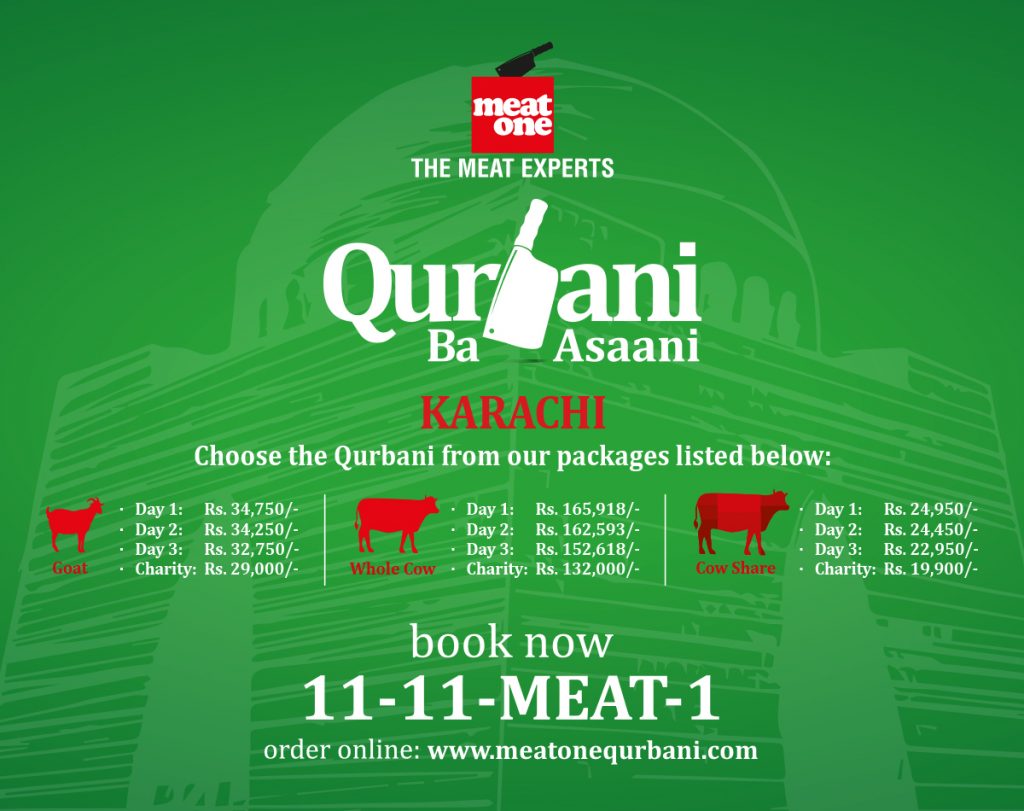 2 – Metro Online
Metro online is providing services of booking an animal to sacrifice this Eid-ul-Adha. Qurbani will be done as per shariah laws, and meat is provided with strict quality controls.  To book, you can call on 111 – 0 – Metro or log onto www.metro-online.pk/qurbani/home and read all the necessary instructions provided.
3 – Shaukat Khanum Online Qurbani 
Shaukat Khanum this year is also providing Qurbani services so you can stay safe in your homes with your family. Log on to www.shaukatkhanum.org.pk/qurbani/ and fill out a form with all the information. The meat goes to the needy people of all parts of the country. You can pay in Euro, PKR, US Dollar, Pound, Dirhams etc.
4 – Edhi Foundation 
Muslims from Pakistan, UK, the USA, UAE can book their animal or a share in the respective animal in their own currencies, PKR, GBP, US Dollar, and Dirhams. This meat directly goes for donation. You can log on to  www.edhi.org/online-qurbani-service/ and donate today.
5 – Alkhidmat
Alkidmat provides many services, including booking animals for Qurbani, donations, zakat, fitra, kaffara, and fiddiya. You can log on to www.alkhidmat.com/qurbani/. Goat Rs. 25,000 and Cow Share Rs. 12,000. You can also book animals to be distributed in Palestine, Syria, and Burma to Muslims.
Have something to add? Let us know in the comment section below.
For more news and updates, stay tuned to Wow 360.