According to the latest research from Gallup World Poll, women across the globe have been getting angrier year after year for the past decade.
Over 120,000 people in more than 150 countries each year were surveyed from 2012. The participants were asked questions about their lifestyle including the emotions they felt every day.
The feelings included stress, worry, anger and sadness, women persistently reported feeling these more often than men. Moreover, the research found that women continue to be the angrier cohort — especially during the pandemic when they suffered in female-dominated industries like healthcare and childcare, and disproportionally took on the majority of the added domestic duties.
Anger in Pakistan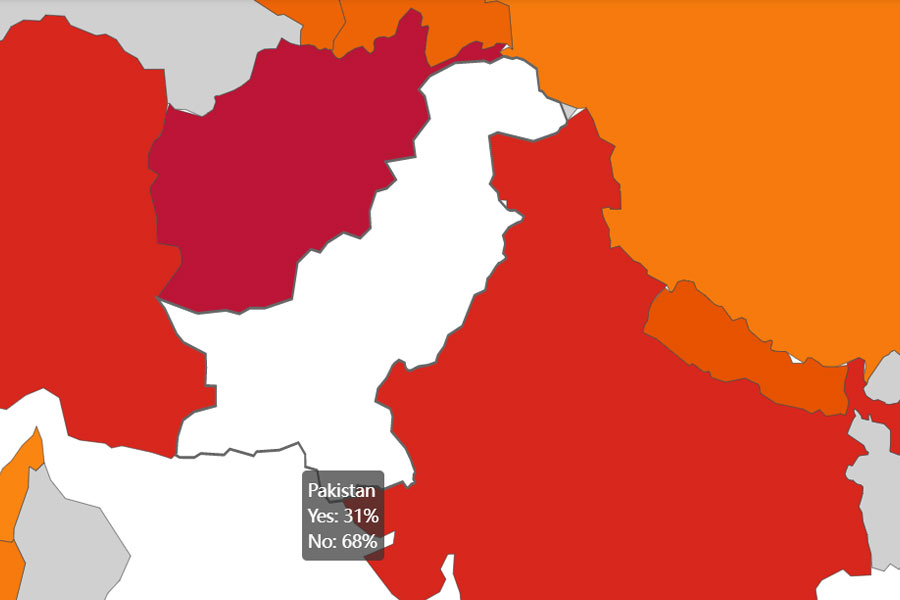 According to the Gallup World Poll, out of 1,006 Pakistani women, 31% found themselves to be angrier, whereas the remaining 68% did not think so. Furthermore, 30% of the women expressed sadness whereas 70% did not, 21% felt stress, 78% did not and 2% were unsure. 31% of women experienced worry, 40% felt pain, 61% felt enjoyment, 57% were well-rested, 70% of them smiled, and 92% felt respected.
How Were The Results Calculated?
The results in this report are based on nationally representative, probability-based samples among the adult population, ages 15 and older. The Positive Experience Index and Negative Experience Index are calculated from surveys in 122 countries and areas in 2021 and early 2022.
The 2021 results are based on telephone or face-to-face surveys of approximately 1,000 or more respondents per country or area. Gallup conducted 3,500 interviews in China, 3,000 in India, and 2,000 in the Russian Federation.
For results based on the total sample of national adults, the margin of sampling error ranges between ±2.0 and ±5.5 percentage points at the 95% confidence level. The margin of error reflects the influence of data weighting. In addition to sampling error, question-wording and practical difficulties in conducting surveys can introduce error or bias into the findings of public opinion polls.
Any Improvement for Women Up Ahead?
An independent study commissioned by BBC interviewed women across 15 countries about the last decade and found that things are improving for women in some ways.
The study found that 50 per cent of women feel more equipped to make their own financial decisions than 10 years ago, while two-thirds said social media had made a positive impact on their lives.
Barring the US and Pakistan, roughly half of women said they felt more comfortable discussing consent with a romantic partner.