Pakistani drama Gunah starring Sarmad Khoosat, Saba Qamar, Rabia Butt, and Jugnu Kazmi has garnered tremendous appreciation for its latest episode, keeping audiences hooked with its suspenseful storyline.
The series stands out in a sea of conventional saas-bahu dramas, captivating viewers with its thrilling plot, exceptional cast performances, and masterful direction by Adnan Sarwar.
Written by Mohsin Ali, known for his work on suspense dramas like Dunk, the series has revealed shocking secrets and complex characters, leaving audiences eagerly anticipating the next episode's revelations.
---
---
Pakistani drama Gunah starring Sarmad Khoosat, Saba Qamar, Rabia Butt and Jugnu Kazmi in pivotal roles has received tremendous appreciation for its latest episode. The crime-thriller mini-series is reaching its climax and has the audiences hooked to its nail-biting storyline.
In the world of the same old 'saas-bahu' sagas, Gunah is a rare gem that has captivated the audiences leaving them on the edge of their seats with a mixture of suspense, brilliant performances by the cast and a masterful direction by the maestro Adnan Sarwar of Motorcycle Girl and Baarwan Khiladi fame. He brings the cinematic experience to TV with Gunah, and has created an unforgettable experience. The thrilling suspense writing is the work of none other than Mohsin Ali who has penned down suspense dramas like Dunk, where audiences were left stunned when the real culprit came to light, we are expecting nothing less from Gunah.
Unveiling Drama Gunah's Dark Secrets
Malik Hayat's wife Gul Noor (Juggan Kazim) has been missing and Malik has repeatedly told everyone including the police that she betrayed him and their children, running away with a young boy Ahmed who used to tutor their sons. While this was what was being repeated by everyone in the mansion, the latest episode has revealed many secrets that make us believe Malik and his henchmen are behind the missing case of his wife Gul Noor and Ahmed.
As secrets have come to light, we now know that Malik Hayat and his sister in law Gul Meher have been having a torrid affair and the two have been together for a long time. Just before Noor's disappearance, Meher visited Malik Hayat and told him to take a decision since she was being pressured into marrying someone else. She wanted him to tell Gul Noor about their affair and that Hayat would be marrying her. It seems like Meher could be the mastermind behind everything that has happened as she put the idea of Noor and Ahmed's affair in Hayat's mind asking him to point fingers towards Gul Noor's character. The two are definitely a perfect match, vicious and vile and deserve each other since Noor was the innocent one in this case, opposite to what was being portrayed about her.
It was discovered by Hayat's henchman that the housemaid Rukhsar had seen Hayat and Meher together and heard the conversation too. The same night Rukhsar and the other staff were asked to leave, Rukhsar was being kept prisoner by the henchman. The police headed by the fierce Sabiha (Rabia Butt) are coming close to the truth about the missing persons and have an undercover officer tailing the henchman, in the final scenes of the episode we see the policeman rescue the maid from Hayat's henchman moments before he is about to assassinate her.
A Stellar Cast Giving Life to Gunah's Complex Characters
The ensemble cast boasts seasoned actors and rising stars, each delivering breathtaking performances that bring their characters to life with depth and nuance.
The lead actors shine as they navigate the complexities of their characters, Sarmad Khoosat has flawlessly portrayed his emotions as the mysterious Malik Hayat, the first episode had us feeling sorry for him while the fourth episode has us hating him to the core. The sizzling chemistry and on-screen dynamics between Khoosat and Saba Qamar take the drama to profound levels, and are drawing the audiences deeper into the narrative. Saba has once again proved her mettle and has acted brilliantly, essaying the evil character that she plays to perfection.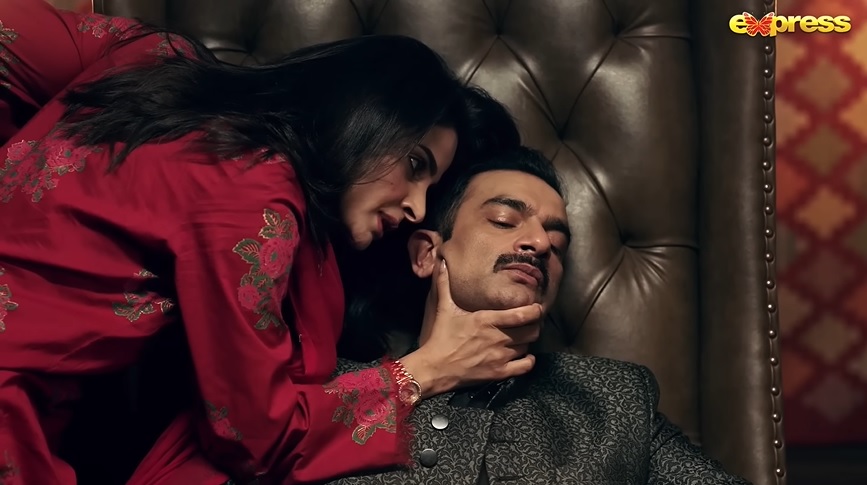 The supporting cast Nabi Baksh, Ahmed and Hayat's henchman played by  Faiz Chauhan, Ali Raza and Fahad Hashmi add layers of depth that complement the overall storytelling.
Drama Gunah Ep 5: What to Expect?
The bone-chilling sneak peek into the next episode of Gunah has left us speechless, from Ahmed getting shot to Noor being buried alive in the grave and to finally see Hayat and Meher preparing for their grand Nikkah. The upcoming episode is much awaited and we can't wait to see what's next.
Follow WOW360 for more.