The topic of women's undergarments is no less than taboo in Pakistan. They are not widely spoken about and are sold behind tinted-windowed stores in all parts of the country at large. Somehow, in our culture, 'shame' is affiliated with women's anatomy, so there is little to no conversation about this topic on mainstream platforms which directly impacts the quality of the widespread products.
Often on women-only Facebook groups, we witness women complaining about how local items are low quality and often poke the wearer's skin. They also complain that they can't find affordable, good-quality products in the market, hidden in nooks and corners in bright daylight.
Lack of Conversation Around the Topic
It is not just women who are big – women of all shapes and sizes find it hard to find something that works well for them. A report published in 2015 on the Express Tribune titled, 'Seven out of ten women wear the wrong bra size and are uncomfortable buying lingerie' quotes Maliha, spokesperson for Triumph Pakistan. She says, "that time and education have a very important role to play in changing mindsets. 'In the West, wearability is a strong consideration when it comes to inner garments, but in the East, this is still a relatively new concept.'"
In a typical setting, consumers are open about their experience with products. Companies then use that as feedback and use it to perfect their item. However, the case at hand is complicated as there is no discussion, conversation, or feedback given for this product. Former M&S Employee Mark Moore has researched for more than a decade and understands the gap in the market. So he wants to bring "high quality, affordable and comfortable underwear to the women of Pakistan," according to BBC.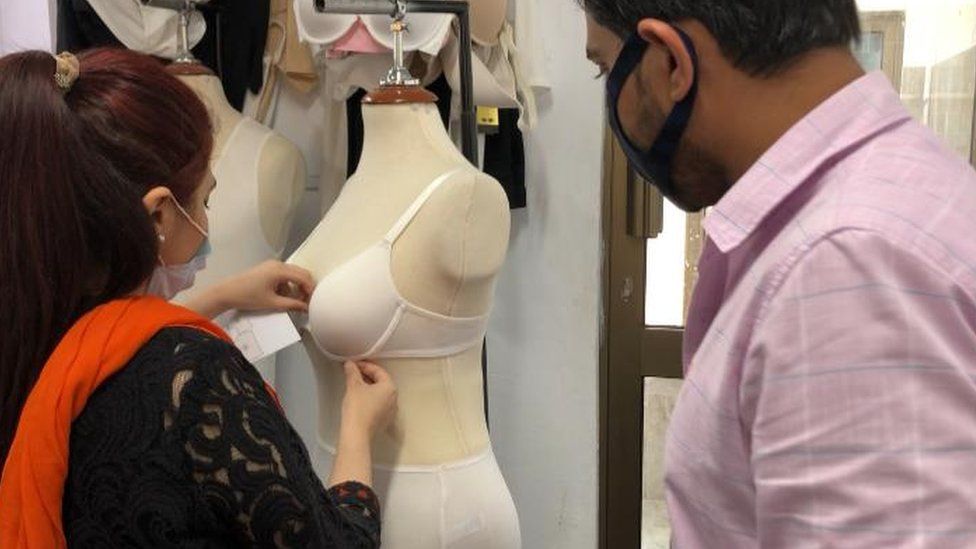 Challenges to Market Women's Undergarment in Pakistan
His biggest challenge? To market the product in a way that reaches the potential audience. In today's day and age, a well-sorted social media campaign sounds the right fit; however, it is far riskier for a product such as undergarments than we can imagine, as it can be labeled "vulgar" easily. Previously, the advertising was done in women's print magazines. Unfortunately, over the years, the readership has declined, so that is why this is no longer a viable option.
Mr. Moore told BBC, "Once my team and I put the product, that is the bra and panties, on the table, men giggle. My biggest struggle right now is to let most people know that bras and panties are not a product that titillates." He added, "It is a product of ease and comfort of the user, and we should normalize its buying and selling."
Mr. Moore stated vast marketing and product developing issues in Pakistan in the BBC's story. One was that "the majority of the officers and designers approving (women's) undergarments are men." So, the process of developing a product for women without any women on the table seems to be the more significant issue at hand.
It is notable to mention that while officers and designers of these products are men, women make many workers in lingerie and undergarment factories in Pakistan. The industry here has great potential but needs a proper lift. Currently, Mr. Moore's products are being made in a factory in Pakistan's textile industry hub, Faisalabad, under the banner of Amami clothing (PVT) Ltd.
Adidas Launches Inclusive & Sustainable Swimsuits For Muslim Women. Read the full story here:
Adidas has launched its first full full-coverage women's swimwear collection featuring sports inclusivity consultant Asma Elbadawi. She has also been honored to write the poem and be part of the Beyond the Surface campaign and other powerful women.
Adidas Launches Inclusive & Sustainable Swimsuits For Muslim Women
Have something to add? Let us know in the comment section below.
For more news and updates, stay tuned to Wow 360.