'Fearless' celebrates the lives of 50 inspirational women from Pakistan. Written by Amneh Shaikh-Farooqui, it is meant to inspire young girls to dare to be who they are.
About the book
The book is beautifully illustrated by Aziza Ahmad and is very well presented with thick glossy pages. There are two pages dedicated to each personality. One page is a portrait, the second is a write up. The writing is simple but bold with bones laid bare. It reaches out to all ages and presents the women as honest about who they are. Supportive families/ spouses or failed marriages, highly educated or with few qualifications, a quick rise to success or a struggle to get ahead are all part of the package. There are no excuses and there is no one path to success.
Fearless is a must read especially for young girls who often look to the West for strong female role models.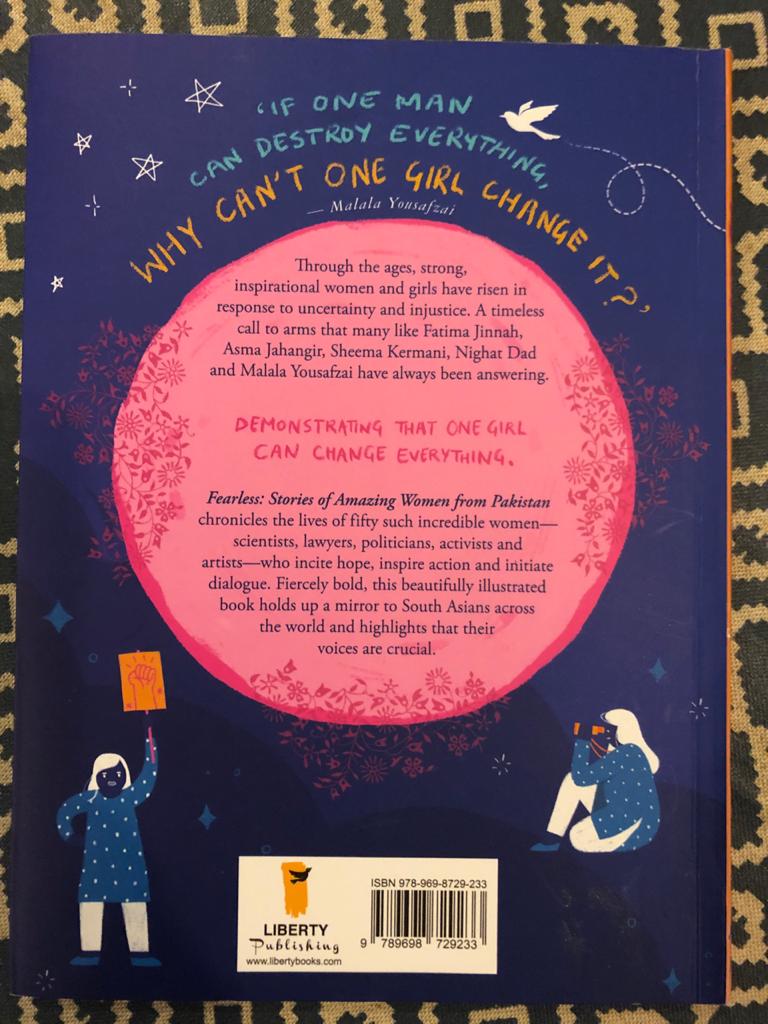 Featured Women
The women featured in 'Fearless' include icons such Shamin Ara, Asma Jahangir, Benazir Bhutto, Sana Mir, Qandeel Baloch and Ruth Pfau. Each page has a tab indicating what field the women worked in. The range of professions is impressive – from lyari boxer, dhaba girls, doctor, human activist, journalist to truck driver.
Whatever, the line of work, many women have had to dig their heels in and stand their ground. As Major General, Shahida Malik, a two star army general points out, "throughout life, one faces difficulties from male colleagues." It is, therefore, important to "stand up, answer them, and set boundaries.
'Fearless' encourages young girls to believe in themselves. Anam, a 19-year old boxer, points out that her own relatives said
"we are mad to do this [but] if we keep listening to what people have to say about us, we'll never make it."
This book Review has been contributed by SAMAN SHAMSIE
Saman Shamsie is the author of two books for children: The Magical Woods (OUP, 2014) and The Adventures of Slothful Sloughoff (OUP, 2010); her story "The Heartbeat Tree" appeared in Magic Stories for Eight Year Olds (Puffin India, 2011). She lives in Karachi, Pakistan where she was born and educated at the Karachi Grammar School.
Saman Shamsie is now a primary school teacher at the Karachi Grammar School, but previously taught O level Physics there.