The COMSATS University Islamabad (CUI) has terminated a professor from their faculty over an objectionable question that recently appeared on an English quiz.
The English composition of the Bachelor of Electrical Engineering (BEE) programme had a question asking students to write an essay on a topic that involved incest.
COMSATS Professor Promotes Incest in English Quiz
Termed 'The Julie and Mark Scenario' the quiz read:
Julie and Mark are brother and sister. They are travelling together to France on summer vacation from college. One night they are staying alone in a cabin near the beach. They decide that it would be interesting and fun if they tried making love. At the very least, it would be a new experience for each of them. Julie was already taking birth control pills, and Mark uses a condom too, just to be safe. They both enjoy making love, but they decide never to do it again. They keep that night as a special secret which makes them feel even closer to each other.
What do you think about that? Was it ok for them to make love?
Give reasons for your answers and include some relevant examples from your own knowledge and personal opinion.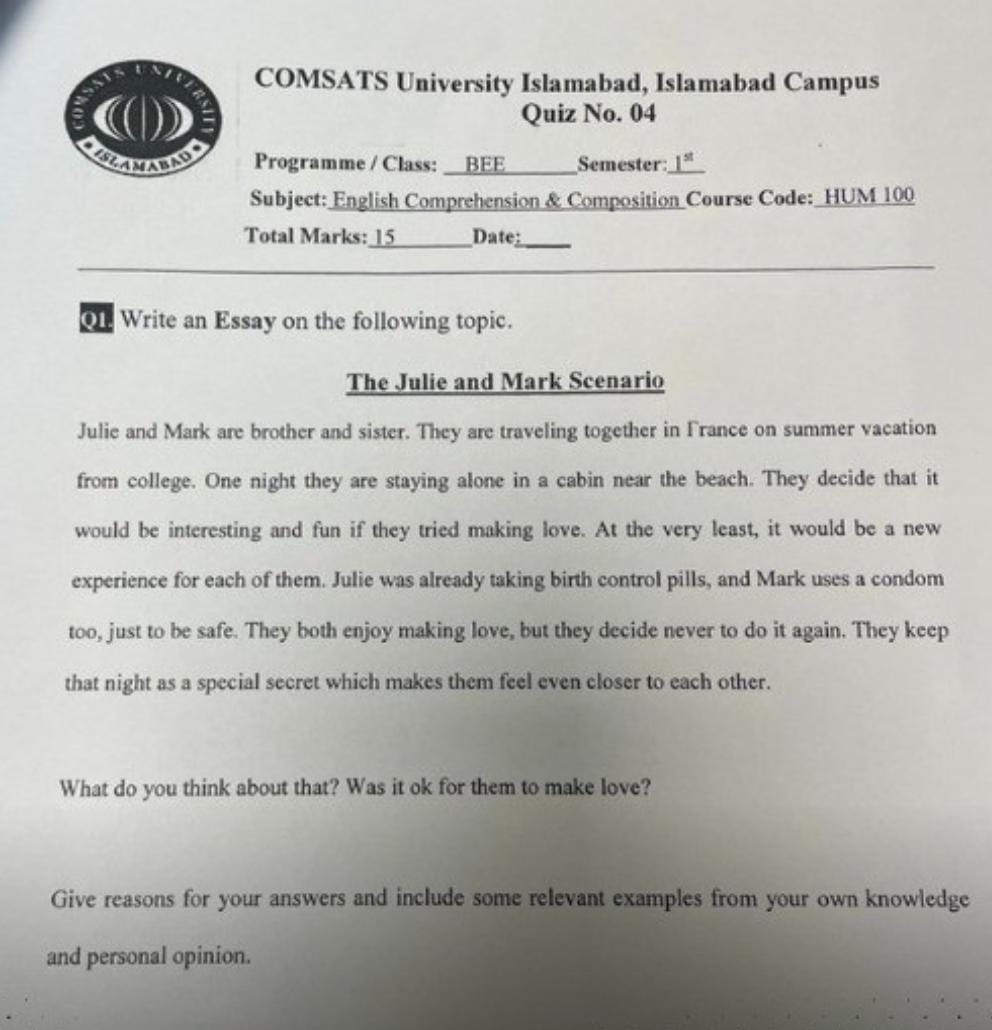 'Bollywood Day' Celebrations at LUMS Spark Social Media Outrage
Social Media Reacts to COMSATS Professor Promoting Incest
Here's how social media reacted:
COMSATS: Whatever is the outcome of this inquiry, the individual who tried to peddle this idea of incest with in students must be apprehended & made an example for the academic fraternity. Not only that particular individual but all those who processed this quiz & approved it. pic.twitter.com/W2ln9VznO0

— Salman Javed (@M_EssJay) February 19, 2023
What is happening in Islamic Republic of Pakistan? There is no proper check and balance according to content of Education in Pakistan. GOP take this on serious note and will give a shutup call to Comsats Administration. #COMSATS pic.twitter.com/1SYZEyzuGU

— M Talha (@MTalha11819928) February 20, 2023
What kind of filth they are injecting in the generation. I don't think a normal examiner can set such a filthy paper. He is someone abnormal and psycho. Bizarre!#COMSATS pic.twitter.com/8OtOAvk0f5

— Suleman Raza MBE (@iamsulemanraza) February 20, 2023
I am pretty sure the teacher must have copied it from somewhere. No normal being in his senses can ever think of bringing such filth at these forums #COMSATS pic.twitter.com/ztZQ6TS1UV

— Ur Phupho ✨ (@TheArdentSoul) February 20, 2023
TERMINATED….. ✊ !!!!!!!#comsatsuniversity #COMSATS #Islamabad #Teachers pic.twitter.com/0S03MFPLWJ

— Sheikh Nabeel (@SheikhNabeel786) February 20, 2023
Incest, the practice of sexual relationships between close family members, is widely considered taboo in most societies around the world. It is also prohibited in many religions, including Islam, which strictly forbids the practice of incest. In this article, we will explore the Islamic perspective on incest and how it is considered haram, or forbidden, in Islam, as well as how it is similarly regarded in other religions.
In Islam, incest is considered a grave sin and is forbidden in the Quran.  Incest is considered a major violation of Islamic principles and morals, and those who engage in such acts are considered to be committing a serious crime.
The prohibition of incest in Islam is based on several principles, including the preservation of family harmony and the protection of children's welfare. Engaging in incestuous relationships can lead to serious physical and psychological harm, including birth defects and emotional trauma, which can have lasting consequences for the individuals involved and their families.
Islam is not the only religion that considers incest a forbidden practice. In Christianity, the Bible explicitly prohibits incestuous relationships, and such practices are regarded as sinful and an abomination before God. In the Old Testament, God forbade sexual relationships between close relatives, and anyone who violated this commandment was punished severely.
In Hinduism, incestuous relationships are also considered forbidden and are regarded as a violation of social norms and moral values. Such practices are viewed as a significant threat to the social order and are therefore strictly prohibited.
Incest is also prohibited in other religions, such as Judaism, Buddhism, and Sikhism. In Judaism, incestuous relationships are viewed as a serious offence against God and are forbidden in the Torah. In Buddhism, incest is considered immoral and is viewed as a violation of the principles of non-violence and compassion. Similarly, in Sikhism, incest is considered a grave sin and is strictly prohibited.
Share your thoughts with us in the comments below.
Stay tuned to WOW360.
First of its Kind Superhero Series "Super Sohni" Introduced to Equip Children with Knowledge & Confidence to Stay Safe from Sexual Abuse