Arooba Faridi has become Pakistan's youngest female aerospace engineer. In recent developments, she recently got her international aircraft maintenance license.
Faridi, the youngest female Aerospace engineer, has a maximum Basic categories license from EASA (European Aviation Safety Agency). This means her license comprises CAT A1 & B1.1 (Aeroplanes Turbine) CAT A2 & B1.2 (Aeroplanes Piston).
It took Arooba a total of 7 years of hard work and dedication to get here, where she is standing tall today!
Almost 7 years ago, Faridi began her journey as an aerospace engineer on below category aircraft (Aeroplane Piston). After that, she went ahead and registered herself for the EASA Part-66 exams (Modular exams for aircraft license).
After 4 years into her journey, Faridi went ahead and started working on above category aircraft (Aeroplane Turbine). Alongside that, she continued to thrive, advancing her practical experience for 2.5 years more as required for a basic EASA license.
Now she is a recognized engineer in the male-dominated field who is passionate to serve her country and also by setting examples for other women to join the field without any hesitation. People like Faridi are genuine heroes.
Many Internet Users Congragualted Her on this Latest Achievement:
"with guts and determination, one can reach any heights; one need not be a male to this".

People are sending love and support from the neighbouring country too!
People are sending their best wishes for her to outshine in the most competitive field.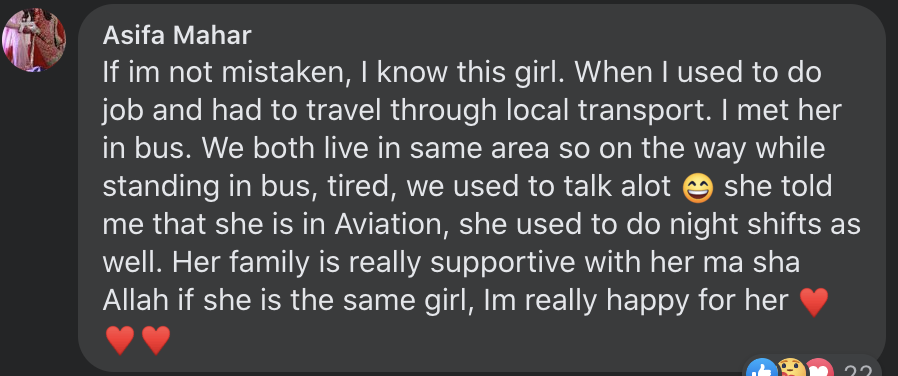 Meet Qaswa, Pakistan's Youngest Female Certified Commercial Pilot.
Qaswa, who comes from a family of businessmen and engineers, was aiming to become a doctor, so she was studying at school. However, in the middle of her studies, she realized that she is making a huge mistake. She was interested in becoming a pilot rather than a doctor.
Read the full story here:
Meet Qaswa, Pakistan's Youngest Female Certified Commercial Pilot
Have something to add? Let us know in the comment section below.
For more news and updates, stay tuned to Wow 360.