Ever since the Turkish historical fiction and adventure series Ertugrul Ghazi starting airing on PTV,  the series has garnered massive viewership and success in Pakistan. People seem to have fallen in love with the Islamic ideology and culture depicted in the series and have breathed a sigh of relief on having meaningful content to watch on their television screens.
Even though many people were already hooked to the series long before, the show was actually introduced to the masses when it was dubbed in Urdu; the exceptional acting skills by a stellar cast made the audiences even more intrigued and curious about the stars real life.
One of the many great aspects of the show is how they have portrayed the women of those times. The bravery and courage these women portray is unparalleled and an inspiration for so many- quite unlike the meek and submissive damsels in distress our Pakistani media reflects in their drama serials; the character development of some of these female characters throughout the series is commendable. 
The main and supporting cast play a pivotal role in making any drama a success and same is the case with Ertugrul Ghazi. As the show is an audience favorite, we have brought these reel female characters from the show to real life and you'll be shocked to see how different some of them are without their head gears and traditional costumes.
1. Seljan Hatun –Didem Balçın 
Didem Balçın plays the role of an evil adoptive daughter and who then becomes Hayme Hatun and Suleyman Shah's daughter in law. A central character to the story who initially plays a vamp has one of the strongest character development in the series.
Born on May 18, 1982 in Ankara, Turkey, she is 38 years of age. Her maternal family is of Turkish and Albanian descent.
2. Aykiz- Hande Subaşı
Hande Subaşı plays an important role in the story as the childhood sweetheart wife of Turgut Alp. A very powerful and  fierceless character who is excellent with a bow and arrow, her character is loved by the viewers.
Born in February 1984, the actress is 36 years old and is also a beauty pageant titleholder. She was the winner of the 2005 Miss Turkey competition. 
3. Gokce- Burcu Kirtatli
Burcu Kıratlı plays the role of another foster daughter of Hayme Hatun and Suleyman Shah and is the younger sister of Selcan Hatun. She has always been in an unrequited love with Ertugrul, however, her role is positive throughout with a layered character.
Hailing from Istanbul, Turkey and born on July 23rd 1989, the actress is 31 years old and is also a model by profession.
4. Halime Sultan- Esra Bilgic
Pobably one of the youngest actors on set and that too in a lead role, Esra Bilgiç really made a name for herself with this drama series. Not only in Turkey but her fame has surpassed boundaries. She is currently the most sought after female actresses by brands in Pakistan and has signed deals with Khaadi, Qmobile, Jazz etc.
Esra charmed the viewers by playing Halime Sultan- the Wife of Ertuğrul and the mother of Gündüz Alp, Savci B ey and Osman Ghazi I in the series. She proves to be a loyal wife and can go to any lengths to fight hard for her tribe.  
5. Helena/Hafsa Hatun-Burcin Abdullah
This 33 year-old, doe-eyed Turkish actress has won hearts as a supporting character as Helen and then Hafsah Hatun in the series.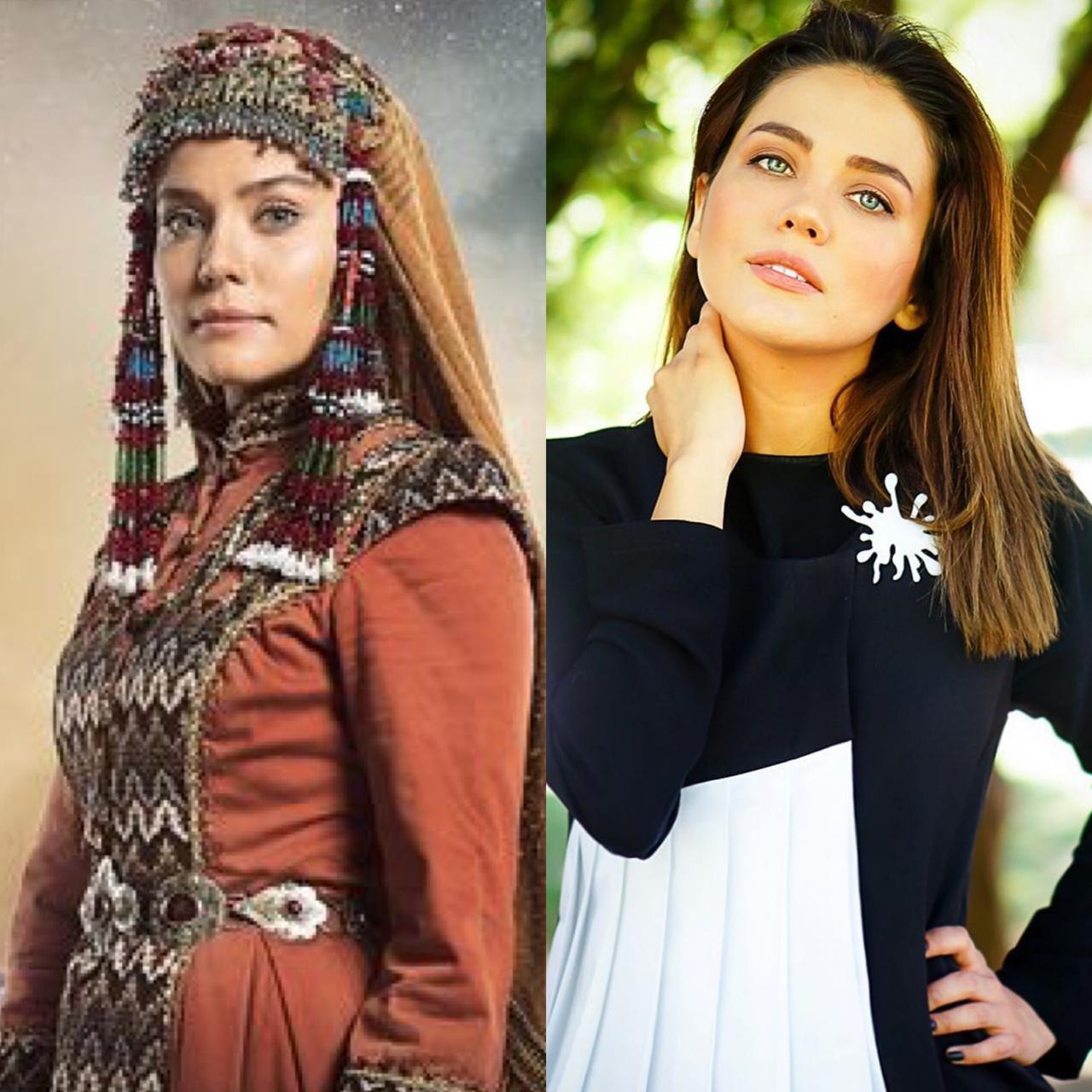 She is also known for roles in Kötü Yol (2012) and Kollama (2008). She is married since 2018 in real life and has an adorable son. 
6. Aaslihan- Gülsim Ali
A 26 year-old turkish actress and model, Gulsim has won hearts as Aaslihan in the drama serial Ertugrul.
Having Bulgarian nationality, the beautiful actress looks very different in real life. 
7. Hayme Hatun- Hülya Korel Darcan 
Hülya Korel Darcan is playing the role of Hayme Hatun- Mother of Ertuğrul, Gündoğdu, Sungurtekin, and Dündar. She plays the role of Suleyman Shah and grandmother of Osman Gazi I in the series.
Hülya Darcan was born on April 27, 1951, in Izmir, Turkey and has been associated with the Turkish drama industry since the 1970s. The talented actresses has a vast career and has done several movies and dramas; Ertuğrul Ghazi is one of her best works.
Here are some pictures that show a side of her which the viewers have never seen on screen.
Which one of them is your favourite? Share your views in the comments below.
Stay tuned for more interesting articles and updates!