With the onset of summers comes the excitement to devour the king of fruits, mangoes. Mangoes are loved by everyone all around the world and it's interesting to see those unique twists in recipes; be it our desi-styled mango lassi popsicles or western themed, panna cottas.
Whether it's a party at home and you want to whip up a quick dessert, or just want to enjoy a delicious yet easy weekend snack, we have curated a thorough list of swift and easy yet sumptuous mango dessert recipes for you to try this summer.
Quick Mango Pudding
If you've already managed to prepare a splendid main course for that big party at your place, let's take the pressure off and whip up this simple yet delicious mango pudding as dessert. Trust me, the guests will love it just as much!
Prep time: 5 Minutes
Serves 6
Ingredients:
6 scoops of vanilla ice cream
1 large mango- ripe
2 tbsp of heavy cream
Method:
Peel and cut one ripe mango and whizz in the food processor to form mango puree
Add 2 tbsp of heavy cream, 6 scoops of vanilla ice cream and whizz once
Serve them chilled in bowls – garnish with ripe diced mangoes and some whipped cream if you like
Mango pancakes
Craving some restaurant style breakfast pancakes in this quarantine and can't find those perfect strawberries in this season to go with them? Worry no more! This mouth-watering mango pancake recipe with whipped cream is super easy and totally delicious for that late Sunday breakfast.
Preparation time: 15 to 20 minutes
Makes: 10 pancakes
Ingredients:
1 egg
1 cup mango puree
1 cup milk1 tbsp butter
1 tsp mango essence
2 tsp baking powder
1 cup all-purpose flour
1 tsp oil
Method:
Heat butter in the microwave or stove for 30 seconds and set aside.
Add mango puree in a bowl and mix in butter, one egg and mango essence and whisk well to combine.
Fold in all-purpose flour and baking powder to the liquid mixture and mix it together. Ensure there are no lumps forming. Keep the batter thick and dense in consistency.
A non-stick pan is your absolute friend here- grease the pan very lightly with a brush and pour in quarter of that batter onto the pan. Make a circular shape. Use a batter dispenser if you have one at home.
Cook on low to medium flame for over 5 minutes- each side until perfectly brown in color
Serve with honey and diced, cold mango pieces on top.
Smoothie jellies with ice cream
It's difficult to feed the kids something healthy and sweet, without the added, processed sugar. A good alternative to processed jellies is this healthy and delicious treat- smoothie jellies with ice cream.
Preparation time: 5 Minutes
Cooking time: 2 mins + 1-hour setting time
1 to 2 tsp of gelatin powder
1 litre of mango smoothie
500ml good-quality vanilla ice cream
Method
Peel and cut 3 to 4 mangoes and mix it with 1 pack heavy tetra pack cream and a cup of milk in the food processor to make a dense mango smoothie.
Put the gelatine in a bowl and add in warm water. Leave for a few minutes until soft.
Meanwhile, lightly heat smoothie in a saucepan but do not boil. Switch off the heat.
Take the gelatine out of the water and add it to the smoothie. Mix well until smooth, and then pour the mixture into moulds or shot glasses. Chill for at least 1 hr to set before serving
Take a perfect scoop of ice cream and serve each smoothie jelly topped with ice cream.
Mango Float
Wondering what to take as dessert to that one dish dinner party. Here is one drool worthy recipe that doesn't only taste good, but looks appealing too!
Preparation time: 20 minutes.
Ingredients:
1 can of condensed milk
Digestive or Glucose biscuits for the base
sliced mangoes
Vanilla Extract
Whipped Cream
Salt
Method:
Watch the video below for detailed directions
Mango Panna Cotta
Here is an interesting recipe for you to try at home when in mood for something healthy yet tasty. Can even be served at parties.
Preparation time 15 minutes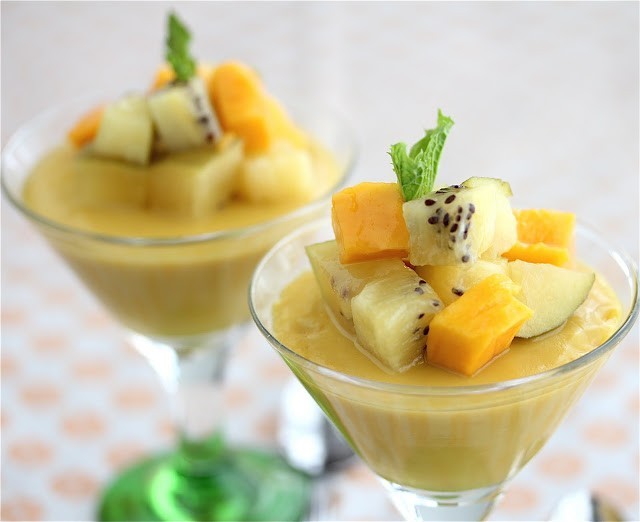 Ingredients:
1 1/2 cup coconut milk
1/2 cup organic sugar
1 mango (about 1/2 cup)
1 tsp of gelatin powder
1 cup Mango Yogurt
1 tsp vanilla extract
Cut up mangoes for topping
Method:
Put the gelatine in a bowl and add in warm water. Leave for a few minutes until soft.
In a saucepan, gently heat coconut milk, sugar for 5 minutes. Bring to a simmer, reduce heat and do not let the mixture boil. Remove from heat. Add in the gelatin and combine well.
Pour mango flesh in a food processor, add in the milk, sugar and gelatin mixture and process until smooth.
Then add mango yogurt and vanilla extract and process until blended well.
Pour it equally in dessert glasses or ramekins and cover top with cling Better to serve chill so let the panna cottas set for an hour or two in the refrigerator.
Top with fresh Mango right before serving
Which one out of the above recipes do you like best? Let us know in the comments below.