Pakistani weddings are joyful occasions where good food and company are enjoyed while celebrating the bride and groom.
Modern and minimal hairstyles are trending for weddings, whether as a bride or a guest.
The 2023 wedding hairstyle trends include sleek blowouts, timeless up-dos, Old Hollywood vintage glamour, flowery braids, and romantic half-up, half-down styles.
---
---
Pakistani weddings are a time of pure happiness and bliss. An event, where everyone comes together to enjoy good food, and company, and celebrate the bride and groom. This means that your wedding hairstyle game needs to be on point!
Be it the mehndi function, shalima, reception, or any in between, these modern and minimal hairstyles are just what you need to stand out in your photographs on your wedding day, or whether you want to enjoy them as a guest.
This year, brides are embracing a more relaxed approach to their wedding hairstyle. Expect to see soft curls, flowing hair, loose buns, and embellishments like clips and headbands.
Without further ado, here are 5 must-have wedding hairstyle in 2023:
1. Bridal Blow-Out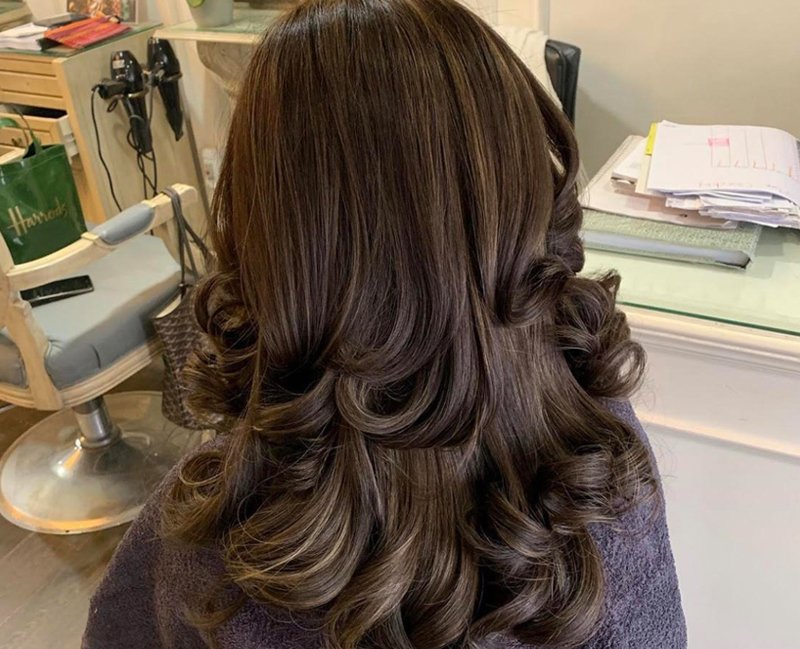 For a classic bride, a sleek blowout is a perfect choice that will stand the test of time in photographs. This style suits brides who usually wear their hair down but can be customized for anyone based on their hair texture.
To achieve this look, start by applying a heat protection spray. The spray adds texture to the hair without weighing it down, allowing for versatile styling options. Before styling, partially dry the hair to remove excess moisture and minimize breakage.
Use a large round brush to manipulate the hair into the desired style, starting from the top and working down. For added volume, direct the nozzle of the blow dryer at the roots and then move towards the ends, using the brush to pull the hair forward and outward. Finish the blowout with a blast of cold air to smooth the hair, prevent frizz, and enhance shine.
2. Up-Dos
The up-do remains a timeless choice for bridal hair, as it directs attention to your beautiful facial features. It allows you to dance all night without feeling overheated and keeps you looking naturally stunning. This hairstyle is particularly suitable for destination and summer weddings.
3. Old Hollywood
For those who adore vintage glamour, we recommend the "Old Hollywood" look. This style draws inspiration from icons like Marilyn Monroe, featuring elegant curls or waves. On longer hair, the waves are more uniform compared to bohemian styles. The hair can be styled into an updo or adorned with accessories such as combs, lace, or hair jewels. This glamorous and polished look suits traditional church weddings, hotels, or country houses.
4. Flowery Braids
If you desire a more decorative look for your big day, why not incorporate flowers into your hair? Talia suggests that flowery braids are on-trend in 2023, as natural and bohemian styles gain popularity. Achieving a "done but undone" appearance requires effort, but it should give the impression that it only took a few minutes to create.
5. Half & Half
The classic half-up, half-down look is both romantic and modern, offering various ways to personalize it according to your personality and wedding style.  Incorporate a few loose, wavy tendrils framing the face or adding volume to the front, braiding, or keeping it subtle with a few pieces pulled away from the face.
For a simple yet impactful statement, begin by prepping the hair with a Heat Protection Mist. Divide the hair into sections and use a curling iron to create curls, starting from the nape and working upwards. To add root lift and hold, apply   Texturising Volume Spray
Then, use a wide-tooth comb to gently shape the curls into a cohesive look. Take a thick section of hair from each side, twist them towards the back of the head, and secure them firmly in the middle. Finish with hairspray to set the style.
This hairstyle is ideal for boho brides or those who want their hair down but away from their faces. It also works well for brides who wish to wear a veil, as it provides a sturdy base for attachment.
Perfecting this stylized look requires skill to ensure the waves appear uniform and neat, resulting in a polished finish. The right combination of products and heated tools is essential for achieving the desired effect.
A gloss treatment a week before the wedding can enhance the hair's shine, smoothness, and glamour. Consider exploring unconventional colours, such as pretty pink sorbet shades, to add a twist to the traditional look for more adventurous brides.
Share your thoughts with us in the comments below.
Stay tuned to WOW360.