Netflix's latest series 'Wednesday' pays homage to 'The Addams Family' and if we were, to be honest, it's spot on!
Starring Jenna Ortega as Wednesday Addams, Emma Myers as Enid Sinclair, Hunter Doohan as Tyler, and Christina Ricci (the OG Wednesday) as Marilyn Thornhill.
In the series, Wednesday gets expelled from school and is sent to Nevermore, a boarding school for outcasts. She is keen on running away the second she sets foot on campus.
There, she meets her new roomie Enid. While the two are complete opposites, as the saying goes, opposites attract. Wednesday sees social media as "a soul-sucking void of meaningless affirmation," but Enid runs her own Perez Hilton-style gossip blog. Enid's world is full of sunshine and rainbows whereas for Wednesday everything is black and white and definitely bland.
3 Reasons Why Wednesday & Enid are Friendship Goals!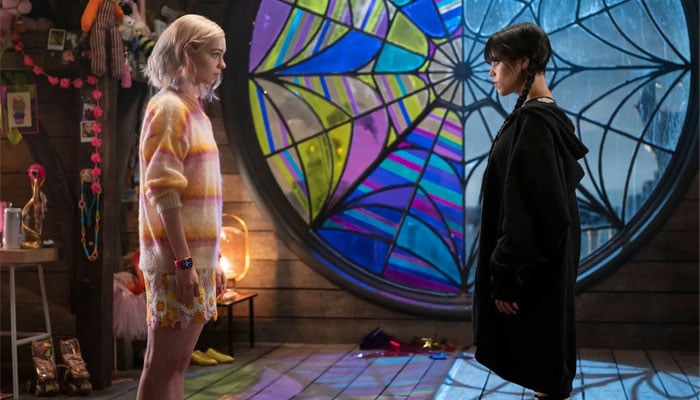 Throughout the show, we witnessed how the two roomies who at one point could not stand each other came to the realization that both of them are true friends.  Here are 3 reasons why Wednesday and Enid are friendship goals!
1. Friends Who Hunt Together, Stay Together
Spoiler alert! From day 1, Enid has been doing everything possible to try to make Wednesday comfortable. She gives Wednesday her private space, tries to include her in the extracurricular activities, and eventually makes her stone-cold heart (if she even has one) realize that we all need a friend who stands by our side. Enid not only proves to be a good friend but when she finally wolfs out she also protects her buddy from the hyde. Now that's commendable.
2. Fights Bring Friends Closer, Sometimes
There is a part in the series where the two of them get into a fight and Enid storms off saying, "You will use anyone to get what you want, even if it puts them in danger. You want to be alone, Wednesday? Be alone." After this conversation, Enid moves out of the room. During this phase, Wednesday eventually starts to realize that without Enid's warm friendship, she is incomplete. Althought she doesn't make it obvious and denies it till the end, she actually misses her roomie.
3. Who Needs a Boyfriend When You Have Girlfriends
Wednesday's relationship with Enid is rock solid and pure, unlike her rocky relationship with Xavier and Tyler. Coming to the question, who needs boys when you have your girls? Enid just wants to show Wednesday that she can feel emotions and still be a cool, strong person and end up doing so while many others tried and failed.
What are your thoughts one this one-of-its-kind morbid friendship?
Share them with us below in the comments.
Stay tuned to WOW360.