Welcome back foodaholics!
Perfect for a light dinner, a scrumptious appetizer or a filling snack, these croquettes are bound to keep your fans coming for more! They are fun and easy to make with little chefs in a short amount of time—couple them with mashed potatoes or a fruit salad to make a complete and eloquent meal.
Croquettes are a kind of small fried food with a mixture of ingredients on the inside. Encased between breadcrumbs, the main ingredient is ground meat with various cheeses, vegetables and seasonings.
You'll love the rich, creamy flavour combination each inside has to offer and the decadent outside too. My recipe requires the chicken to be cooked beforehand.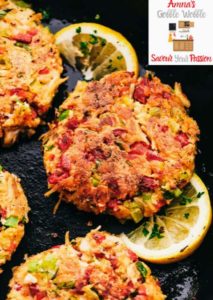 Straight from my cookbook:
Chicken Croquettes
Prep Time: 10 Mins
Cooking Time: 10 Mins
Servings: 6
Calories: 160
Ingredients:
1/2 cup breadcrumbs
1/4 cup flour
1/4 green bell pepper, chopped
1/4 red bell pepper, chopped
1 cup cooked chicken, chopped
1/2 teaspoon garlic powder
1/2 teaspoon salt
1/4 teaspoon pepper
1 large egg, lightly beaten
1/4 cup mayonnaise
1 tablespoon Worcestershire sauce
1/4 cup chopped cilantro
Instructions:
Add the breadcrumbs and flour to a bowl and mix. Add the bell peppers, chopped chicken, garlic, salt, pepper, egg, mayonnaise, Worcestershire sauce and cilantro. Mix well until incorporated.
Shape into 6-8 patties and heat the oil in a large skillet over medium-high heat.
Add the patties to the skillet and cook for 2-3 minutes on each side or until golden brown.
Serve hot and crisp!
Tips:
You can use leftover or canned chicken.
You can add any cheese you like.
Make sure the breadcrumbs are of good quality and fresh to ensure the crispness.
Don't forget to beat the mayo a bit for fluffiness.
Worcestershire sauce can be substituted with bbq sauce.
Use a wooden spatula to mix all the ingredients.
Make the patties small and round.
You can substitute chicken with fish or beef or even just vegetables like potatoes.
You may add mustard to mayonnaise.
Add in a little spice with red pepper, paprika or cayenne pepper.
Share your turnouts on my social media. Shoot questions my way. Tag me!
Facebook: @AmnaHamidDigital
Instagram: @AmnaHamidDigital 
Email me ; amnahdigital@gmail.com
Amna Hamid is a Digital Marketing Strategist at Amreli Steels. Her food blog Gobble wobble will be featured weekly on the weekend on the WOW360 segment with a new and exciting recipe! Being an ardent foodie since childhood, Amna always wanted to have her own space on food and everything that revolves around it. (amnahdigital@gmail.com)
Stay tuned for more exciting food recipes!