Saeeda Imtiaz, an actor and model, has passed away, as confirmed by her verified Instagram account
The announcement did not reveal any information about the cause or location of her death
Social media now claims that the news is fake and that she is alive
---
---
Update: According to the latest claims on social media, Saeeda Imtiaz is alive. Reportedly, her Instagram account was hacked and the news of her passing is false.
The lawyer for the model-cum-actress announced through an Instagram post that the actor is alive and he will soon update everyone about the rumours.
---
---
On Tuesday, the verified Instagram account of Saeeda Imtiaz, an actor and model, announced her unfortunate demise. The announcement did not reveal any information about the cause or location of her death.
Saeeda Imtiaz was born in the United Arab Emirates and raised in New York. She started her acting career with the Pakistani film The Making of a Legend, where she played Jemima Goldsmith, the former wife of the legendary cricketer Imran Khan.
She went on to appear in numerous other films, including a biopic about Imran Khan, Wajood, Thori Setting Thora Pyar, and Raasta.
In 2019, she was set to star in the film Qulfi alongside Shahroze Sabzwari. Imtiaz also participated in the popular reality show Tamasha Ghar, hosted by Adnan Siddiqui, where she gained a significant following.
The announcement of Saeeda Imtiaz's sudden passing has left her fans and the entertainment industry in a state of shock and disbelief.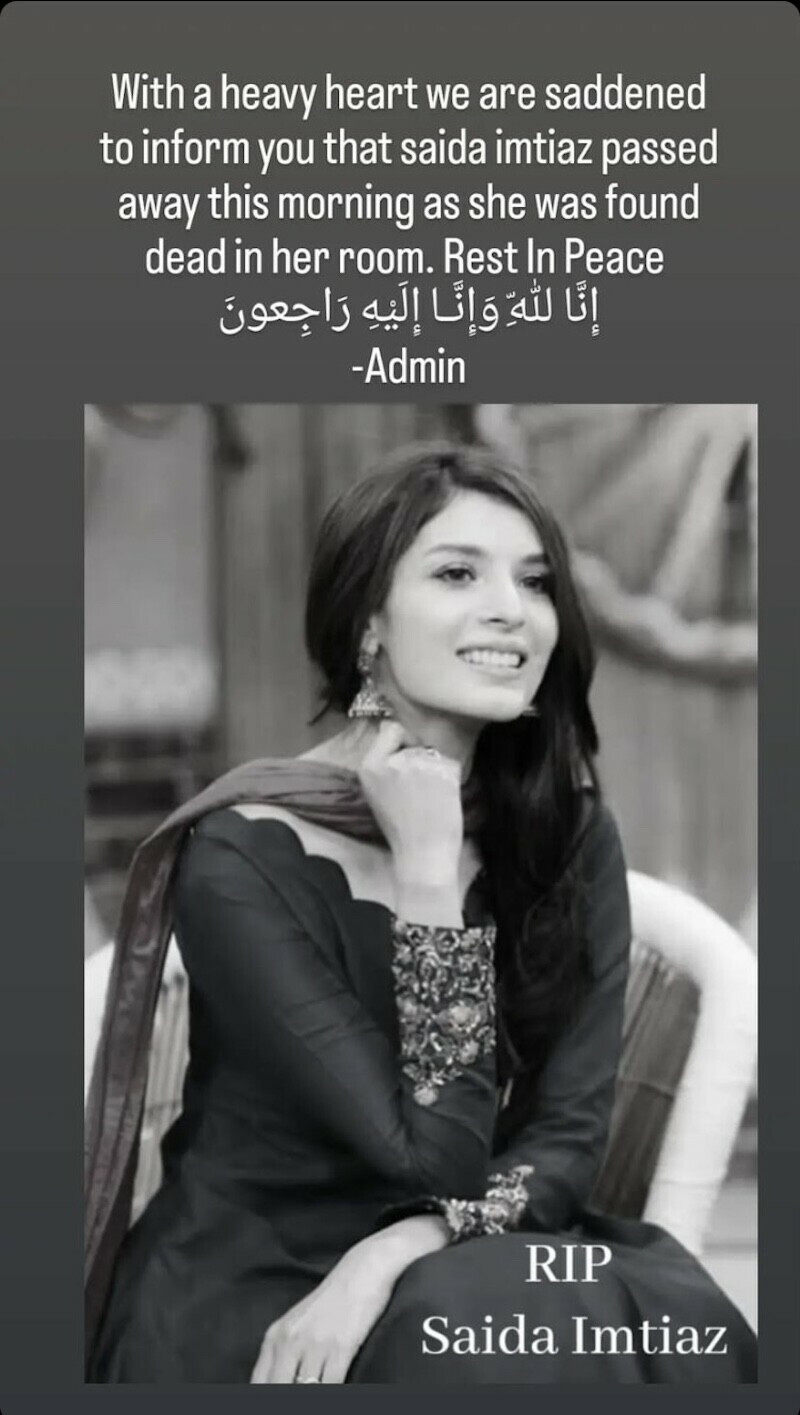 According to the statement on her Instagram account, she was found dead in her room in the morning. No further details have been released about her death.
Saeeda Imtiaz's talent and contributions to the entertainment industry will be deeply missed. Her passing is a significant loss for her family, friends, colleagues, and the wider entertainment community.
​The official Facebook page of Saeeda posted the news of his passing today and wrote, 'With a very heavy heart we are saddened to inform you that Saida Imtiaz passed away this morning as she was found dead in her room. Rest In Peace. إِنَّا ِلِلَّٰهِ وَإِنَّا إِلَيْهِ رَاجِعُونَ.'
Social Media Reacts to Saeeda Imtiaz 's Passing
Here's how social media reacted to her untimely demise:
'UNBELIEVABLE! Pakistani Actress and Model #SaeedaImtiaz passed away this morning as she was found dead in her room. Confirmed by her official Facebook page Admin – Rest In Peace' Writes Sahil Chandio.
'It is unbelievable and extremely saddening. Actor Saeeda Imtiaz (32) was found dead in her room, Imtiaz filmed a bilingual Pakistani film, Kaptaan: The Making of a Legend, a biopic on the life of Imran Khan, which was shot in Pakistan. In the film, Imtiaz portrays  @Jemima_Khan' shares Ghulam Abbas Shah.
'I am deeply shocked and saddened to hear about the passing of Saeeda Imtiaz. May Allah give her loved ones the strength to bear this loss, and may Saeeda Imtiaz's soul rest in eternal peace.' Writes Kasim Gilani
'Young, educated, innocent, pretty girl like flower rose Saeeda Imtiaz's death is so painful. She is in the eternal gardens of Paradise and very happy. O Allah never forgive her murderers and burn them in hellfire #SaeedaImtiaz' wrote Umar Virk
We are extremely saddened by Saeeda's demise and hope she finds eternal peace.
Stay tuned to WOW360.