Are you on the hunt for fantastic Ramadan 2023 deals? Your search ends here!
Our list of the top Sehri and Iftar Deals for Ramadan has got you covered, whether you're planning a serene gathering with friends or a lavish family Iftar.
Without further ado, here are the deals you need to make the most of:
Ramadan 2023 Sehri Deals
1. Subway
2. McDonald's
3. Chaupal
5. Cocohan
6. Big Tree House
Ramadan 2023 Iftar Deals
1. Kababjees
Renowned for its delectable feasts and pleasant ambience, Kababjees serves high-quality cuisine. During Ramadan, the restaurant provides a range of themed meals to enhance the overall experience, featuring not only special platters but also enticing main course dishes to satisfy guests' palates. The restaurant is also offering up to 50% off on various bank cards.
2. Cocohan
Cocohan is offering special bank discounts as a Ramadan special.
3. Domino's
Craving some pizza? Domino's has your covered with an exciting Ramadan 2023 deal.
4. Hardee's
5. OPTP
6. Subway
7. KFC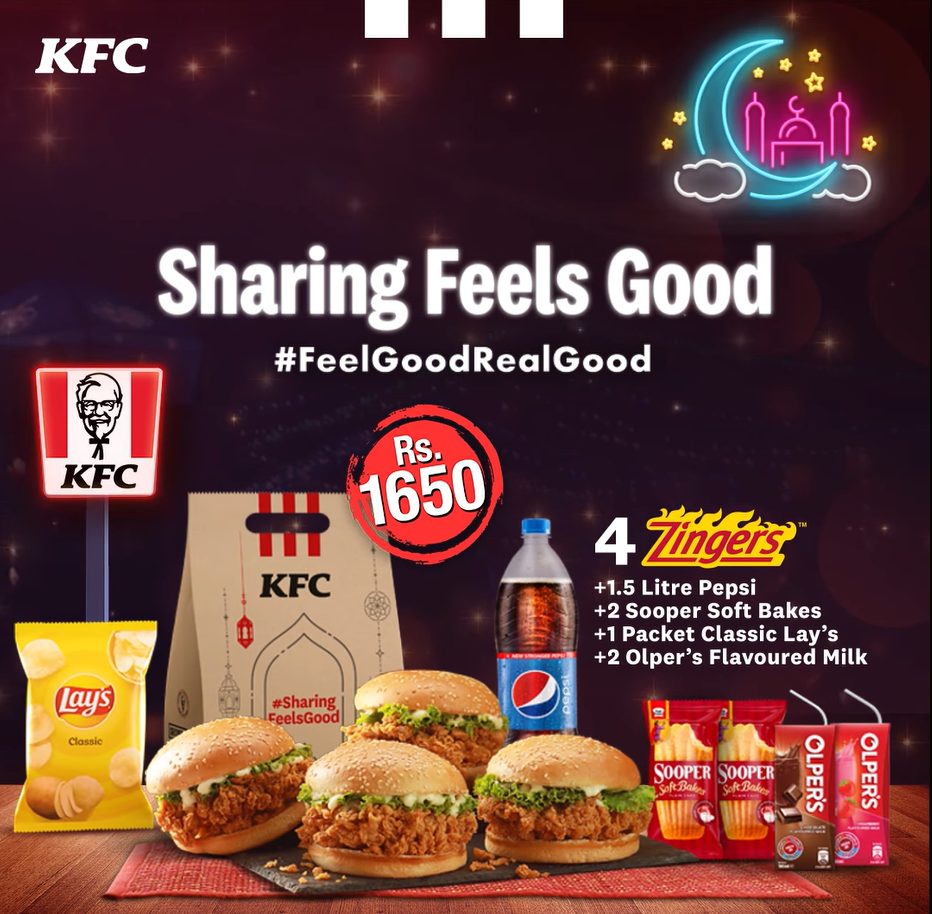 8. McDonald's
9. Bao Bae
10. Restro Karachi
11. Redapple
12. Burger O'Clock
13. Lal Qila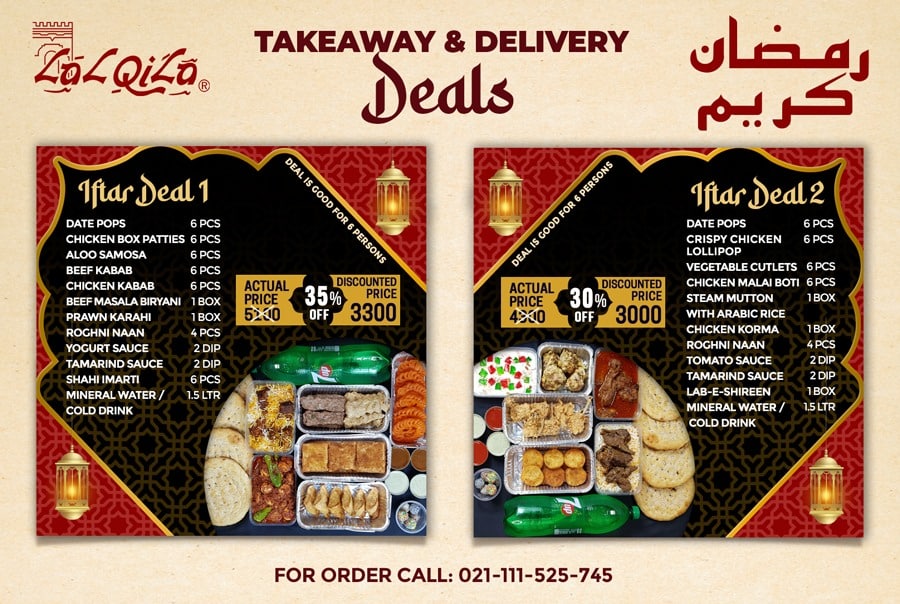 14. Kaybees
15. GreenO
Keep an eye on this list, we will be updating it.
Ramadan in Pakistan
Ramadan is an important month in Pakistan and is celebrated with great enthusiasm and devotion. Here's an overview of how Ramadan is celebrated in Pakistan:
Fasting: Fasting is the most significant aspect of Ramadan. Muslims in Pakistan observe fasts from sunrise to sunset, refraining from eating, drinking, and any kind of physical activity. It is believed that fasting purifies the soul, increases self-discipline, and helps to develop empathy for the poor and needy.
Suhoor and Iftar: Suhoor is the pre-dawn meal that Muslims eat before starting their fast, while Iftar is the meal that they have to break their fast at sunset. In Pakistan, people often prepare a variety of traditional dishes and invite friends and family to join them for Iftar.
Taraweeh: Taraweeh is a special prayer that is offered after the Isha prayer during Ramadan. In Pakistan, people often visit mosques to offer Taraweeh prayers. It is a beautiful sight to see thousands of Muslims gathered together in the mosque, reciting the Quran and praying.
Charity: Ramadan is also a time for giving back to the community. Muslims in Pakistan often donate money, food, and clothes to the poor and needy. Many organizations also set up food banks and offer free meals to those in need.
Family time: Ramadan is a time for families to come together and spend quality time with each other. People often invite family members over for Iftar or go out for dinner together. Many families also spend time reading the Quran and praying together.
Stay tuned to WOW360.