Pakistani artist Misha Japanwala explores the intricate relationship between shame and the human body, presenting a fresh perspective.
Japanwala's thought-provoking artwork challenges societal norms and invites viewers to question their own connections with shame and bodies.
Through her collection, she captures the essence of resistance, resilience, and liberation, fostering a deeper appreciation for diverse expressions of self.
---
---
Pakistani artist Misha Japanwala explores a fresh perspective on the interplay between shame and the human form.
In her artistic endeavours, Japanwala presents a profound reinterpretation of how shame interacts with our bodies, offering a unique vantage point.
Through her art, Misha Japanwala delves into the complexities of this relationship, inviting viewers to question societal norms and embrace a more nuanced understanding of the human form in relation to shame.
Her work challenges conventional narratives and opens up space for dialogue, encouraging individuals to explore their own connections with shame and bodies, ultimately fostering a deeper appreciation for diverse expressions of self.
Her collection, titled "Beghairati Ki Nishaani: Traces of Shamelessness," showcased at the Hannah Traore Gallery in Manhattan from May 4 to July 30, features Japanwala's thought-provoking artwork. In her pursuit, she meticulously crafted plaster castings of 70 anonymous Pakistani individuals, particularly focusing on nipples, which she questioned as being potentially excessive in her studio.
During her stay in Karachi, Pakistan, Japanwala embarked on an artistic journey, capturing body castings of local women and members of the LGBTQ+ community. Her objective was to create a historical testament to a populace constrained by societal notions of shame.
"When so much of our existence has been subject to a campaign of disappearance, this collection is a present-day, physical reminder that our lives and our stories are part of the fabric of our people, and will continue to be so even hundreds of years from now," she said.
The genesis of the Beghairati project arose from the criticism Japanwala faced for her 2018 thesis collection at Parsons, which explored her personal relationship with shame inherited from her Pakistani upbringing. Reflecting on her thesis, she expressed that it was her first opportunity to truly contemplate her identity and appreciate the gift of her body and agency.
For another captivating series, Misha Japanwala extended her reach to encompass educators, activists, directors, comedians, journalists, writers, photographers, artists, and curators who are actively involved in fostering liberation within Pakistan.
Through moulding their hands, she commemorates a tangible emblem of resistance and fortitude. Among the distinguished individuals who participated were notable figures like Sharmeen Obaid Chinoy, a renowned filmmaker who utilizes her voice and influence to champion the rights of marginalized communities in Pakistan.
As her work gained visibility through features in publications like Vogue Spain and adorned by celebrities such as Cardi B, Julia Fox, and Joy Crookes, Japanwala found herself amidst a new storm. Strangers on Instagram flooded her posts with derogatory comments in both English and Urdu, labelling her as shameless, sick, and obscene.
Consequently, Misha Japanwala became fixated on the concept of shame, transforming shamelessness into a subject of study. Through her project, she reached a profound understanding that shame and modesty are distinct entities with no inherent correlation. She recognized shame as a patriarchal pillar and a tool of control.
The inception of this project coincided with the passing of Japanwala's grandmother. Walking past marble shops near the cemetery, where workers carved figurines and inscriptions into gravestones, she witnessed the gradual decay of her city—crumbling facades, torn streets, and an absence of infrastructure for repair.
Scheherezade Junejo, who has previously undergone body moulding and casting for artists like Amna Ilyas and Nausheen Syed since 2007, considers her involvement in Japanwala's project as "an incredibly remarkable experience." Junejo expresses her admiration for the notion of being immortalized by Japanwala, particularly within the prevailing conservative sociopolitical climate in Pakistan.
As someone grappling with issues of self-image, self-esteem, and body acceptance, Junejo felt an immediate sense of worthiness, belonging, and empowerment when she saw herself from a third-person perspective through Japanwala's artwork. All the negativity and self-doubt surrounding her body dissipated in her mind, leaving her with a renewed sense of confidence.
At this juncture, she encountered a semblance of an apocalyptic scenario, intertwining strands of death, disintegration, legacy, and agency. The collection, consisting of resin body parts with metal coatings resembling oxidized copper statues, serves as a fictionalized time capsule, offering a glimpse into the future fight for gender equality hundreds of years from now.
Comprising three sections, the collection includes body castings of Pakistani artists and painters who embrace shamelessness in their art, a collage of hand sculptures symbolizing the contributions of artists, filmmakers, writers, and educators towards a more liberated society ("Hands of a Revolution"), and an anonymous project where nipples act as unique fingerprints of the subjects—some of whom have recently undergone a divorce, gender transition, or survived breast cancer.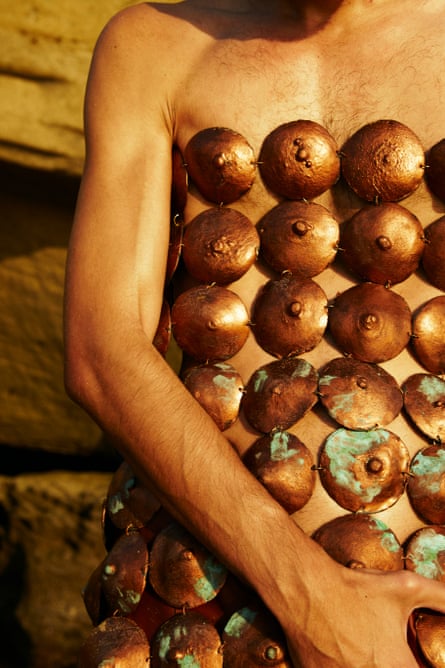 Meetra Javed, a filmmaker who made a short fashion film of Ms. Misha Japanwala's collection, said, "She is unafraid of pushing boundaries, questioning the status quo and creating conversations around the liberation of the body." The short features an unreleased song by Ali Sethi, a Pakistani musician who just performed at Coachella, and Gregory Rogove.
"I'm struck by the poetry in Misha's work, which turns nakedness into a paradox of existence: When we wear her breastplates, we are both exposed and armoured, bare and barricaded," Mr. Sethi said in an email. "When she asked me to lend a piece of music for the video, I sent my most spare, empty, 'naked' composition yet."
"The vision for this piece was to poetically highlight subjects who in their own right are resisting the toxic elements of political and cultural atmosphere, through the lens of Misha's work," adds Javed. "For me, going back to my home country to make this as a Pakistani American felt empowering. Being with a group of artists who are challenging the status quo is a rarity and I feel privileged to experience the progression of thought in my lifetime."
Japanwala concludes: "That embrace from my Pakistani community has been really beautiful and really wonderful. Because at the end of the day, that's who the work is for. It's work for us, it's work about us, it's work of us, it's literally of our bodies."
Stay tuned to WOW360.