This Halloween, consider binge-watching a thrilling TV series instead of a movie, with options ranging from classic shows to fresh Netflix offerings.
A variety of spooky series is available for your Halloween entertainment, from eerie vampires to apocalyptic thrillers, catering to different tastes and preferences.
Five recommended shows for Halloween viewing include Bates Motel and more.
---
---
Instead of opting for a spine-chilling movie this Halloween, you might prefer spending time watching a gripping TV series that unfolds over a number of episodes or better yet, a few seasons! Maybe a re-run of the past seasons of American Horror Story, or exploring the enigmatic world of The Twilight Zone a tribute to the good ol' days, or simply choose whatever piques your interest from the array of shows available on Netflix.
The upcoming spooky season is the perfect moment to line up all the fresh suspenseful and hair-raising offerings headed to Netflix this autumn or simply choose a show that's already available. From the worlds of eerie vampires and real-life paranormal encounters to heart-pounding apocalyptic thrillers that'll have you on edge, there's something for everyone.
Prepare to Netflix and experience the thrill this Halloween with these 5 shows:
Bates Motel
A contemporary prequel to Alfred Hitchcock's "Psycho," this series delves into the twisted psyche of Norman Bates and his complex relationship with his mother. The bone-chilling series delves into the psychological and environmental factors that shaped the young Norman into the infamous character from the original film.
The Haunting of Hill House
The Haunting of Hill House is a Netflix series that masterfully blends psychological horror with a gripping family drama. Based on Shirley Jackson's classic novel, the show follows the Crain family as they confront the traumatic and mysterious events that transpired in the haunted Hill House, both in their past and present.
The Haunting of Bly Manor
This chilling Netflix series, created by Mike Flanagan is the second part in the "Haunting" anthology. For those who've already watched the first, this is a good binge watch for this Halloween. The story follows a young American nanny, Dani Clayton (Victoria Pedretti), who is hired to care for two orphaned children in the isolated Bly Manor. As the series unfolds, it seamlessly weaves elements of gothic horror, romance, and a complex narrative structure, creating an emotionally resonant and eerie tale that explores themes of love, loss, and the enduring impact of trauma.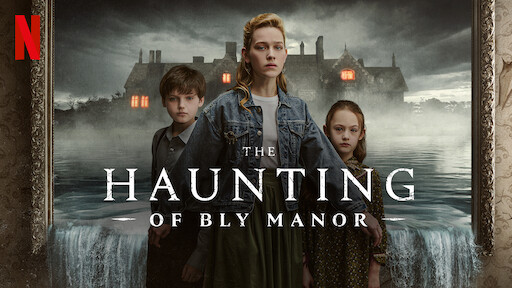 Midnight Mass
This supernatural horror series by Mike Flanagan is set on a remote island and explores themes of faith, redemption, and the supernatural. The story unfolds on Crockett Island, where the arrival of a charismatic young priest triggers a series of inexplicable miracles and unsettling events that disrupt the close-knit community. The series delves into themes of faith, doubt, and the consequences of fanaticism, while its character-driven storytelling and use of religious symbolism create a thought-provoking and atmospheric narrative.
The series has garnered critical acclaim for its deep exploration of both psychological and supernatural horror, making it a must-watch for those who appreciate horror with depth and substance.
Stranger Things
The immensely popular Netflix series known for its captivating mix of supernatural horror, '80s pop culture references, and compelling character-driven storytelling. Set in the 1980s in the small town of Hawkins, Indiana, it follows a group of kids, teenagers, and adults who encounter mysterious disappearances, supernatural events, and a parallel dimension called the Upside Down. With its rich '80s nostalgia, memorable characters, and thrilling storyline, "Stranger Things" is the perfect choice for Halloween binge-watching, offering both chills and a delightful trip down memory lane for fans of all ages.