Pakistani drama series, Mujhe Pyar Hua Tha began with a bang, climbing onto the Wahaj Ali bandwagon success, the show had high hopes for becoming another success story, alas, this was not the case and the show had been going round in circles with little to no development since a long time.
A recent twist in the story has now become the talk of town, the 'false rape' scene between drama lead Saad (Wahaj Ali) and Faha (Areeb's fiancé) has caused quite the uproar on social media. What was touted as a love triangle between Saad (Wahaj Ali), Maheer (Hania Amir) and Areeb (Nauman Ijaz) is slowly turning into a psycho thriller drama, Areeb being the psycho in this case. The scenario began with Faha calling Saad to her room, drugging his drink and then screaming her lungs out when the police arrived at the scene conveniently called by Areeb. The entire ploy was orchestrated by Areeb and Faha to ruin Saad's reputation and put him behind bars.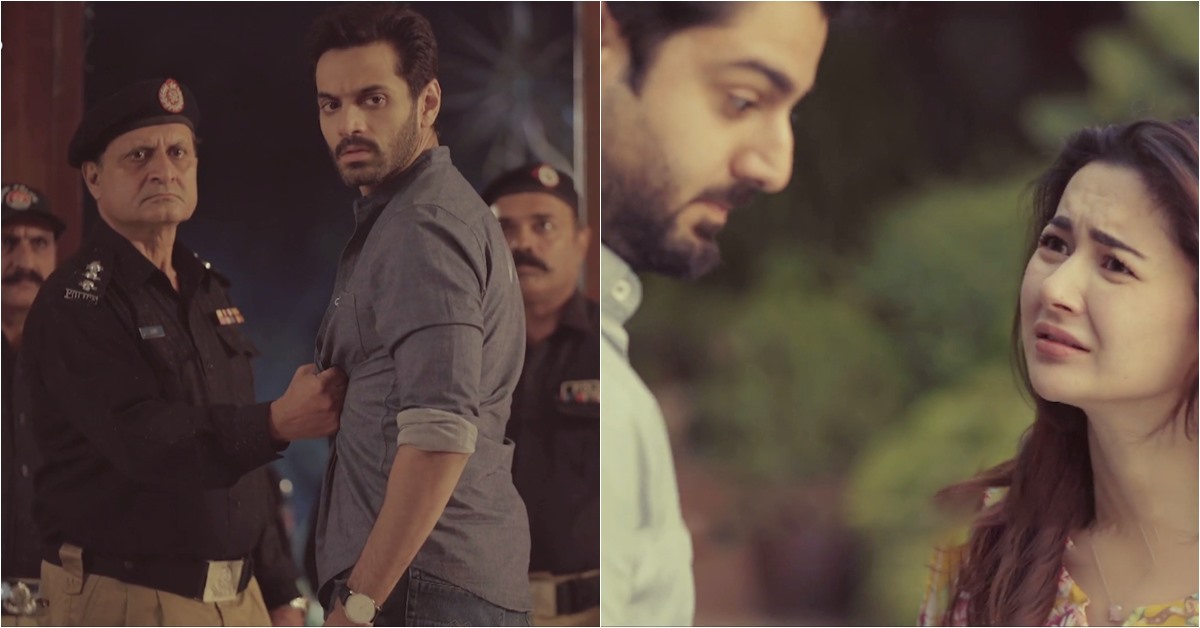 The race for the highest ratings it seems has caused the show-makers to add this false rape accusation into the plot. With the #metoo movement already being set back across the world with false cases such as the Johny Depp v. Amber Heard, Pakistani dramas need not promote false rape accusations in dramas. Keeping in mind the number of actual rape cases that remain unsolved in the nation, to show false accusations made by women and broadcast it on national television is a definite no-no!
Influence of TV Dramas on the General Public
TV dramas have the power to shape public perceptions and influence attitudes in the country, unlike a film which is watched by those who choose to go to the cinema, dramas are accessible even in the rural areas. Pakistani show makers can choose to address social issues, challenge stereotypes, and promote inclusivity, thereby raising awareness and fostering positive changes in society. However, the opposite is being done, just recently, the sensational drama, Tere Bin showed an alleged marital rape in one of the episodes that led to a brouhaha on social media, with the world watching, Mujhe Pyaar Hua Tha has similarly brought rape into the equation for an unpleasant turn in the story. The hero who has been the knight in shining armour since day one of the show is now the main suspect for an alleged rape.
TV dramas can encourage empathy, understanding, and acceptance among viewers but what are shows like Mujhe Pyar Hua Tha showing? In a country where rape is hardly ever reported due to fear of victim blaming, shows like Mujhe Pyaar Hua tha, Tere Bin and Dunk are here to prove that women often cry wolf and accuse their male counterparts on false rape cases. These false accusations shown on television take away from the real incidents that are common occurrences in our society.
Take a look at what netizens have to say about Mujhe Pyar Hua Tha's False Rape Scene:
About to start on weird bakwas even before real relationship between #Saheer can start. Why do writers find this nastiness to be plot development? There is something to be said about positivity & growth in characters that pleases audience sentiments. #mujhepyaarhuatha pic.twitter.com/KJS1tGlas1

— mh-Musings (@entrespire) July 3, 2023
the only thing that's funny about #MujhePyaarHuaTha is how quickly the writer destroyed a very promising story.#WahajAli #HaniaAamir pic.twitter.com/QzcJVuX7Sn

— adaaaaaaa (she/her) 17 (@_styles_25) July 10, 2023
just when I thought MPHT wouldn't get worse it did get! I really want to know why would you add a false rape sexual harassment track when there was no need of it! As if the lead ckts weren't suffering enough that you added this shit well😭 #MujhePyaarHuaTha

— 🐣 (@_cloud_Zoe) July 4, 2023
What is happening in Pakistani dramas now a days😐…few female writers are getting sick😕…stop fantasizing sensitive topics just for the sake of eyeballs or TRPs🤬…ek ladki ki ya aurat ki koi izzat nahi hai! Kya ye mazakh hai😭…Why added this unnecessary in #MujhePyaarHuaTha ? pic.twitter.com/pZf1H8cz8O

— Rumaisa Rahman (@rumi_rah1) July 3, 2023
#MujhePyaarHuaTha
How do they get drugs to spike drinks in tv shows so easily? https://t.co/i1D24l1T6u

— 𝐚𝐫𝐢☁️ (@panipurikiaulad) July 3, 2023
What pure torture is this. By God so toxic. Wahaj please aise scripts na choose karo#mujhepyaarhuatha#WahajAli

— Tabassum Ruhani (@RuhaniTabassum) July 10, 2023
Omgg pls I can't watch MPHT also now why are writters so much interested in showing rape?? Just why if they think it's cool then No bro it's disgusting and uncomfortable to watch…..

•#TereBin #MujhePyaarHuaTha #MPHT #WahajAli •

— A🇮🇳 (@ayra_13_) July 3, 2023
Seriously I can't understand What's happening in Pakistani dramas? Writer's are sick? What they want to sent a message from this Low maintality?stop fantasizing sensitive topics just for the sake of TRPs#MujhePyaarHuaTha pic.twitter.com/XXCSJTuyZE

— Namal (@NamalAfandi) July 4, 2023
Follow WOW360 for more.