Pakistani model Saheefa Jabbar Khattak has been using her Instagram and, of course, her reach on the platform to sell her pre-loved clothes and other items that she is no longer using. These items are up on the model's platform straight from her wardrobe and are mostly from Spanish apparel retailer Zara, and British global fashion retailer, New Look.
These pieces are quite stunning. Bonus point? Jabbar has been posting pictures of her donning these items in her outfits, which gives buyers a better sense of understanding as to how the pieces can be paired with different outfits.
Sustainable Lifestyle is the Future
In today's world, we must all responsibly shop and then learn to recycle items we have bought. A sustainable lifestyle must be our future. In many developed countries, people have realized how a sustainable lifestyle will help us save the planet; hence, people are mindful of buying items and being mindful about recycling them.
When we speak of sustainable fashion, people can do their part by buying from brands that are eco-friendly, thrift, buy & sell pre-loved items, resulting in lesser waste. We often find ourselves buying items and wearing them just once or twice and watch them sit in our wardrobes forever.
Why not sell your pre-loved items? That is exactly what the 32-year old starlet did and received backlash.
Saheefa Jabbar received a massive backlash after posting pre-loved items on her Instagram for various reasons. She was asked, "Why selling clothes when you seem like a rich person? Doesn't your husband buy you any new clothes? Oh hello, who will buy your used clothes that too with such an expensive price tag? It's better to donate these clothes to underprivileged people than selling and profiting from them? Do you not feel any shame while selling these overpriced clothes?"
Of course, it is difficult for people to understand the price tag attached with items in a developing country, but the model has a point. The underprivileged can't benefit from these clothes unless they are sold to people who prefer buying them. She is promoting a sustainable lifestyle and giving away the money to charity from which people can buy food.
She responded to the concerns in a series of posts on her Instagram:
She also pointed out that these clothes are expensive because when she bought these items, the dollar was on fire.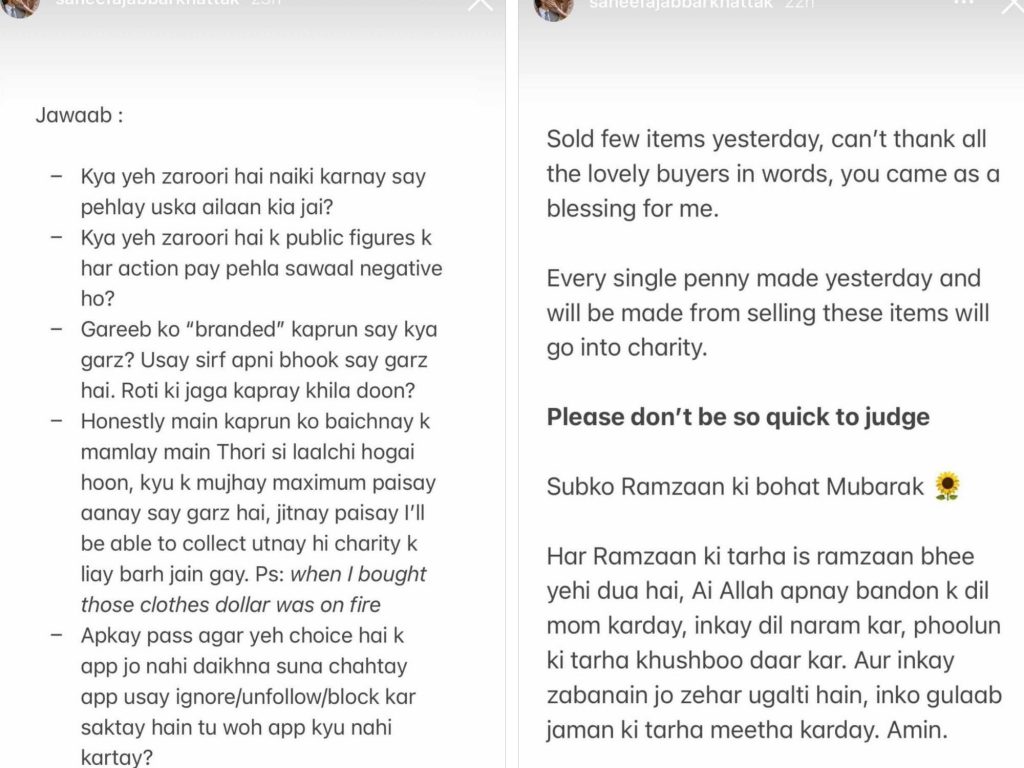 Have something to add? Let us know in the comment section below.
For more news and updates, stay tuned to Wow 360.