Zarsanga Bibi is a well-known Pashto folk singer. The crooner is associated with renowned music platforms such as Coke Studio and has been recognized as one of the legendary artists that have contributed a major share to the music industry.
According to Zarsanga  Bibi, she has over 2,500 awards, certificates, and medals. Not too long ago she made the news as during the COVID-19 pandemic, she was forced to live with 200 of her family under the same tent for Rs. 15,000 a month.
The government had allotted the singer an official residence in Kohat for two years, and on termination of the stipulated time, she was forced to vacate the house.
Rising to Fame
She was first discovered at an early age and was approached to sing on the radio. However, her father refused. But she said she will sing on the radio as it had always been her passion. In return, she received a slap from her father, but she did not give up. She again stated that she will take her voice national on the radio under any circumstance.
Zarsanga Bibi then went to Rawalpindi after some time where she was offered a chance to go on television. From there, she shot to fame. Since then she has come a long way.
She is also one of the beautiful voices behind HBL PSL franchise Peshawar Zalmi's anthem titled 'Aya Zalmi' that was released earlier this year.
Other than this, Zarsanga Bibi is famous for her Coke Studio track 'Rasha Mama' which also features Pakhtoon singer Gul Panara, and has other songs under her belt such as 'Tapay', 'Arman', Gulla Sta de Kallee' amongst others.
Lok Virsa Tribute
A prize fund of US$500,000 might be distributed amongst the awardees and particular honorees together with skilled growth alternatives.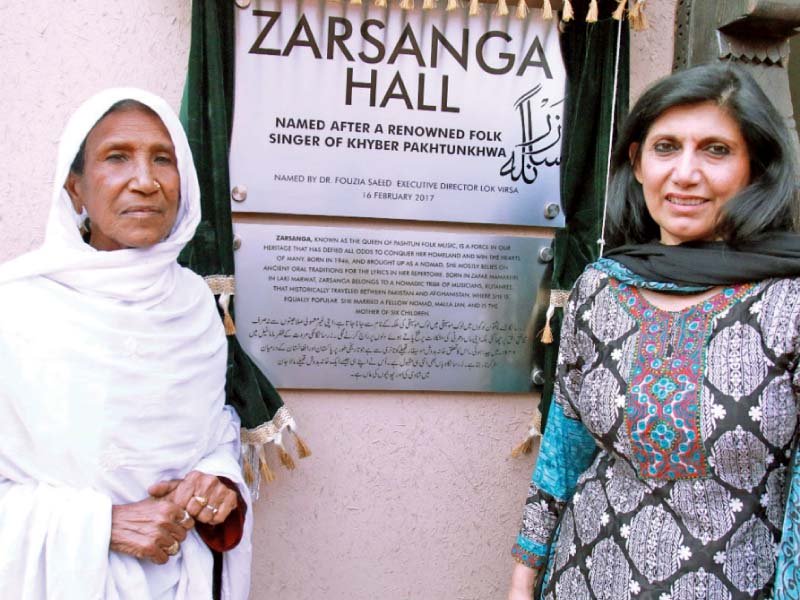 In 2017, the Lok Virsa named a recently renovated hall after singer Zarsanga Jan to honour her. "It is unfortunate that women are disappearing from folk music, but Lok Virsa is making every possible effort to provide an enabling environment so that the mantle of folk music is transferred to the new generation," said Dr Fouzia Saeed, the executive director of Lok Virsa at the ceremony.
With Zarsanga making an appearance at the ceremony, Dr Saeed added that she felt proud to celebrate a legend for her services to Pushto folk music. "This is not the end of it, and we will keep promoting and celebrating folk singers," Dr Saeed added.
The Aga Khan Music Award 2022
On the other hand, She and Saaein Zahoor were recently awarded the Aga Khan Music Award 2022. Started in 2018, this initiative recognises and supports exceptional talent, creativity, promise, and enterprise in music performance, creation, education, preservation, and revitalisation in societies worldwide where Muslims have a significant presence. Nominees, however, need not be Muslims. Nominations are made without regard for religion, race, gender, and age.
We would like to take this moment and give our salute to Zarsanga Bibi for her marvellous contributions and hope that the government puts an end to her woes.
Stay tuned to WOW360.