The internet is filled with inspirational stories and individuals, one such person who has become an icon for the youth of Pakistan is Meerab.
Meerab is a KFC rider based in Youhanabad, Lahore. She decided to walk down this career path to support herself and pay off her university fees. She is currently pursuing a degree in Fashion Designing.
She plans to work hard as a female rider for at least the next 3 years so that she has enough money to pay her fees.
One day, this amazing woman wishes to be a successful entrepreneur and wishes to have her own fashion brand.
Meerab's story came into the spotlight after a post on social media posted by Mary James Gills started to go viral. The post was originally written by Asma Yusuf. She writes:
Today, I ordered KFC in Lahore and received a call from a female saying 'hello, I am your rider speaking'. I got so excited that I stood outside the gate to receive her and we spoke for a good 10 minutes about many things, including her pursuits, passion, and bike riding skills.

Meet Meerab from Youhanabad, Lahore. She is pursuing an undergraduate degree in Fashion Designing and does her night duty as a KFC rider to cover her fees. She intends to remain a rider for another 3 years until she graduates post which she plans to launch her own fashion brand!

More power to her! May we see more Pakistani girls riding off to adventures in their heart's desire!

Thank you KFC Pakistan!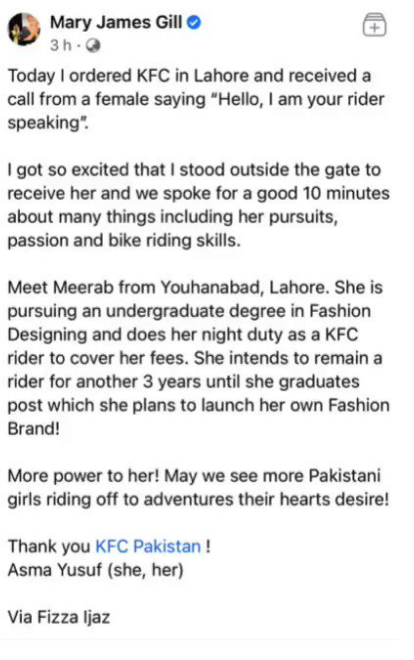 Indeed, it truly does make us happy to know that girls like Meerab are setting a beautiful example of how hard work definitely takes you up the ladder, and one day will help you accomplish everything you've ever wanted.
We wish Meerab all the best and hope to see her launch her own brand in the near future. Until then, stay tuned to WOW360 for more news and updates.
Meet Farheen: A Female foodpanda Rider Who Aspires to be an Airforce Engineer