Pakistan has some of the biggest female sports players who have often made their country proud on the international level.Mahoor Shahzad, a 22-year-old Badminton player has also made headlines around the globe after becoming the first Pakistani to enter the list of top 200 (192) female badminton players in the world.
Mahoor, who started to work on her passion at the age of 11, has also topped the charts of the national rankings and made the nation proud.
A Family of Champions
Mahnoor belongs to a family that is already engaged in a number of different sports on the international levels. Her father is veteran rower Muhammad Shahzad who bagged a bronze medal in Pan Pacific Masters Games which was held in Australia a few years ago.
Moreover, her sister Rabia Shahzad won a gold medal in Ralph Cashman Open weightlifting competition in the category of 55Kg. She lifted a total of 90 kilograms weight, 40kg snatch 50kg clean n jerk to claim the top spot. Another sister of Mahoor, Faryal Shahzad was also a national junior champion but now she has left sports to pursue her higher education.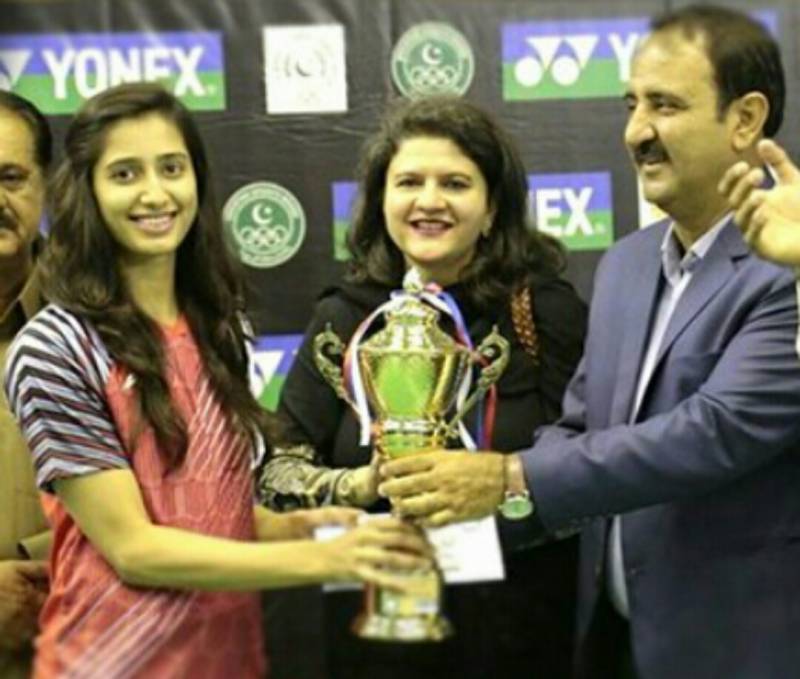 While talking about her family and motivation to get into sports, she said:
I had interest in badminton since childhood. Me and Faryal started playing badminton together and then we became the national junior champions, but soon Faryal left the game for her studies and I continued along with my studies.
She further added:
Rabia had weak eyesight so she couldn't play badminton. She was interested in power games since the beginning. She used to wrestle with us and our father so she tried different sports, but then chose weightlifting after watching Twinkle Sohail.
She also said:
I and Faryal at an early age used to go for running and training with our father, then soon we started playing badminton on the streets. After a year our father took membership at the local club where we used to practice with our father in the morning and then with the coaches — Iftikhar, Imran and Ali Mehdi — in the evening.
Educational background
Last year, the sportswoman completed her BBA in Finance and Marketing from IBA in Karachi and now she wants to become a Chartered Accountant. She shared:
I took admission in IBA in 2014 and at that time my father asked me to go to some other university where attendance won't be a problem, but I continued at IBA. I asked my Dean Ishrat Hussain and Farooq Iqbal to support me if I miss my quizzes and exams during competitions. Their positive reply helped me a lot.
During her BBA programme, she had also participated in the Asian Games, the Commonwealth Games, and other international tours.
Her motivation and success
At the age of 13, she participated in the National U19 Championship for the first time and bagged the first position. It was then she and her family realized that she has the potential to represent Pakistan on the international level.
She said:
That was the time when my parent got to know that I have the potential to play at the international level for Pakistan. My father also asked me to only pursue badminton if I want to play at the international level.
Sports Academies for Women in Pakistan
While talking about the facilities of sports academies in Pakistan, she said that female players only have limited public clubs and academies in the country. She revealed:
People usually compare us with Indian players, but they don't see the difference in the level of available facilities. In India they have proper academies where the players stay and practice all day, they even get their tuitions at the academies, while here we only have limited public clubs. Others are mostly private and you have to train on your own.
She further requested the government to release some funds and said:
I have been selected in Asian Olympic Project under which they sponsored four tournaments in 2018 and will do four more in 2019. I have to play 10-15 tournaments in a year if I want to qualify for Olympics to push my rankings into top 70. The government should release funds which is the biggest hurdle in our progress.
Well, we would totally to watch Mahoor Shahzad representing our country on the international level again!
What are your thoughts about the story? Let us know in the comments section below.
For more updates and details, stay tuned with us.