Nobel laureate Malala Yousafzai has always been a champion advocate for Women's rights, particularly for education. She even started the Malala Fund to help girls in third-world countries being deprived of their rights in several countries.
Not too long ago, Malala had expressed her interest in owning a cricket franchise. Reportedly, Malala Yousafzai had shown interest in the Pakistan Women's Cricket League and expressed the desire to the current board management after former chairman Rameez Raja.
According to a report, sources say that Malala Yousafzai will participate in the bidding process for the women's league teams.
Malala Yousufzai Wants to Promote Women's Sports
Now, further developments have surfaced in Malala's interest in sports, particularly for women.
On Tuesday, Malala posted a story on her Instagram account where she shared an article from the New York Times about India's efforts to transform cricket, the "gentleman's game," through the establishment of a professional women's league.
She expressed her opinion, urging for more investments in women's sports, and accompanied her post with a trophy emoji.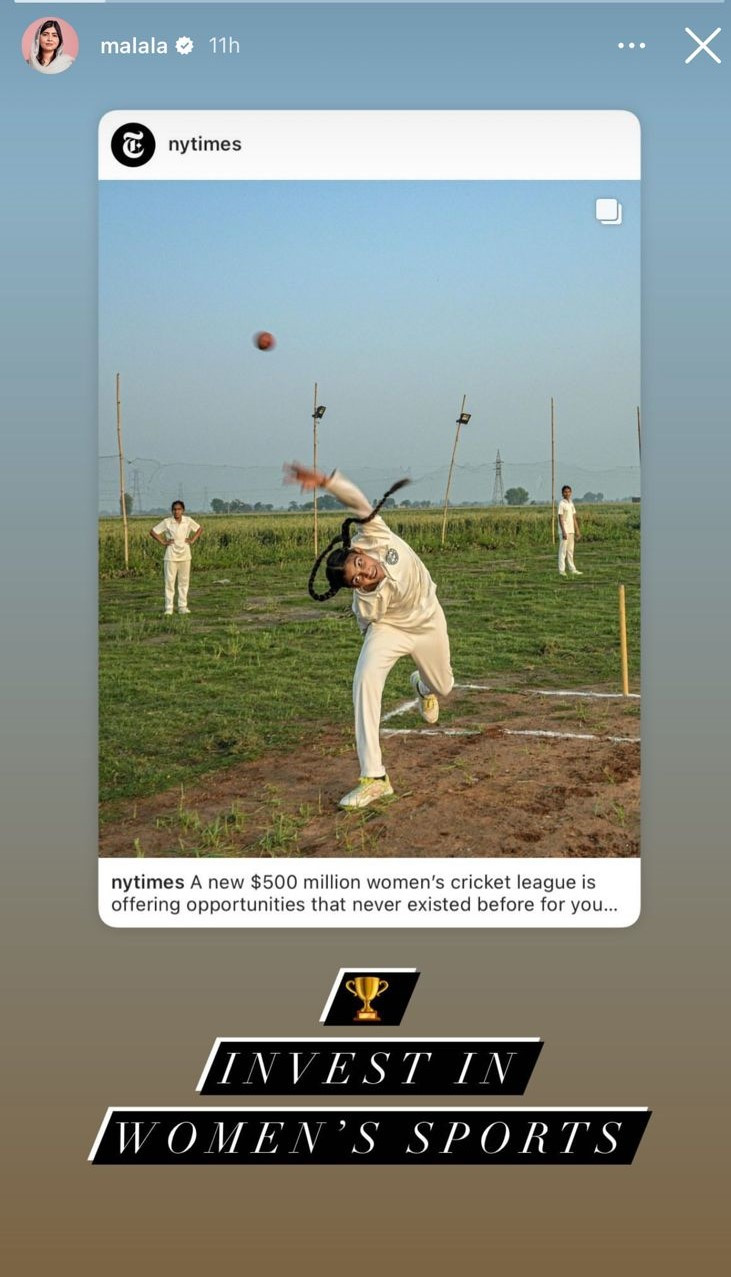 This is not the first time Malala Yousafzai has been seen as a sport-fanatic. Malala's husband Asr Malik has worked with PCB in the past while Malala has also shared in the past that she loves playing and watching cricket.
On the other hand, Malala had met the women cricketers representing Pakistan at the Commonwealth Games in Birmingham in Lahore last year during her PCB visit.
Malala Fund is Actively Funding Women's Sports
In 2020, Malala Fund's Game Changer series celebrated 30 female athletes who are breaking barriers in their respective sports and communities around the world. Assembly, a digital publication and newsletter by Malala Fund, produced the series, showcasing how sports can positively impact the lives of women and girls.
The profiled athletes, hailing from 24 countries, consisted of Olympic and Paralympic champions, as well as emerging talents from various sporting fields. Their diverse backgrounds and experiences offered a unique global perspective on women in sports.
The series featured a wide range of athletes, including Miki Matheson, a three-time Paralympic gold medalist, and Tanya Muzinda, a 15-year-old aspiring to become the first female motocross champion in Africa. Readers were also introduced to Atefa, the first girl in Afghanistan to land a kickflip, and Tyasha Harris, the No. 7 pick in the 2020 WNBA draft, who shared her experience playing for Dawn Staley at South Carolina.
What do you think about Malala's initiative?
Share your thoughts with us in the comments below.
Stay tuned to WOW360.