Popular Turkish actress, Esra Bilgic has taken over the local brands by becoming their official brand ambassador. The starlet has robbed plenty of local brands and has been spotted donning traditional and fusion outfits which have caused quite a stir among her loyal fans. The latest photoshoot of the starlet with a local brand mesmerised us beyond our expectations. The star not just looked divine in her persona, but the pieces she wore were unique, bold, and fabulous.
The collection called MY SYMPHONY featuring Esra Bilgic is one of the most awaited special edition collection full of versatile designs. The pieces are lethal, and they can be dressed up or dressed down, according to to the occasion. A wide variety from which you can choose from vibrant designs to intricate embellishments rooted from our heritage, ranging from silk to chiffon and velvet.
Here is how you can pair these latest pieces from the collection:
Midnight Glamour
A very subtle and beautiful piece in the collection is this black velvet jacket with geometric embroidery which can be worn in numerous ways. A plain black shirt underneath would also look elegant if paired with chunky jewellery.
Winter Nights
The bold black raw silk jacket is the most daring piece in the collection and might I add, not everyone's cup of tea. This beautiful jacket can be paired with a solid dress on a winter evening, or even on top of plain black kurta as a shadi outfit.
Emerald Elegance
One of my favourite pieces on the list is the emerald elegance. It is a deep green viscose raw silk kurta that can be paired with black pants and high heels. The emerald green colour is the star of the outfit, avoid pairing it with anything that takes the show away.
Pearly White
This beautiful muted off-white cotton net kurta with geometric embroidery is the most fun piece in the collection. This outfit is only for parties and special occasions and can be easily dressed up. Throw in some colourful earrings and bold lips to add that extra spark!
Enchanting Garden
Vibrant green viscose raw silk kurta with geometric embroidery is one of the beautiful pieces in the collection: the pink and the yellow contrast each other just right and would look great with silver jewellery.
Bold Essence
Bold black organza jacket with embroidery can become an outfit suited for a wedding. However, you will need to add some jewellery, some dramatic eyes, a bold lip, and a high heel to oomph this outfit.
Ruby Splendour
Ruby Splendour is a beautiful red crosshatch kurta that looks so great just the way it is. The exquisite thread work that extends from arms to shoulders and joins the neckline is nothing less than art. Keep it simple!
Black Horizon
Bold black unstitched light khaddar outfit is filled with different patterns and designs. This outfit is an excellent gift for someone who enjoys traditional wear with a modern style. Pair this top with black pants. The dupatta with this outfit looks spectacular, can be paired with solid black or white separates.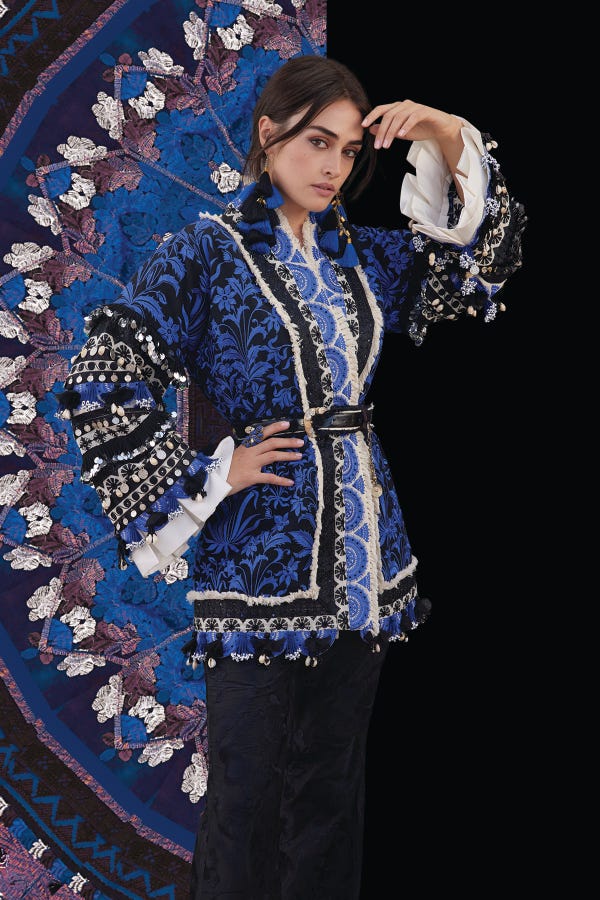 Blooming Sunflower
Blooming mustard marina kurta is a fantastic fusion piece. This can be worn with matching pants or skin-tight jeans, whatever you feel comfortable in. The necklace in the picture seems to be playing the role of bringing oomph to this outfit.
Warm Melody
A warm cotton net outfit is the perfect blend of reds and pinks to compliment your personality. Since the colour speaks for itself, it is best to keep a minimal approach with the look in terms of hair, makeup, and jewellery. Wear the strongest perfume if you will.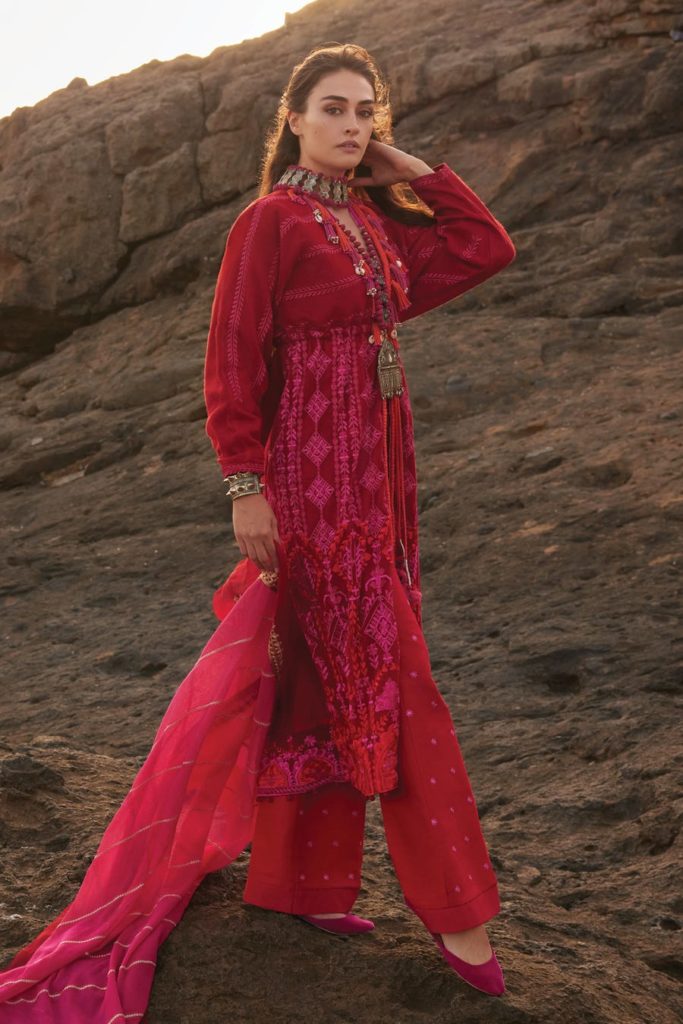 Oceanic Charm
This Oceanic blue viscose raw silk kurta is such a great piece to add to your wardrobe. The pattern and the colour palette are so similar to a traditional tile and can go very well with some statement jewellery, tied up hair, and mid-length heels.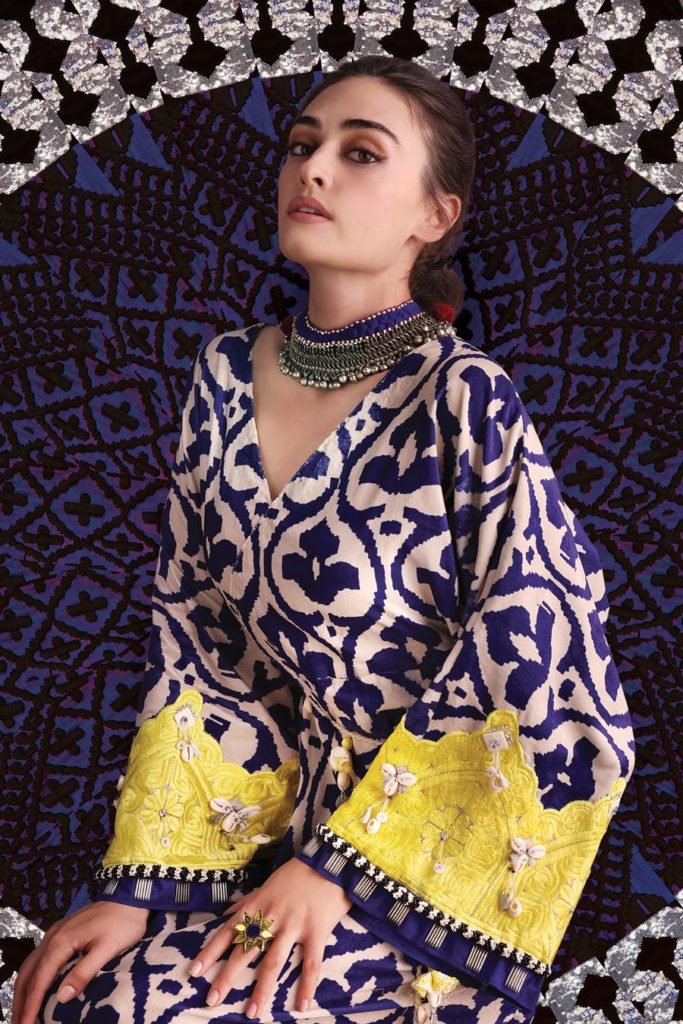 Beige Matters
A calming beige unstitched khaddar outfit is just what you need on a fun evening. This can be paired with different pants or jeans readily available in your wardrobe too.
Gleaming Green
A fresh green unstitched khaddar outfit with floral prints is a hearty outfit for a winter evening to socialise and spend some time with your friends. Pair it with delicate jewellery and loose curls to look fabulous as ever!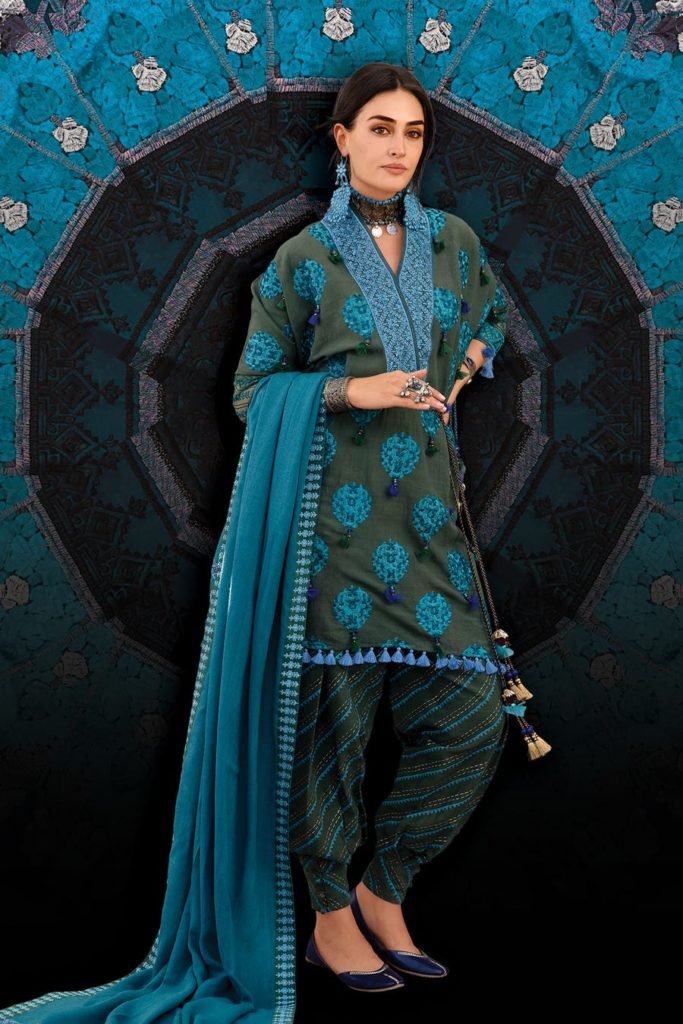 Most of these pieces sold out very quickly right after they appeared on the website. Let's hope they are back in stock. Have something to add? Let us know in the comment section below.
For more news and updates, stay tuned to Wow 360.