As Eid ul Adha 2023 approaches, it's time to explore the emerging Eid looks and prepare for the festivities.
You have the freedom to choose between exquisitely crafted traditional ensembles or modern-infused looks for your Eid attire. Whether you prefer timeless charm or a contemporary twist, there are options to suit your personal style.
This year, pastel shades are making a splash, offering a refreshing and elegant choice for Eid ul Adha outfits. Additionally, the classic white kurta paired with vibrant accessories remains a timeless and foolproof option.
---
---
As we dive into the month of June, it's just about time to start preparing for Eid ul Adha 2023 which is just around the corner.
Eid ul Adha, is known as the Festival of Sacrifice, is a joyous occasion celebrated by millions of Muslims around the world.
As the days of Eid ul Adha approaches, excitement fills the air and preparations begin. If you've not decided on your Eid looks for the 3 days of Eid, take a look at the emerging trends that are taking the festive season by storm.
Social media platforms, particularly Instagram, have become a hub for discovering and predicting the hottest styles for this special occasion.
From bespoke traditional outfits that exude timeless elegance to the vibrant pops of colour that catch the eye, we've got you covered with some major style inspiration.
You can explore exquisite traditionally crafted outfits or choose an infusion of modern elements that bring a contemporary twist to your Eid look.
While some love selecting pieces that have a timeless charm, others may prefer a vibrant modern flair such as the trendy co-ord sets or matching separates that have taken the fashion scene by storm.
Check out whats trending and how to incorporate these styles into your Eid looks for the upcoming Eid festivities.
We've curated a collection of Eid looks and trends that are sure to make a statement this festive season
All things Pastel!
Keeping in mind the scorching heat we're experiencing these days in Pakistan, we're definitely preparing for a hot Eid ul Adha this year. We're loving all things pastels these days and are looking forward to donning a few pastel outfits this Eid. This gorgeous pastel purple with an off-white base and shalwar paired with a purple tie and dye scarf is calling our name! Dress it up with some blingy accessories (or not) and you're good to go!
Also Read:
Traditional White is Always Right!
Nothing can top a simple white kurta on Eid day, a beautiful 'chikankari' kurta can be paired with a white shalwar/pants and a colourful silk dupatta to add that pop of colour. Pair it with some desi jhumkis and a pair of traditional khussas, the combination is a killer and you can never go wrong with it.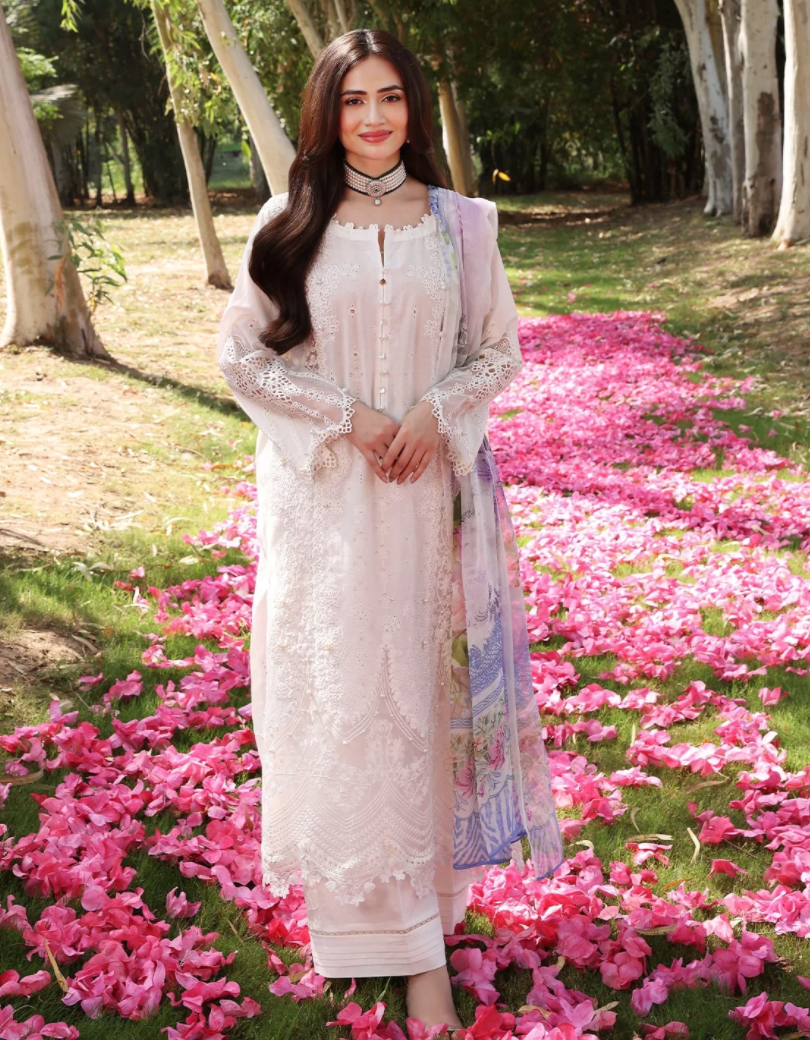 Also Read:
Solids and More Solids!
The trendiest looks these days are one-colour solids where the top and bottom are of the same colour and material, normally made of a single colour. These sets look trendy, and stylish and are casual enough, just right for this weather. Heading off for an Eid brunch? Be sure to keep this look in mind.
Follow WOW 360 for all the latest news and updates