The events for Minal Khan and Ahsan Mohsin Ikram have kickstarted in Karachi from Tuesday, September 7, 2021. Pictures of Dholki and Mayn have already been making rounds on social media.
Fans are eagerly waiting for pictures and videos to roll in from main shadi events soon. The lovebirds, Minal and Ahsan, are all set to tie the knot on Friday, September 10, 2021.
Ikram, who is hyping his wedding on Instagram, asked his followers if they are ready for the festivities for his shadi to kick-start. While hundreds responded with an affirmative answer, Minal's sister, Aiman Khan, left a comment that said, "I'm not ready". 
Like all sisters, this time is a mix of so many emotions for Aiman Khan, including happiness and, of course, the sadness of her sister finally tying the knot and leaving.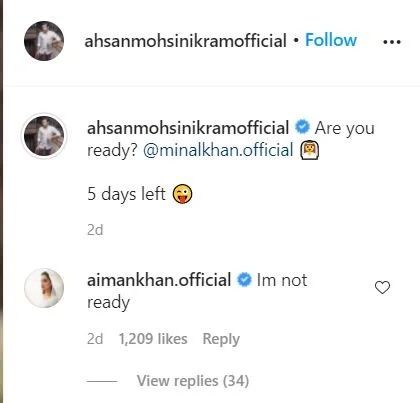 Minal and Akram wore matching outfits in the shades of orange. The two looked really cute together at their dholki event
The couple also had mayun event where they both wore yellow, of course, and looked stunning as ever. The while stage was also decorated with gainday kay phool, keeping in mind the event's theme.
Aiman and her daughter were looking stunning in beautiful purple matching outfits.
Aiman and Muneeb also take pictures at the stage during the mayun event
Everyone hit the dance floor, and clips rolling in look like everyone present at the event had a fun night, but one special person on the dance floor was Aiman's daughter, who showcased her moves too.
Aiman and Minal dancing together
Bride busting some moves on the floor!
Junaid Safdar's Voice Wins Many Hearts After Clip of Him Singing on His Wedding Day Goes Viral! Read the full story here:
Pakistan's ex-Prime Minister Nawaz Sharif's grandson, PML-N Vice President Maryam Nawaz, and Captain Muhammad Safdar Awan's son Junaid Safdar tied the knot with the head now-defunct Ehtesaab Bureau, Saif-ur-Rehman's daughter Ayesha Saif Khan in London. The nikah ceremony took place at The Lanesborough in an expensive 5-star hotel on the Hyde Park Corner in Knightsbridge.
Junaid Safdar's Voice Wins Many Hearts After Clip of Him Singing on His Wedding Day Goes Viral!
Have something to add? Let us know in the comments section below.
For more news and updates, stay tuned to Wow 360.