On Friday, June 30, 2023, The Diana Award shone a light on more than 180 exceptional young individuals who received the highest recognition for their remarkable achievements in social action and humanitarian endeavours. This annual ceremony, held in commemoration of Princess Diana's upcoming birthday, celebrated the incredible efforts of these young changemakers. The Diana Award honoured 189 young people from 31 countries around the world, the award ceremony was a virtual event.
The awards ceremony is supported by HR The Prince of Wales and Prince Henry, both children of the late Princess Diana.
(1/5) "As we come together, I am reminded of the profound belief my mother held in the transformative power of young people.

She recognised their unique ability to challenge the status quo and push for a more inclusive and compassionate society. pic.twitter.com/eTiDg5z6TR

— The Diana Award (@DianaAward) June 30, 2023
(1/3) "Today, we recognise the power of young people to inspire meaningful change.

To all award recipients, congratulations. Your accomplishments are a testament to your character, passion and determination to make a difference, you are an inspiration to young people everywhere. pic.twitter.com/WP6RxyViyU

— The Diana Award (@DianaAward) June 30, 2023
Pakistani Recipients of the 2023 Diana Award Roll Of Honour:
This year 6 Pakistani young leaders have received the coveted award, Muhammad Ali Alam who has raised awareness of environmental issues at a young age, Eisha Mehtab a young lady who is a passionate advocate for women's empowerment in the country, Fahad Shahbaz the founder of the youth general assembly of Pakistan, he is a force to reckon with and often raises his voice for the betterment of youth in the country. The 4th recipient of the Diana Award from Pakistan is 24 year old Mahnoor Syed, a social activist working on the empowerment of women in Pakistan since the age of 16. The 5th recipient is Ayesha Noor Fatima, she works on awareness of Gender based violence and has developed Pakistan's first ever citizens' guide to counter GBV. Noor Fatima is the 6th recipient who has worked tirelessly to conquer workplace harassment and has implemented the Protection of Women Against Sexual Harassment in Workplace Law.
Let's get to know more about the young change-makers of our country and take a look at their commendable accomplishments.
Muhammad Ali Alam
Ali Alam is a compassionate and empathetic individual who works towards creating unity and understanding between different groups of people and society and nature. He initiated community service activities and raised awareness of environmental issues at a young age and is now instrumental in the development of the entrepreneurial community at their university and locality. Ali has made a significant social impact through charity and entrepreneurial activities and is an inspiration to his peers.
Eisha Mehtab
Eisha is a passionate advocate for women's empowerment and mental health awareness in Pakistan. Coming from a poverty-stricken home and having faced harassment growing up, she co-founded 'The Mirror' at the age of 17, providing a platform for women to speak up confidently. Eisha has initiated and contributed to many significant projects, including self-defence, harassment and consent education programmes in schools, mental health support, documentaries, short-films and campaigns to raise funds and awareness for various causes. Her work has impacted over 400 school children over 6 successful years, getting her recognized as the 'National 25 under 25 Women' in Pakistan.
Mahnoor Syed
Mahnoor Syed, a 24-year-old social activist from Pakistan, has been dedicated to serving the community through her non-profit organisation since the age of 16. Their work includes advocacy, activism, and media presence, with a focus on women's well-being. Mahnoor's impact has been felt by hundreds of women directly, empowering and inspiring many more. She has led by example, becoming a role model for her peers and demonstrating empathetic yet firm leadership.
Fahad Shahbaz
Fahad is the founder of the 'Youth General Assembly', advocating for youth empowerment and recommending policies to the government in Pakistan. They have trained hundreds of students and young people to become future ambassadors, democrats, and leaders; through 'YGA', they have presented policy recommendations and successfully advocated for the formation of a 'National Youth Council'. Fahad also advocates for transgender rights, contributing to the passing of the 'Transgender Rights Act' in Pakistan, and inspires others through initiatives such as the 'Fahad Shahbaz Foundation', which focuses on police reforms and environmental conservation. Fahad envisions Pakistan as a truly democratic country and empowering Pakistani youth to play a positive role as responsible global citizens.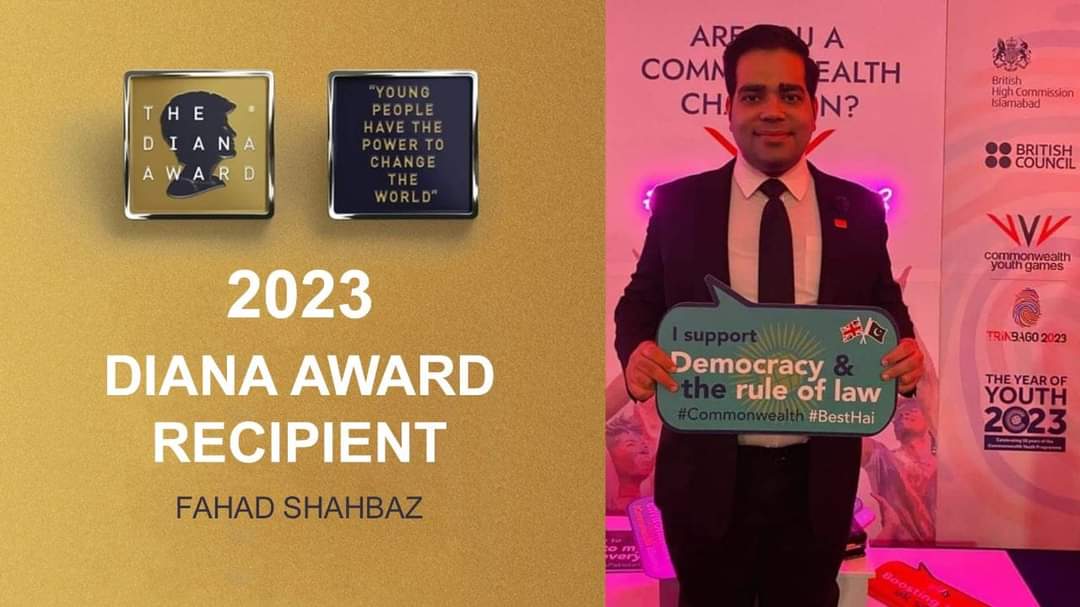 Also Read:
GIMUN 2023: Pakistani Delegation Makes Waves in Climate Change Debate
Ayesha Noor Fatima
Ayesha is nominated for her exceptional work in promoting women's empowerment in Pakistan. She has organised national-level campaigns to educate women on their constitutional rights to protection against gender-based violence (GBV), developed Pakistan's first-ever citizens' guide to counter GBV, and raised funds for underprivileged women. She is a staunch supporter of gender equality and an advocate for women's rights. Her initiatives have had a profound impact, empowering women to speak out against GBV and paving the way for a more equitable society.
Noor Fatima Rashid
Noor, a social activist from Pakistan who started raising awareness about child abuse when she was a child of 17 years herself, has founded an organisation, 'Quwat e Uraan', to raise awareness about this key issue. Noor has also implemented the "Protection of Women Against Sexual Harassment in Workplace Law." She has reached out to over 50,000 parents and children and helped 20 females finish their education. She has also conducted cloth and food drives, delivered safety suits to healthcare workers during COVID-19, and mentored girls to raise their voices on social issues. Noor was recently awarded the "Hamaray Heroes" award for her work.
The Nomination Process for the Diana Award 2023
To be considered for the prestigious Award, individuals were nominated by professionals who have witnessed and acknowledged their remarkable contributions to society. The nomination process entailed a thorough evaluation of the nominee's impact across five significant domains: Vision, Social Impact, Inspiration of Others, Youth Leadership, and Service Journey.