Mensuration cycles are different for everyone, for some they go by with ease, for others just a bit of discomfort, but then there are women who have to deal with horrible cramps.
Cramps can make it extremely difficult for many to carry out their usual tasks such as going to work, cleaning, etc. However, today, we will share some yoga positions that will help you during those painful days.
Yoga helps increase muscle tone, improves energy, helps in cardio and circulatory health and circulates oxygen around your body so that the pain eases out.
5 Yoga Exercises to Help Period Cramps
Here are 5 exercises to help:
1. Bound Angle
If your stomach is feeling upset and the pain from the cramps are not making things easy for you then this pose should help. What happens is the release of prostaglandins that cause your uterus to contract, the Bound Angle helps provide relief and even stimulates your ovaries.
Bend your knees and draw your heels in toward your pelvis. Press the soles of your feet together and let your knees drop open to both sides. Clasp your big toes with your first two fingers. Press the outer edges of your feet firmly together, and also press them firmly into the floor while sitting straight with your arms at your sides.
2. Child's Pose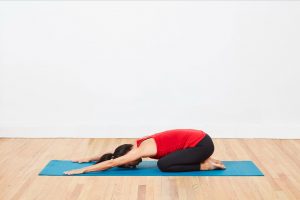 Child's pose help by flexing your reproductive organs, as well as releasing tension in your back, shoulders, and neck. If you have achy muscles and joints during menstruation, this simple pose will help relieve the pain. Stay in it as long as you want—the calming effects it has on your mind are just as beneficial as the relaxation your body will feel.
3. Lying Spinal Twist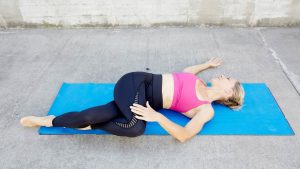 Not only does this posture feel good during cycle days, but also gives you health benefits. The pose mainly leverages your back and hips (much-needed if you're dealing with aches and pains from your period). Moreover, the digestion system and all organs get the needed stimulation because of the fresh blood flow.
Here's How Mindfulness Meditation Can Do Wonders For Your Health
4. Inverted Leg Pose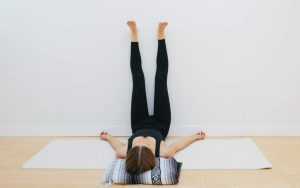 This pose will bring ease to your physical and mental well-being.  The inverted leg pose improves circulation and digestion, lowers blood pressure, boosts energy levels, and soothes the nervous system. It's also said to increase creative thinking and problem-solving!
5. Head-to-Knee
Enjoy your binge-watching chocolate craving days as they will be pain-free with these yoga poses.
Let us know if they worked for you in the comments below.
Stay tuned to WOW360 for more news and updates.