On special occasions such as Eid, people tend to cook elaborate dishes to entertain guests and family to enjoy together.
Usually, there are many combinations of dishes present on Eid dusturkhuwan, but biryani is a must, whatever variation, really. It serves as an ideal main dish and is liked by everyone, whether it is someone old, adults, or even children. Some can't even resist it!
With that being said, there are truly many variations of Biryani. You can choose from a plethora of condiments to different choices of protein and make it your own. However, below, we have listed 5 popular variations of mouth-watering biryani that you can try this Eid-ul-Adha:
1 – Mutton Biryani
On Eid-ul-Adha, we all plan to cook somehow mutton or beef of the animal we have just sacrificed, and what better way it is there to use mutton to prepare scrumptious mutton biryani.
Mutton biryani comprises of host of aromatic spices and herbs such as bay leaves, cinnamon, star anise, cardamom, cloves, jaiphal, and javitri to cook your meat. You may also use chilies, rose water, kewda, and saffron. You can layer succulent mutton pieces and saffron-milk-infused rice-cooked 'dum' style.
You can also check the recipe for mutton biryani here
2 – Sindhi Biryani
Sindhi biryani gets its name from the Sindh region. This variation of biryani has ingredients such as roasted spices, mint, coriander leaves, chilies, sour yogurt, dried fruits, and nuts. You can use boiled potatoes and plums with your choice of meat to prepare it.
3 – Thalassery Biryani
This variation of biryani uses khaima rice instead of the usual basmati. Spices used for this biryani are fennel seeds, cumin seeds, mace, cashew nuts, tomato, onion, ginger, cinnamon, shallots, and cloves. This biryani tastes both sweet and spicy. The rice and the meat are cooked separately, but they are then mixed when it is time for serving.
4 – Kolkata biryani
Another delicious variation of biryani is the Kolkata biryani which involves ingredients such as potatoes, onions, lemon juice, curd, chili powder, biryani masala, rose essence, kewra water, saffron strand, milk, bay leaves, cinnamon stick, cloves, Green cardamom, elaichi, turmeric powder, and cloves. Cooked dum style and served with hard-boiled eggs.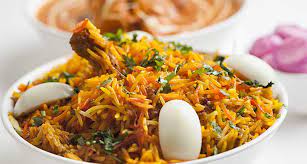 5 – Bombay Biryani
Bombay biryani is originally from Mumbai. This variation is my favorite on the list and comprises many ingredients, including spiced potatoes, meat, and dried plums. Meat is cooked in tomatoes, onions, white cumin powder, green chilies, spices, kewra, and food color.  Half-cooked rice and meat are prepared in dum style.  It can be served with raita or plain dahi.
10 Platters You Can Enjoy with Friends & Family on Eid-Ul-Fitr 2021. Read the full story here:
We are all busy preparing special dishes for Eid-ul-Fitr in Pakistan, stirring up our favorites; however, a few of us might also be confused about what to prepare for Eid. In cases like these, an elaborate platter does the job. A platter put together thoughtfully serves as a great option, usually presented on special occasions when many guests are present.
10 Platters You Can Enjoy with Friends & Family on Eid-Ul-Fitr 2022
Have something to add? Let us know in the comment section below.
For more news and updates, stay tuned to Wow 360.