arachi is a city renowned for its diverse culinary scene, including the emerging trend of Desi Chinese cuisine.
There are several top-notch Desi Chinese restaurants in Karachi, such as Shanghai Social, Dynasty, Yuan Tung, Royal Jasmine, and Chaupal Desi Exotic Buffet.
These restaurants offer exceptional Chinese cuisine, with each having its unique charm and special dishes that cater to food enthusiasts in the city.
---
---
Karachi has been crowned with many names, but one of the most fitting ones is the city for foodies! In K-town, culinary innovation knows no bounds.
Karachi is a city where the delightful fusion of flavours constantly emerges. Among the remarkable gastronomic trends sweeping through the city, Desi Chinese cuisine has captured the hearts and taste buds of its residents.
This culinary sensation represents an intriguing amalgamation of Chinese culinary traditions with Pakistan's aromatic spices and tastes.
If you want to spend some quality time with family or friends while enjoying quality time, we've got a list of the 5 best Desi Chinese places to visit.
1. Shanghai Social
Offering a wide-ranging menu and exceptional service, Shanghai Social is steadily building its reputation in Karachi. From poultry to seafood and beef, they excel in crafting dishes to absolute perfection. If you're on the quest for the finest Chinese cuisine and an unparalleled dining experience, Shanghai Social is a must-visit. The flavours of the dishes served here are divine, with each bite leaving you craving for more. The atmosphere can best be described as "inviting," and the staff is dedicated to tending to all your requirements.
2. Dynasty
Dynasty Restaurant, located at Avari Tower is renowned for its exceptional Chinese cuisine, consistently delivering on quality and taste. The establishment has maintained its attitude, culinary significance, and amenities, all of which continue to excel. We highly recommend trying their Prawn Szechuan and Vegetable Fried Rice; they are truly exceptional.
3. Yuan Tung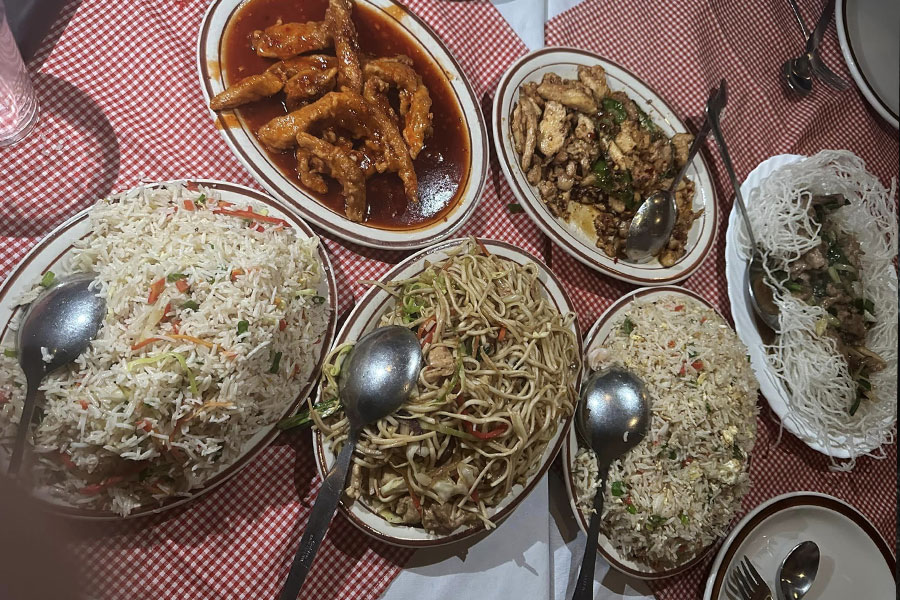 Undoubtedly, Yuan Tung is excelling in the culinary arts, and its burgeoning popularity is a testament to that fact. Yuan Tung offers an exceptional dining experience, complete with an exceptionally attentive staff and unrivalled Desi Chinese cuisine.
The delectable fare and inviting ambience combine to make Yuan Tung a rising star amongst Karachiites. It's a dining destination that shouldn't be missed, not only by locals but also by tourists seeking an exceptional culinary experience.
4. Royal Jasmine
Situated within Lucky One Mall, Royal Jasmine has established itself as a beloved Chinese dining destination in Karachi, amassing a devoted following thanks to its delightful assortment of soups, starters, and main courses. A trip to Royal Jasmine is a definite requirement for those seeking to indulge in top-notch Chinese cuisine while enjoying an outstanding dining affair.
5.
Chaupal Desi Exotic Buffet
The extensive buffet featuring an array of captivating Chinese flavour profiles is certain to leave patrons craving for additional servings. If you happen to be a Chinese cuisine enthusiast visiting Karachi, Chaupal is an absolute must-visit.
Share your thoughts with us in the comments below.
Stay tuned to WOW360.