Sehar Khan gained fame through the hit Ramadan transmission "Fairy Tale," leading to a successful Season 2 announcement.
Seasoned actresses Nadia Khan and Rubina Ashraf critiqued Sehar's performance on the show "Kya Drama Hai," with Rubina Ashraf finding her acting over-the-top and lacking depth.
In response to the critiques, netizens created an uproar on social media against Nadia Khan and Rubina Ashraf.
---
---
The blockbuster Ramadan transmission catapulted young diva, Sehar Khan to stardom, paired opposite Hamza Sohail, the duo was loved by audiences in Fairy Tale. The show received immense praise and the top most ratings and soon after the show makers announced Season 2 of Fairy Tale.
The actress has gained a cult following after Fairy Tale and has been trending on social media after each episode is aired. The starlet is now part of a controversy and has been heavily criticised by seasoned actresses Nadia Khan and Rubina Ashraf on a popular drama review show, 'Kya Drama Hai'.
#WeLoveSehar Trends as Fans Support Sehar Khan
In the recent episode of Kya Drama Hai, Rubina Ashraf, Nadia Khan and Marina Khan all renown personalities and seasoned actors reviewed the show Fairy Tale 2.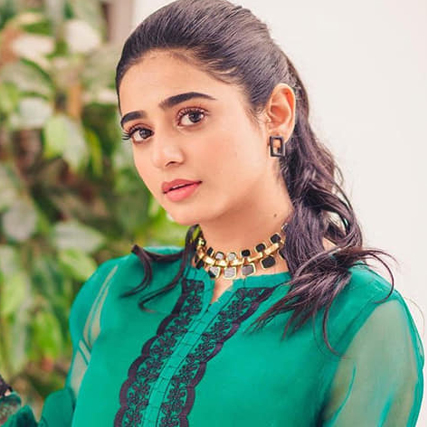 Rubina Ashraf was not happy with the ongoing drama and mentioned it was the most difficult to watch. She further added that Sehar was trying too hard and acting like a 'jhalli'. She went on to say, "Ab woh pagal lag rahi hai" meaning, 'She looks mad'.
"She's not making me believe that she is that person, she's not able to do it and is a failed attempt. For me it is China's Ankahi"
Ashraf further added that comedy is difficult to nail and Sehar seems to have missed the mark completely.
Nadia Khan, popular yesteryear morning show host and actress also had similar opinions for the show,
"Script is very predictable, writers are using the same script after making a few changes."
She even gave the writer a rating of 4 out of 10. She believed the script lacked meat and did not excite her. Although she did not say much about the actors in the show, she gave Sehar Khan a rating of 6 and named Hamza Sohail the show's saving grace.
Veteran actress Marina Khan also seemed to agree and called it a boring season so far and hoped that it would gain momentum later on.
Social Media Responds to Critics Rubina Ashraf and Nadia Khan
Taking the criticism to heart Sehar Khan's followers took to Instagram and shared their views on the feedback received from the seasoned female celebrities. #WELOVESEHAR began trending on X formerly known as Twitter.
Apart from the Fairy Tale star's followers, her co-actor Hamza Sohail and stylist both came to her defense posting on their respective instagram stories in her support.
hamza sohail and sehar's stylist supporting sehar against those reviewers says a lot! this woman has made her place and every bad thing will make her climb up the ladder#seharkhan #fairytale2 #fairytale pic.twitter.com/WzsBMmwFWC

— ayu⁷ 🐾 (@_DevAkshi__) August 24, 2023
Here's what twitterattis had to say about Sehar Khan:
Nadia Khan ( morning show host – the OG For Jannat Se Aagay) & Rubina Ashraf (- Mean spirited ). I can understand because they are egocentric & proud of being arrogant Marina Khan I really expected better from
Proud of #Seharkhan & the entire #Fairytale team for ignoring these…

— Sadaf Haider صدف حیدر (@tomtomatoe) August 24, 2023
Whoever aunty on that third class review show gave her two cents opinion on my cutie sehar🥺📷NEEDS TO GET A LIFE📷So please DON'T SPREAD -ve against sehar like you did for WE LOVE SEHAR #SeharKhan #welovesehar pic.twitter.com/DtyvOSl8aq

— ICONIC VM (@IconicV5844) August 25, 2023
Whoever aunty on that third class review show gave her two cents opinion on my cutie sehar🥺📷NEEDS TO GET A LIFE📷So please DON'T SPREAD -ve against sehar like you did for WE LOVE SEHAR #SeharKhan #welovesehar pic.twitter.com/DtyvOSl8aq

— ICONIC VM (@IconicV5844) August 25, 2023
First #YumnaZaidi as meerub & now #SeharKhan as umeed are the victims of unnecessary hate from these FLOPPED AUNTIES NADIA KHAN & RUBINA ASHRAF🤡
GET A LIFE YOU BOTH
Now they are taking revenge from these YOUNG N TALENTED Actresses🙌
Ban that third class review show
WE LOVE SEHAR pic.twitter.com/HkYj4AC9yd

— Mahruخ 🦋 (@putterchuttiker) August 24, 2023
haters mad cause she's a cutie patootie 🥱 no but seriously WE LOVE SEHAR #fairytale2 #seharkhan pic.twitter.com/TGjSp3qSy9

— m🚦(taylor's version) (@farmeedsfilm) August 25, 2023
SO HAMZA POSTED THIS VIDEO TO CHEER UP SEHAR !????? THIS MAN IS THE BEST BESTIE TO SEHAR 😭😭😭😭😭😭❤️❤️ I'M CRYING!!! WE GOT THE BEST OFFSCREEN BESTIES#fairytale2 #fairytale#hamzasohail #seharkhan pic.twitter.com/kbGDuD33Ra

— ayu⁷ 🐾 (@_DevAkshi__) August 24, 2023
They just can't do anything in their era n even now ….so the one thing that give them some frame is bullying some great n famous actors. ….
Just say them who are you ? What have u Done? #nadiakhan #rubinaashraf#loveseharkhan

— areena khan (@zamanfatimaa) August 25, 2023