---
Saudi Arabia to send Rayyana Barnawi to Space

Barnawi will be in space at the International Space Station for 10 days
---
Saudi Arabia to Create History Alongside Astronaut Rayyana Barnawi
Saudi Arabia will send its first-ever woman astronaut on a space mission later this year, state media has reported. Rayyana Barnawi will join fellow male astronaut Ali Al-Qarni on a mission to the International Space Station (ISS).
Reportedly this historic event will take place "during the second quarter of 2023", as per the official Saudi Press Agency. The astronauts "will join the crew of the AX-2 space mission" and the space flight will "launch from the USA", the agency added.
Also on board, Ax-2 will be Peggy Whitson, a former NASA astronaut who will be making her fourth flight to the ISS, and John Shoffner, a businessman from Tennessee who will serve as pilot.
The Ax-2 crew will be launched to the ISS by a SpaceX Falcon 9 rocket from Launch Complex 39A at NASA's Kennedy Space Center in Florida.
Trailblazer Arooj Aftab Becomes First Pakistani Singer to Perform at the Grammys
Rayyana Barnawi: Saudi Arabia's First Female Astronaut is Ready for Space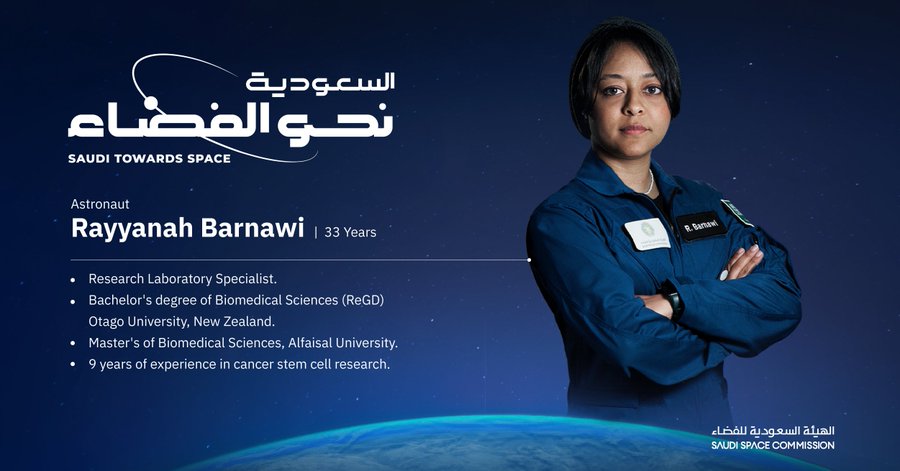 The 33-year-old Rayyanah Barnawi is set to embark with fellow astronaut Ali Al-Qarni for the space expedition along with the crew of the AX-2 space mission.
Barnawi is a young laboratory specialist who has vast experience in the research of cancer stem cells. She is currently working as a research and laboratory specialist. Holder of a bachelor's degree in reproductive science, genetic engineering and tissue development from the University of Otago in New Zealand, she obtained her master's degree in biomedical sciences from King Faisal University. She has nine years of brilliant experience in the field of cancer stem cell research.
Through this program, the Kingdom seeks to activate scientific innovations at the level of space sciences and enhance its ability to independently conduct its own research that will reflect positively on the future of the space industry and the country as well.
At the time, astronaut Hazzaa al-Mansoori spent eight days on the ISS. Another fellow Emirati, Sultan al-Neyadi, will also make a voyage later this month. The 41-year-old Neyadi nicknamed "Sultan of Space" will emerge as the first Arab astronaut to spend six months in space when he blasts off for the ISS aboard a SpaceX Falcon 9 rocket.
The Middle East country's monarchies have been searching for ways to spread their energy-reliant economies through a plethora of projects. Crown Prince Mohammed bin Salman has also been trying to shake off the kingdom's austere image through a push for reforms.
Since the Saudi leader's rise to power in 2017, women have been allowed to drive and travel abroad without a male guardian, and their percentage in the workforce has more than doubled since 2016, from 17% to 37%.
Saudi's Space History
In 1985, Saudi royal Prince Sultan bin Salman bin Abdulaziz, an airforce pilot, took part in a US-organised space mission, becoming the first Arab Muslim to travel into space.
In 2018, Saudi Arabia set up a space programme and last year launched another to send astronauts into space, all part of Prince Salman's Vision 2030 agenda for economic diversification.
What are your thoughts on this exciting news? Share them with us in the comments below.
Stay tuned to WOW360.
ForiFix: Pakistan's First Female-Led Pest Control Business is Breaking Stereotypes!