Sajal Aly is a household name in Pakistan. Not only has she given hit after hit on local television, but has also won hearts across the borders.
The Pakistani superstar has once again won our hearts all over with her heart-tugging act of kindness.
Rana Asif who is also a well-known name in the industry had been reached out to by an employee of Indus Hospital.
The employee shared that one of the children at the cancer hospital wishes to meet Sajal Aly.
Sajal's manager Maria Mahesar was not available at the time, so Rana directly contacted Sajal and shared what had happened.
Rana shares that as a reply, Sajal asked him to call her directly for anything and that she will be there as soon as possible.
He goes on to add that there was a pain in her voice tone as she felt the emotions of the conversation. What happened next? Sajal met not 1 or 2 but 5 beautiful fans and had one of the sweetest photoshoots ever.
Kudos to Sajal Aly, Rana Asif, for making this wish come true, moreover, a huge shout-out to Sania Maskatiya and team for their share in making this shoot a success, not to forget Nabila salon and all those involved in the project.
Here are some glimpses of the shoot: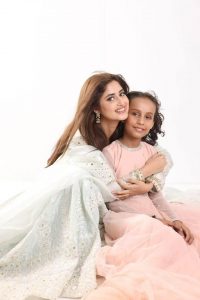 Here are some more BTS shots:
We are extremely happy to see stars like Sajal Aly show this level of empathy, she is setting a hug example for the younger generation.
No matter how much fame you gain, or how much money you make, humanity matters at the end of the day.
What do you think?
Share your two cents with us in the comments below.
Stay tuned to WOW360 for more news and updates.