Pakistani twin sisters Zara Khan and Zenubia Khan become the youngest Microsoft Power Platform Certified Professionals. It is notable to mention the twins are only 10 years old, which makes them the youngest twin pair to globally pass the Power platform certification. Previously, the late Arfa Karim had held the spot at the age of 9.
Why Should You Get Certified By Microsoft?
Microsoft offers many certificates that you can work towards. The Microsoft Power Platform Fundamentals certification allows you to build business solutions with Microsoft Power Platform, automate basic business processes with power automation, perform analysis with Power BI, Create simple power apps experiences, and develop useful chatbots with virtual power agents.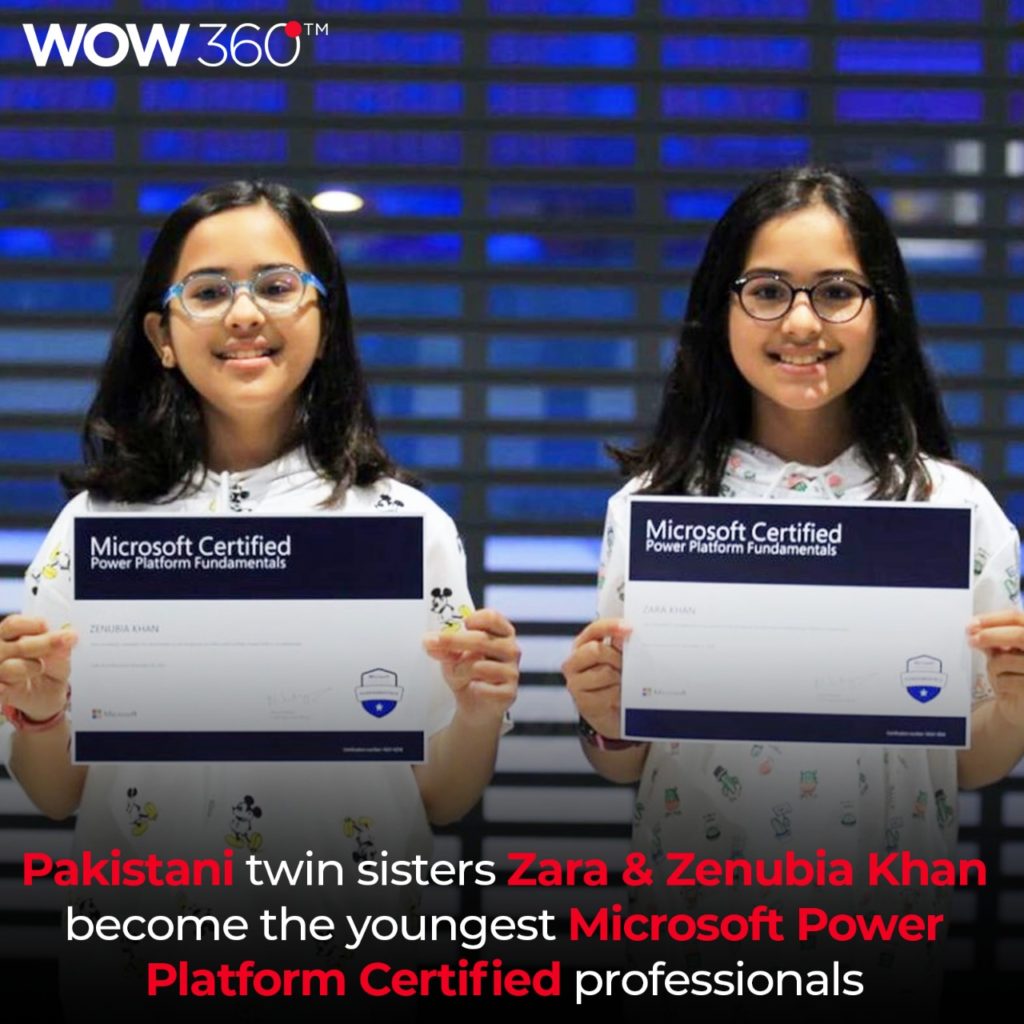 Family Background
The twins come from a tech-savvy family. Their father incited their interest in the software while he was working from home during worldwide lockdowns to curb the coronavirus. The girls self-taught themselves the basics of programming from under him.
How Did The Twins Become the Youngest Power Platform Certified Professionals?
Even after their daily activities resumed and they were back to school, programming became a topic of interest. They began replicating applications while gaining experience online during their time spent at home. They managed to build custom solutions for their father. This is what led them to appear for the test. They used material that was available online for approx. Six months and then gave the test. The girls passed and became the youngest Power Platform certified professionals.
First Microsoft Certified Professional Was Arfa Karim 
Born in Faisalabad, Arfa Karim was only nine years old when she became the youngest Microsoft Certified Professional (MCP) in the world. She instantly became the center of attention for international media. She is also the youngest recipient of the Pride of Performance award in Pakistan, and her name was entered in the Guinness Book of World Records.
Her exceptional achievements caught Bill Gates's attention, and he welcomed her and her family to spend a day with him as a token of appreciation. Arfa was also invited as a keynote speaker at the Tech-Ed developers' conference by Microsoft, held in Barcelona. At the age of 16, Arfa Karim left this world due to a cardiac attack. After her death, Pakistan's government decided to build a science and technology park after her name in Lahore, Pakistan.
Have something to add? Let us know in the comment section below.
For more news and updates, stay tuned to Wow 360.