A girl from Chitral in her early 20's is making Pakistan proud.  Karishma Ali is the first female from Chitral to play football at an international level and her name was included in the Forbes 30 under 30 list.  
Karishma founded an academy in her hometown known as Chitral Women's Sports Club in 2018 and is also its President. The sports club currently has 60 members and aims to encourage young girls to take part in various sports actively. The girls at the club are being trained not just in football but many other sports as well.
She has also represented her country in the Jubilee Games In Dubai and  her team ranked as first female's team from Pakistan to participate in AFL International Cup. She completed her higher education from Islamabad but due to the Coronavirus pandemic  had to return home.
My brave girls! https://t.co/1vSNxEJV7j

— karishma Ali (@karishmaAli22) September 25, 2020
Karishma wants more girls to to participate in sports, however, convincing them has been quite a challenge. The 23 year old football player shared that  her road to success hasn't been a piece of cake. She received hate and death threats from the people living in Chitral once they found out about her playing football. This did not deter her from pursuing her career in football. She has been ambitious and courageous throughout,
Things are hard for girls here, especially to have a different dream or to do something outside of what society expects you to do.
This talented young girl is very enterprising. Not only is she a football player, she is also the founder of Chitral Women's Handicraft Center. Her extraordinary personality led her to meet with the Duke and Duchess of Cambridge when they visited Pakistan in 2019.
Back in 2006, Karishma realized her love and passion for the game. She saw herself playing football on television and knew in that moment that it was her dream. She encouraged her parents to let her live that dream.
Karishma outdid herself by becoming the first female Pakistani football player from Chitral to represent the country's national team. Although she received a lot of negativity and it wasn't easy for her. She says:
 received messages saying 'if you continue to do this, we will kill you when you come back, or your legs should be chopped off' … I was only 18 years old and thought maybe I should stop.
But she kept shining, excelling and making Pakistan a safe space for women to practice and achieve their goals.
Baba, look how far we've come 🥺 https://t.co/dK5ZEATu3v

— karishma Ali (@karishmaAli22) October 9, 2020
No one can stop this warrior from achieving her goals. She even took part in the exceptional Milan Fashion Week where she walked with popular fashion designer, Stella Jean.
She's not just ambitious but also has a kind heart. She has donated 155 N95 masks, 250 PPE suits, 400 pairs of surgical gloves, 53 goggles, 76 face shields and 650 surgical masks to the DHQ Hospital Chitral. She has also been supplying ration for more than 300 families. Karishma adds:
I want to see more women in leadership positions and then sit back and enjoy. This is what I wanted to fight for.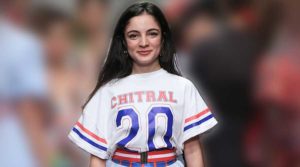 Karishma wants to live in a world where women following their dreams is normalized and don't have to face societal pressure or discouragement. A world where women don't have to worry about norms and do whatever they want freely.