"Baby Baji" surprises viewers with its captivating exploration of family dynamics in a joint family setup, earning the top spot in television ratings.
The drama portrays the challenges and joys faced by Baby Baji and her family, highlighting the importance of understanding and communication in a joint family.
"Baby Baji" resonates with audiences, sparking discussions on social platforms and showcasing the pros and cons of joint family systems in Pakistan.
---
---
The top spot occupied on the television dramas ratings chart comes as a shocker, with family drama, 'Baby Baji' leading the charts while raking in the highest TRP's. The on-going drama on ARY digital has emerged as one of the most-watched shows on television, while it seemed to be yet another run of the mill saas-bahu saga with cringe content, Baby Baji has surprised viewers with a captivating tale that delves deep into the complexities of family dynamics in the average Pakistani household with a joint family system. The compelling narrative, and top-notch performances by the ensemble cast, Baby Baji is grabbing eye-balls and has the audiences hooked with over 100 million views on YouTube.
The drama series features veteran actress Samina Ahmed as Baby Baji, and is joined by Saud Qasmi, Javeria Saud, Hassan Ahmed, Sunita Marshall, Junaid Jamshed Niazi, Syeda Tuba Anwar, Fazal Hussain, and Aina Asif amongst others in prominent roles. Produced under the banner of iDreams Entertainment, Baby Baji is penned down by Mansoor Ahmed Khan and directed by Tehseen Khan.
Pakistani Drama Baby Baji Highlights the Daily Struggles in an Average Pakistani Household
One of the major reasons for the drama garnering attention and appreciation from viewers is the fact that the story revolves around issues that are highly relatable to an average Pakistani. It is no secret that majority of the country's population is living in joint family structures while nuclear families are only a handful. The drama takes viewers on a journey that explores the inticate dynamics of a joint family household, shedding light on the challenges, joys and conflicts that arise. The characters are well-rounded and the story is compelling, people who are watching can highly relate to the daily joys and struggles faced by Baby Baji and her family who is a family of four brother all living under one roof.
Baby Baji and Her Family
The drama follows the story of Baby Baji and her family of four sons, out of which two (Jamal and Naseer) are married with kids and the third son, Wasif just got married. Now that Wasif is married, the story is now showing us how the new daughter-in-law is finding it difficult to adjust into the huge family setup, for those who married into similar joint families will definitely understand the woes of Farhat the newly wedded bride who is having to understand the different relationships and the struggles she is facing while dealing with her sister-in-law Azra. The drama sheds light on the importance of mutual understanding and how communication is key to maintaining healthy relationships within a joint family.
Similar to any average Pakistani family, Baby Baji's family also has all sorts of people with different temperaments that have learnt to deal with each other and to get along with one-another even when the going gets tough. The importance of family, respect of elders, cultural values and traditions in shaping family dynamics is highlighted articulately with every situation in the drama giving a lesson to the youth of today, from emphasis on Friday prayers to quoting different Hadeeth's as per the situation to learning how to handle complex relationships such as Azra and the people around her.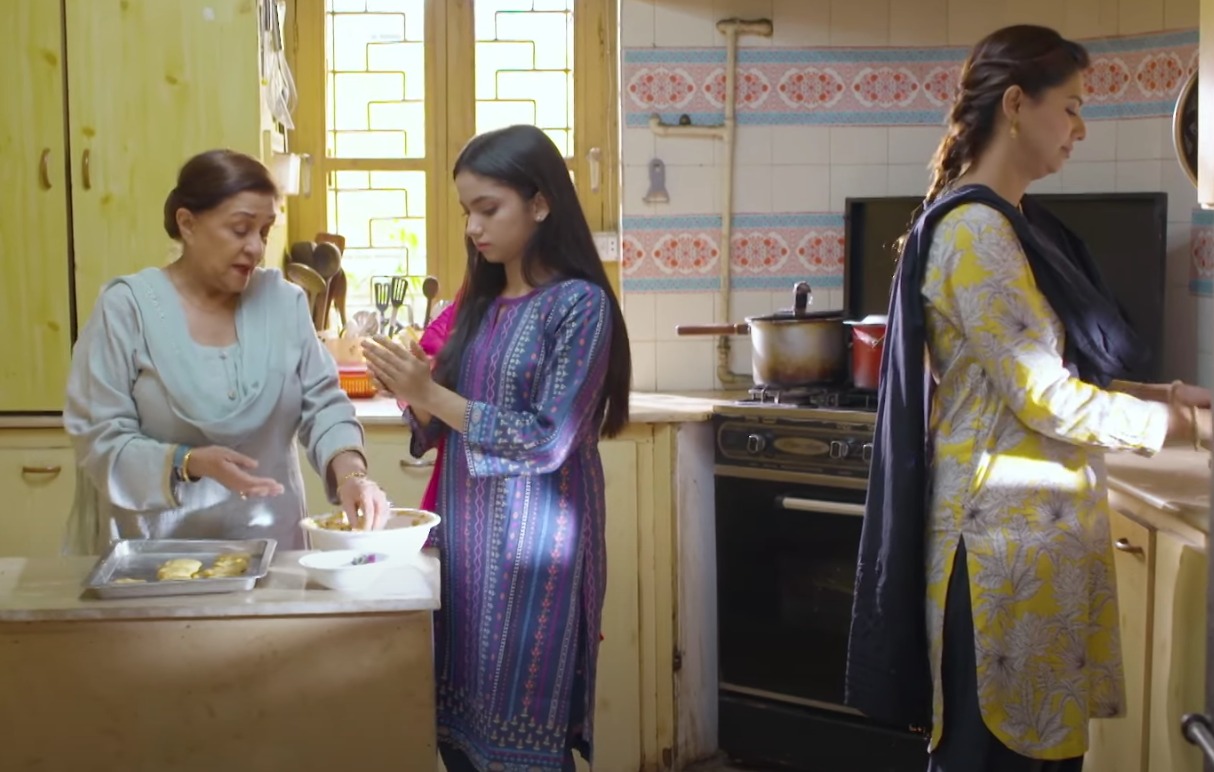 It is great to see that the show-makers have chosen to show the mother and father in law in a good light, where we have seen Baby Baji taking her daughter-in-law Asma's side instead of her own son's when he was wrong, and although she does not get along with Azra, she asks her son Jamal to keep his wife happy even if that means he needs to give her a new phone or whatever it is that she wants instead of putting her son in a difficult spot where he is forced to choose between his mother and wife.
The Pakistani drama Baby Baji has sparked discussions on social platforms, with viewers sharing their own stories and opinions on the pros and cons of joint family systems.
This scene was very cute haha. I'm loving this show so far cause of stuff like this 🥰 #BabyBaji pic.twitter.com/sScVjpKXoE

— Ashiiiiii🦋 (@Shaaaaaaa99x) June 20, 2023
Biggest Masla in #Babybaji is who used jahez ki istry
Silly issue may lead to divorce While it sounds hilarious ( & it's quite funny at times )
Ive noticed people especially women take small issues & turn them into nightmares to control & dominate relationships .. https://t.co/hFcdIBSRHL

— Sadaf Haider صدف حیدر (@tomtomatoe) June 20, 2023
Bechara Waleed 🤣🤣😭😭
Sab uske peeche padhe rehte hain and saare kaam ussi se karwate hain. But I absolutely adoreeee the bond between him and his Asma Bhabhi🥰❤️ #BabyBaji pic.twitter.com/dh6NUKkQaX

— Ashiiiiii🦋 (@Shaaaaaaa99x) June 20, 2023
Wedding track in #BabyBaji is just too beautifully presented wedding of Pakistan with all rituals don't forget to watch this beautiful wedding celebration @saminatv @sunitamarshal1#ainaasif #javeiasaud#junaidjamshedniazi #syedataubaanwer pic.twitter.com/2nuTjS0r2q

— Aliza Fatima (@alizafatima321) June 17, 2023
The daily soaps are not my cuppa tea. But #BabyBaji is almost a perfect collaboration of a good writer and a smart director supported by a stellar cast. It has the style of Ramzan dramas with بھگار of the saas-bahu war. #SaminaAhmed

— Sal Ahmed (@TheSalAhmed) June 2, 2023
Im in a bit of a moral dilemma With Hassan Ahmed character , he is an abusive troll & the family knows it but somehow He is also loved by his mother who stands up for her bahu Is there still no other choice for his wife but to put up with it ? Even in 2023 🙁 ? #Babybaji

— Sadaf Haider صدف حیدر (@tomtomatoe) May 31, 2023
Follow WOW360 for all the latest news and updates.