Naimal Khawar, known for her role in the drama series "Anaa," has faced backlash from fans and followers after revealing her new look on social media, with allegations of alleged cosmetic surgery gone wrong.
Fans have criticized Naimal for her transformation, stating that she now resembles Lollywood actress Sara Loren, and speculating that Dr. Fazeela Abbasi, Naimal's sister-in-law and a renowned dermatologist, performed the cosmetic changes.
Dr. Fazeela Abbasi's clinic released a disclaimer denying any involvement in aesthetic or surgical procedures related to the controversy. Naimal called for kindness on social media, expressing her gratitude for those who have shown support.
---
---
The Anaa actress has been under fire from her fans and followers since she revealed her new look to the audiences on social media. Fans of the Verna star are saying the star is unrecognisable after the cosmetic surgery and that she has begun to resemble to Lollywood diva, Sara Loren. Netizens believe Khawar has undergone a rhinoplasty (nose-job) in order to add an oomph to her overall look.
Naimal Khawar's Cosmetic Surgery Transformation Takes Social Media By Storm!
Dr Fazeela Abbasi Denies Involvement in Naimal Khawar's Ongoing Controversy
Joining the dots, Naimal's followers have the assumption that Dr. Fazeela Abbasi (Naimal's sister in law) has performed the cormetic changes on Naimal. Hamza Ali Abbasi's sister, Dr Fazeela Abbasi is a renowned celebrity dermatologist and skin specialist who practices in Dubai and Islamabad. However last night, Dr Fazeela Abbasi's clinic has released a disclaimer stating that they have no involvement in any provision of aesthetic or surgical procedures related to the ongoing controversy. The doctor also expressed her concerns and mentioned that the criticism and hate was uncalled for. She also added her thoughts on how social media affects and ruins people's lives on baseless information and is used to invade their personal and professional lives. It is also important to note that Dr Abbasi is simply a dermatologist and not a cosmetic surgeon.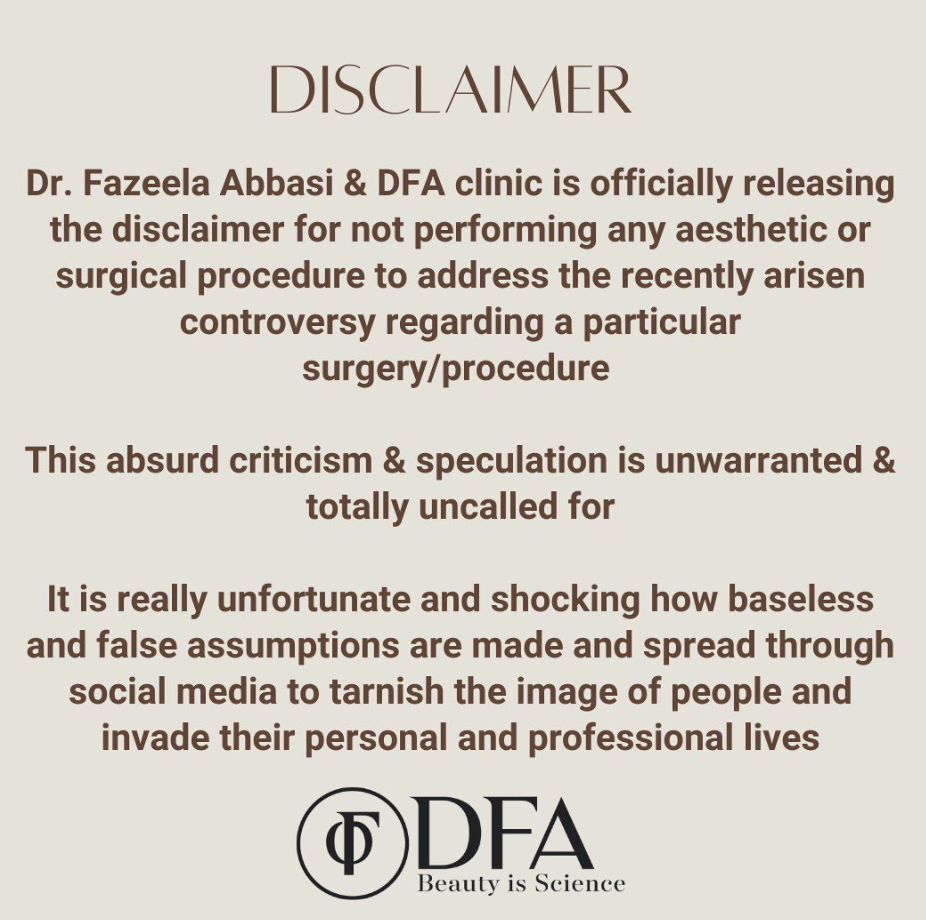 Naimal Khawar Respons to Haters, Asks for Kindness
Naimal Khawar has faced accusations of compromising her innate beauty, yet amidst the criticism, messages of support and encouragement have emerged. One such admirer wrote,"You're beautiful; don't let these negative comments bring you down. You look absolutely amazing. You're still the same Naimal, so be strong and confident always!". Naimal replied to this sweet follower saying,
"Thankyou, wish more people could show kindness on social media."
Others also extended support to the star: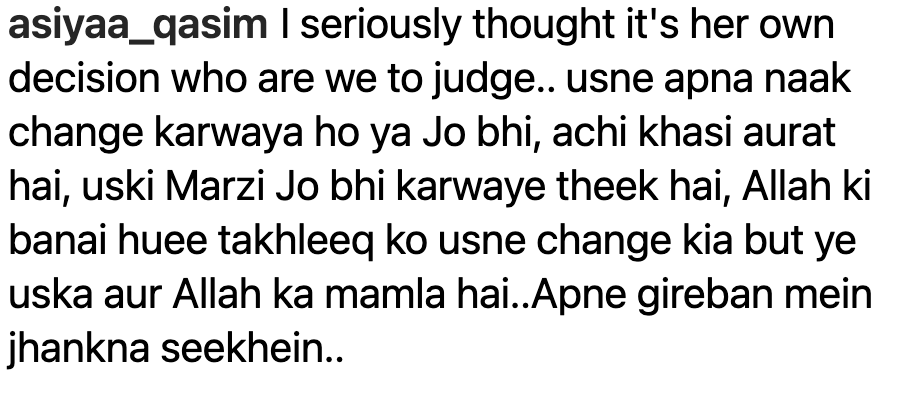 This is not the first time that Naimal has been trolled for her looks, earlier on when she had lip fillers done, the trolls had a field day and had criticised Naimal for not being happy with her god-given beauty.
Naimal's call for kindness serves as a poignant reminder of the significance of uplifting and encouraging others, fostering an environment of love and acceptance in a world often quick to judge. The constant backlash and hate celebrities often receive takes a toll on their mental health and further affects their personal and professional lives. It is essential to remember to be kind to others as you never know who might need it the most.
Also coming to Naimal's aid was her sister Fiza Khawar who schooled the haters under the pictures on her sister's Instagram post saying,
The number of toxic and hateful comments made here by other women is sickening. Just because someone is a public figure does not give you the right to be so horrible. All of you need to introspect what's made your hearts so dark to be dragging another woman down like this. Practise some kindness it will do good to all your souls.
Follow WOW360 for all the latest news and updates.