Every Pop star's image is closely related to their personal wardrobe choices and signature style. This dynamic especially comes into play during stage performances and public appearances on the Red Carpet. One of the aims of Velo Sound Station apart from producing fresh, original and contemporary music is also to offer both established artists and emerging talent an avenue to express them with edgy Fashion.
During each Velo Sound Station performance, the fashion-forward clothes became a visual extension of the artist and closely synergizing with the mood of the song, created striking and appealing audiovisual stage productions enjoyed by contemporary audiences. Avant-garde and experimental fashion designer Ebtisam Ahmed aka EB, the Head of Wardrobe and the Fashion Director for Season One of Velo Sound Station was responsible for finalizing and fine-tuning all the performers' "look."
"Bilal Maqsood and I worked together during Pepsi Battle of the Band 2019, so he knew about my fashion work especially styling pop stars and approached my team to come on board for Velo Sound Station," says Ebtisam. Ebtisam apart from creating looks for the key performers also provided outfits for show co-hosts Naveen Waqar and Faizan Haq back-up vocalists; the house band and some of the audience members.
"I listened to each of the songs to imbibe the mood before creating the outfits from scratch and styling the looks, till performance time," Ebtisam explains.

For Episode One Ebtisam dressed superstar Atif Aslam for his performance of '"Kadi to Hans Bol" in a different look- than-usual which Atif said he loved. A bearded and sleekly coiffed Atif Aslam looked suave in an azure-blue glittering sequin blazer paired with an open white shirt, slim black pants and emblem-logo velvet brogue shoes. Atif says he is usually more comfortable in black but was happy to wear "the glam look" for Velo Sound Station. "It was all about 'bling'," says Ebtisam. "I wanted Atif to wear something which would dazzle with bling onstage and reflect one of Velo's trademark blue colours."
For Umair Jaswal's performance of 'Gagar' – the energetic star's ode to music legend Alamgir – Ebtisam tapped into Umair's love of heavy bikes. Says Umair Jaswal: "I asked EB to infuse as much colour into the biker cut jacket although I am mostly seen in black and more shades of black- and he created a stylish and comfortable jacket just the way I like it " For his live performance of 'Gagar' for Velo Sound Station Umair wore the vibrantly- coloured ethnically-modified biker-'cut jacket paired with ripped jeans; black T-shirt and black Doc Marten type shoes. "I am a singer who has to run around on stage, so I am big on being comfortable," says Umair.
Episode One also included an upbeat performance of an original song 'Baby Baby' by upcoming star Natasha Noorani'. Natasha's sporty look included a blush-pink power suit jacket with matching slim pants custom-designed by Ebtisam Ahmed paired with a white top and silver sneakers end noted with silver dangling earrings and a long green bead chain. The look took inspiration and paid a nod to the popular music video 'Mr Fraudiye' by Pop band Awaz.
Episode Two provided even more fashion-forward, and individualistic style looks for the three musical acts. Strings band members Bilal Maqsood and Faisal Kapadia who performed the love ballad 'Piyaar Ka Rog' looked urban-cool in the looks created for them. Bilal and Faisal performed 'Piya  Ka Rog' in slim, tailored black jumpsuits with pockets, embellished with neon-orange striped arm-bands over black T-shirts. Bilal chose to wear matching orange sneakers, while Faisal opted for heavy black shoes. Faisal and Bilal end-noted their wardrobes with dark oversize and Aviator sunglasses respectively for an overall edgy, urban, street-style look.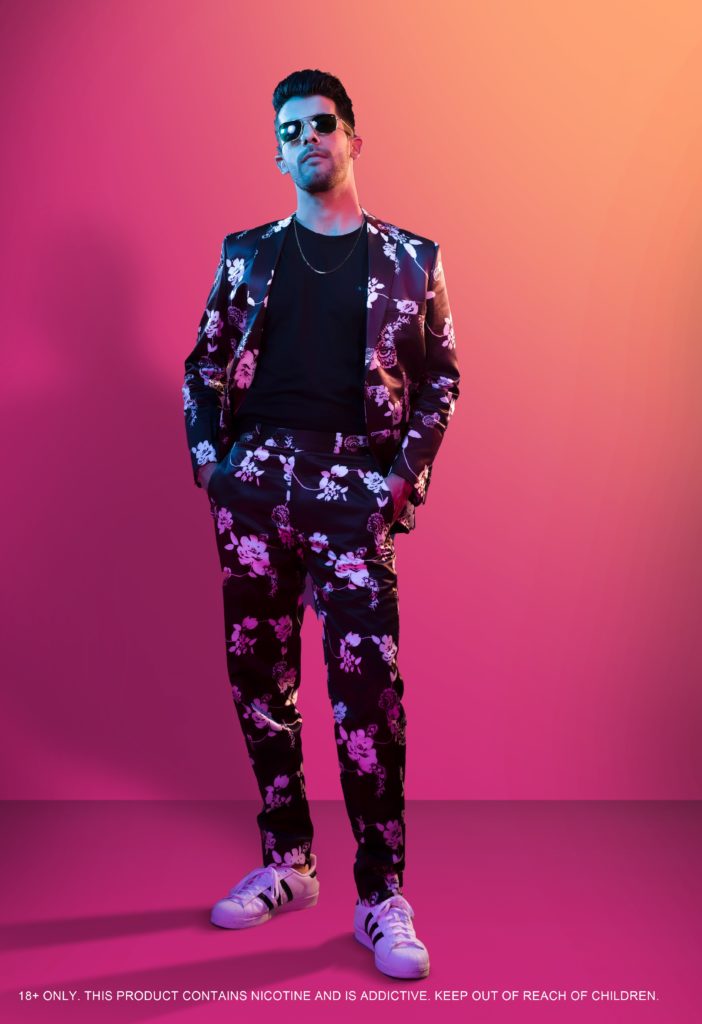 Supernova singing sensation Shamoon Ismail known for his quirky musical style performed his original song "Confetti' for Velo Sound Station." My team began by custom-making the fabric used for Shamoons's suit, says Ebtisam. Shamoon' describes his own personal style as "original."  For his Velo Sound Station performance wore EB's casual jacket and sleek pantsuit custom- printed with black and white floral motifs paired with a black T-shirt and end- noted with a silver chain and white sneakers for an uber cool-casual vibe that gelled perfectly with the smooth quirky sound of 'Confetti.'
Beautifully melodic and versatile singer Aima  Baig who performed the soulful  Spanish -sounding 'Tu Quiero Muchoo' was styled by her perennial go-to costume and wardrobe stylist Mavi Kayani. She dressed Aima in a shimmery heavily-sequined black off-the-shoulder top; pairing it with sleek black jeans and red ankle boots. This look was accentuated with a black strip neck-choker, and a large red rose pinned into her loose, wavy hair. The modern festive Spanish look was fresh, contemporary-chic and seamlessly complemented and accentuated the sultry sound of the song.
"I loved how Mavi styled me. She transformed me into a 'Chica!' (Spanish female friend)" enthuses Aima.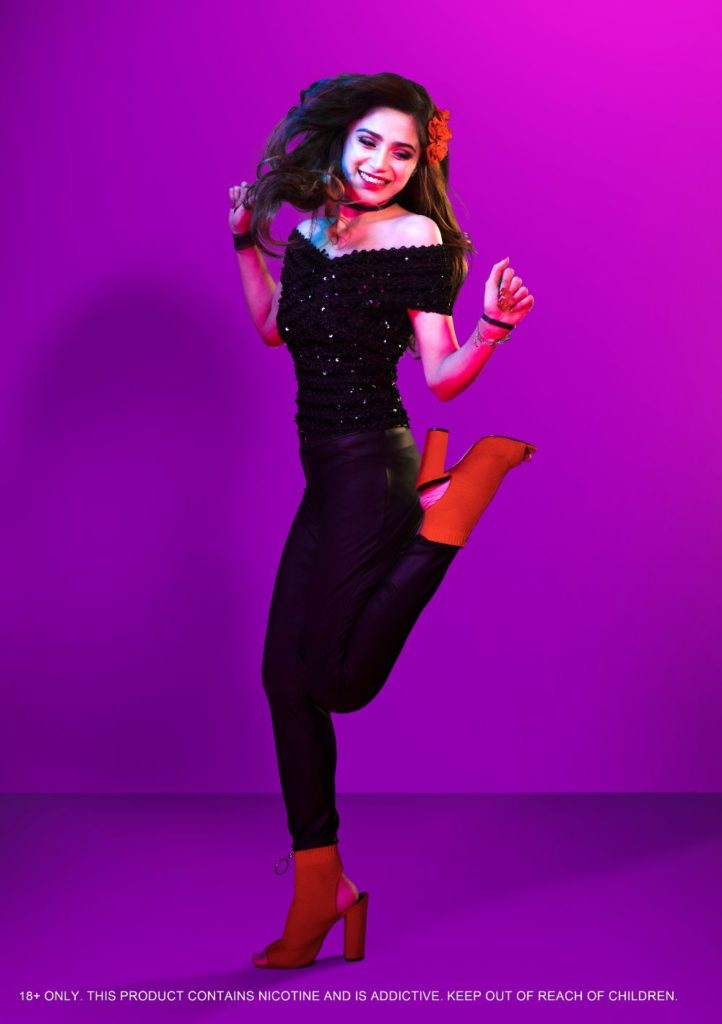 For Episode Three Velo Sound Station upped the style ante even more with its three diverse and eclectic performances. Powerful vocalist and style icon Meesha Shafi renowned for her individualistic and out-of-the-box fashion choices performed a dramatic and banging dance club version cover of Pop legend Nazia Hassan's 1982 pop hit 'Boom Boom' as a tribute to 80s Pop and a contemporary ode to the late singer. The look for Meesha's performance which brought the house down was deeply influenced by loud in -your -face 80's fashion in terms of hair, make-up jewellery and the BOOM BOOM coat. For her theatrical performance, Meesha was dressed in a hooded boxer's BOOM BOOM coat designed from conception by EB, embellished with bright neon multi-coloured geometric patches over a black bodysuit offset with sneakers, fishnet gloves, plastic jewellery turquoise eyeshadow candy pink lips and big 80 s hair. Says Meesha Shafi about creating the look:
"I wanted to retain the signature loudness of the 80's fashion era, but at the same time, interpret it for the modern-day. The BOOM BOOM coat that EB made is my new favourite piece in my wardrobe. It's just so loud and in -your- face. A real 'look at me' piece. And that's what 80's fashion was all about. Very attention-grabbing. To modernize it, I wanted it to be sporty as well as glam."
Meesha also delves into the thought process behind creating her looks:
"Even though the song is always the first and foremost priority, and performance of mine is an audio/visual experience for the audience. I do not separate the wardrobe and styling from the music. Fashion is a very effective tool for self-expression."
Another highlight of Episode Three was the big band Broadway sound and look of 'Meri Dil Ne', Pop sensation Uzair Jaswal's romantic duet with uber-talented Juilliard-trained songstress Sara Haider.
Replete with a centre-stage grand piano played by Sara, the sartorial look for both artists was elegant, Old World Hollywood glamour.
Uzair wore a velvet tuxedo, white shirt, slim pants and bow-tie from his own personal wardrobe and patent leather shoes by EB all of which was styled by Ebtisam Ahmed. "The song required our formal, magical looks that complemented one another perfectly," Uzair added.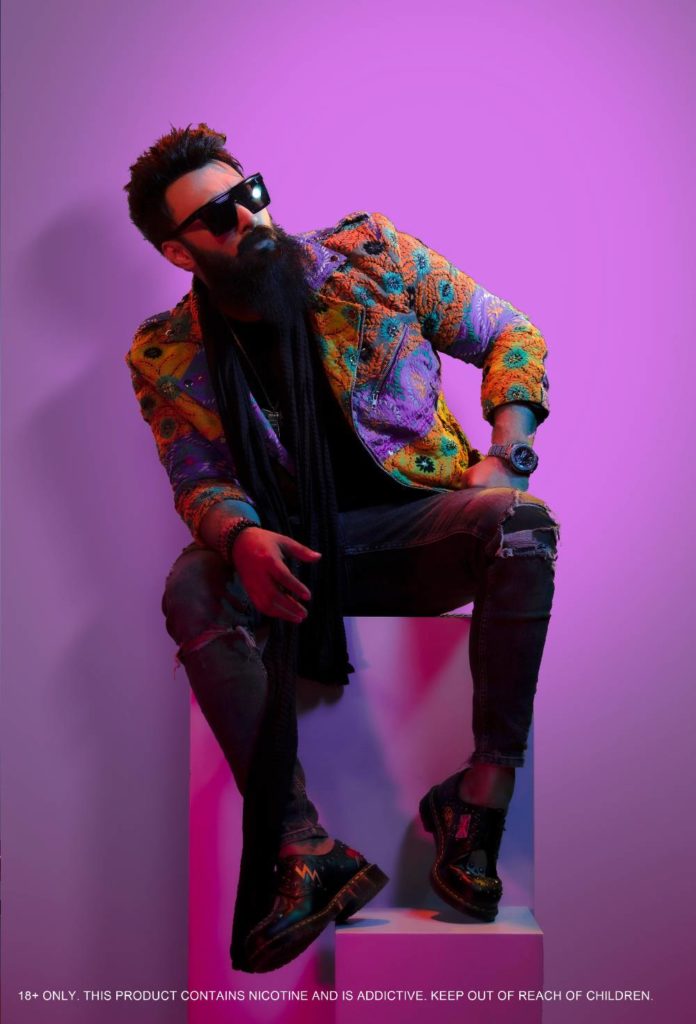 Sara Haider's uber-glamorous look included a sleek, black one-shoulder asymmetrical knee-slit gown by a New York boutique from her own wardrobe accessorized with classic floral- studded "balli" earrings in 1925 silver, finished with pearl drops and an ice blue bloom by Iyana Jewelry Studio; and silver-heeled boots.
"Rashid and his team did my Old World glamour hair and make-up," Sara added.
Sara says the old school story-telling love ballad 'Meri Dil Ne' required a grand, romantic and princess-like style aura. "We wanted to recreate the look of an old Hollywood black, and white movie, something celluloid and fairy-tale -like," Sara adds.
Soulful singer Abdullah Qureshi who created ripples with his early YouTube covers performed the romantic ballad 'Tu Aaja" for Velo Sound Station. Says Ebtisam about Abdullah's look:
" We wanted to give him a typical filmi Rock star look. Abdullah is a really cool guy, and he had 100 per cent input into his look for his Velo Sound Station performance."
Says Abdullah: "EB knew exactly how to style me. I just told EB that I wanted to wear something long because I'm tall. The rest was all EB's magic. " It was very important for the outfit to complement the mood of the song. All the other artists wore flashy outfits in their performances, but I wanted mine to be less flashy since the mood of the song is very emotional and easy-going."
In its first three episodes Velo Sound Station successfully merged fresh, original Pop music with impactful; out-of-the-box and fashion-forward style for electrifying, clutter-free audio-visual stage performances.
We look forward to more spellbinding style in Episodes 4 & 5 of Velo Sound Station Season One!
Have something to add? Let us know in the comment section below.
For more news and updates, stay tuned to Wow 360.