Our City of lights is in danger, and we need to come together in saving it! The urban flooding in Karachi has destroyed slums,colonies and more than 1000 houses in the city with more than 90 killed in the most terrifying rains Karachi has ever witnessed. What is being shown on the internet is only a percentage of the actual damage that has been caused.
A whopping 484 mm of rain has fallen in August leading to irreparable structural damages. On Thursday the metropolitan city received 223.5mm of rain. There are power outages, people stuck in their offices, relocated to temporary locations and in need of food and clean drinking water. And some are even missing, unable to be found until now.
Karachi has received 475 mm or 19 inches of rainfall in August – this is the most rainfall recorded in Karachi for any month ever

The previous record was 429.3 mm (17.17 inches) recorded in July 1967

Today a 53 year old record for most rain in any month has been broken

— omar r quraishi (@omar_quraishi) August 27, 2020
Rain of terror sweeps Karachi as the city floods #KarachiRains pic.twitter.com/rHSXaNJHX1

— WOW360 (@WOW360PK) August 27, 2020
The truth is that the city is in a crisis right now and it needs us. The improper drainage system has wreaked havoc! Gutters are overflowing and people are requesting authorities to send cranes and machines to suck out the excess. They don't want their electricity restored in fear of electrocution.
Relief and Rescue Efforts
Relief and rescue operations continue for flood victims in various parts of Karachi, said the Inter-Services Public Relations (ISPR) directorate.
Army engineers have used heavy machinery in an effort to stop water flow from Malir Nadi. "Water in Malir Nadi has reduced and backflow from Quaidabad to Malir Nadi has started. Army engineers' boats are employed in various areas to shift stranded people to safer places," reports, the Nation
The media wing of the military said that cooked meal was provided to the affectees, flood victims stuck due to the heavy downpour in the city.
Over 200 families have shifted to rooftops due to the heavy flooding in Dur Muhammad Goth, Malir Nadi, and Kohi Goth.
Army helicopters will be flying to rescue these families after weather clearance, said the ISPR.
Emergency Relief Helpline
The city is crying for help and the least we can do is provide proper information for those in need. Each one of us is trying and try harder to play our part and help those in need. We have compiled here a list of contact information for foundation, ranger's helpline, Edhi and other emergency contact numbers for you to share ahead.
Organizations to Donate To for Food & Flood Relief
Pakistan has been through worse and survived, because of the helping spirit of its people.  Several natural calamities have been overcome and this time is no different. More than the government, the people have always come together and lent helping hand. This time is no different.
Here is how you all can help!
Corona Rotation Project
Youth Interactive Alliance
Noble Foundation
Apna Dastarkhwan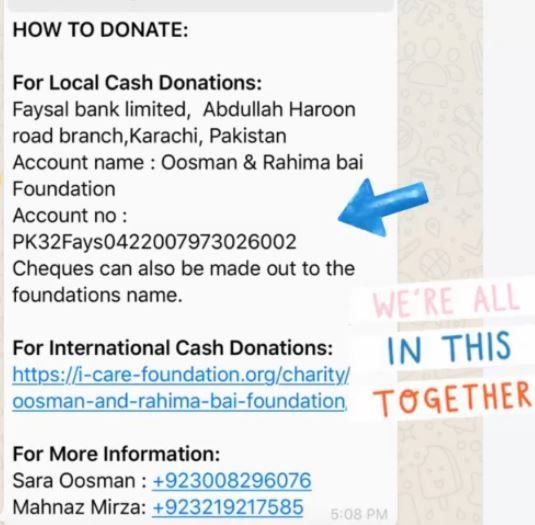 #KarachiUnderWater trending on Twitter
Current situation of Karachi

"Water, water everywhere not a drop to drink"#KarachiUnderWater pic.twitter.com/Xleyb73aSc

— ثناء احمر (@SanaAhmer786) August 28, 2020
Devastated. Still no electricity since 24 hours, no cellphone network and no functional landlines. #KarachiRains #KarachiUnderWater pic.twitter.com/gIjc3tR4zl

— Wajiha Afridi (@wajihaafridi) August 28, 2020
West wharf road Karachi which connect to Karachi Port kict pic.twitter.com/KkCqUPhGKN

— Faisal (@FAISALS246922) August 28, 2020
Internet down, Sim networks down and karachi city in blackout. Water flooding streets… people dying

And #BilawalBhutto be like Paani ziada ata ha lkn ikdaamat hum nh krenga. Then you say u did so much for karachi??? What u did EXCEPT FOR DESTROY!! #KarachiUnderWater

— Munzi (@MystiqueMunzi) August 28, 2020
Life is a comedy for rich and tragedy for poor.
Tale two pictures. The disparity is outraging…#KarachiUnderWater pic.twitter.com/ZE6wwuMmRq

— Choudhary Adnan Ikram (@ch_adnan_ikram) August 28, 2020
Saeed Ghani in search of dry roads while Murad Saeed finds waist deep water for photo opportunity, befooling the public either way. #KarachiUnderWater #KarachiRain pic.twitter.com/dMcCDq09qo

— Javed Iqbal (@Javed2k) August 28, 2020
4 ft water, no electricity, no food all appliances damaged, all furniture damaged. House is half submerged, paid taxes all life, part of every charity for other cities when there's any natural disaster, still being made fun of my situation, I'm Karachi. #KarachiUnderWater

— Rabiah Badar (@rabiah_badar) August 28, 2020
Stay tuned for more rain related updates!