Curtain bangs are hot this summer! They were pretty in last season, too, and are continuing to trend again.
If you are looking forward to changing up your hair this time around of the year, there are high chances that your stylist will suggest 1970s-inspired curtain bangs that have made a sudden comeback, albeit with a modern twist. A lot of girls and women are rocking their curtain bangs side-parted or middle-parted. They look flattering on almost everyone's face.
Stylists suggest that while it is universally flattering on everyone's face, you must avoid it if you have a small head or a cowlick, as things could be ruined for you for the worst. The great thing about this haircut is that you do not need to do much – look best when not tidy or cared for.
Celebrities Who Dared to get the Curtain Bangs
Gigi Hadid rocking her curtain bangs with a bun
Jennifer Lopez's curtain bangs shag style
Selena Gomez's curly curtain bangs looking spectacular
In Karachi, there are plenty of places that offer great haircuts, including curtain bangs. Following are our favorites:
Nabila's located in Karachi's Clifton area, knows their way with the latest trends. Preppy medium length with Face Framing Curtain bangs look spectacular
Mizka's Studio is another popular place in the city to get the desired hair look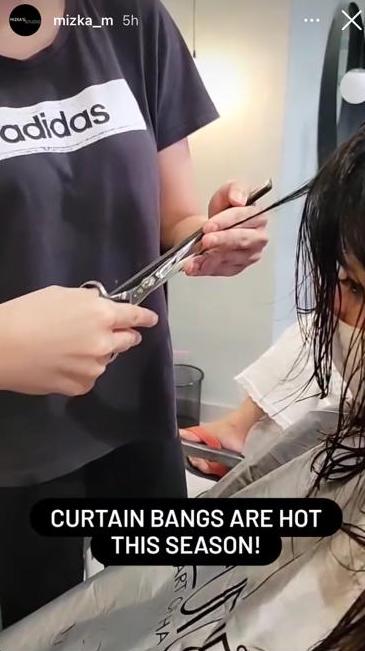 Toni&Guy South Pakistan is a destination to get your dream hair. Curtain bangs with layers and some fresh color to complete the look
Mubashir Khan is also one of the most renowned hair bars in the city. Their work is truly amazing.
Palwasha Yousuf's Hairbar is yet another spot in town that offers exceptional service and is popular for its haircuts and color
Are You Bold Enough to Try the Rebellious Streak? Here is All You Need to Know. Read the full story here:
Another hair trend that has been popular among young teens since last year is finally catching up with the rest of us. Like all trends, this one is unique and far more irresistible—however, not everyone's style. The rebellious streak, as the internet calls it dates back to 1990 when Geri Halliwell, one of the Spice Girls rocked it and later Christina Aguilera in the 2000s.
Are You Bold Enough to Try the Rebellious Streak? Here is All You Need to Know
Have something to add? Let us know in the comment section below.
For more news and updates, stay tuned to Wow 360.