The bold and beautiful Anoushay Ashraf has never shied away from speaking her mind. The famous VJ and RJ has unabashedly defended women rights and is always vocal about prevalent social issues and injustices against women.
The VJ recently took to Twitter and shared her account of harassment in a space as open as a market. She said;
The one time I had my behind pinched at the market was when I was covered from head to toe, dupatta on, zero makeup and oil in my hair.
The recent horrific motorway gang-rape incident has shaken the nation and many people have, including celebrities and influencers, have shared their stories in light of the incident.
These females wanted to make people understand how prevalent and common harassment is in public spaces in Pakistan and how every woman has experienced it atleast once in their lives.
The ONE time I had my behind pinched at the market was when I was covered from head to toe, dupatta on, zero makeup and oil in my hair…RAPISTS rape people, not outfits. Save the behayai rant for another day please. Stop deviating and victim blaming! #MotowayIncident

— Anoushey Ashraf (@Anoushey_a) September 13, 2020
Just because your mothers, sisters, wives and daughters don't speak to you about it or share those horrific instances, doesn't mean they are all protected. Women aren't safe in this country and we need to make these conversations more common.
After she shared her own story, there were so many women who came forward and shared their's.
I was in grade 6 or 7, I went with my mom to buy Eid shoes,the shop was overcrowded. I felt something brush against my behind but ignored it. When I bent over to try a shoe, the shopkeeper grabbed ny butt. I immediately left shop and didn't buy Eid shoes that Eid. I was 13

— Sania Khan (@sania_akhan) September 14, 2020
I'd recently returned from Hajj so was obviously influenced: abaya, hijab, no make-up, eyes down, with parents.
Went into a shop and was coming out when an old man pinned me to a pillar while crossing me and rubbed his privates against my back.
I cringe thinking about it 🤮

— mahnoor. (@karhwakarela) September 15, 2020
You'll be shocked to read about these instances happening at the Haram during pious events like Hajj and Umrah! Can you believe it?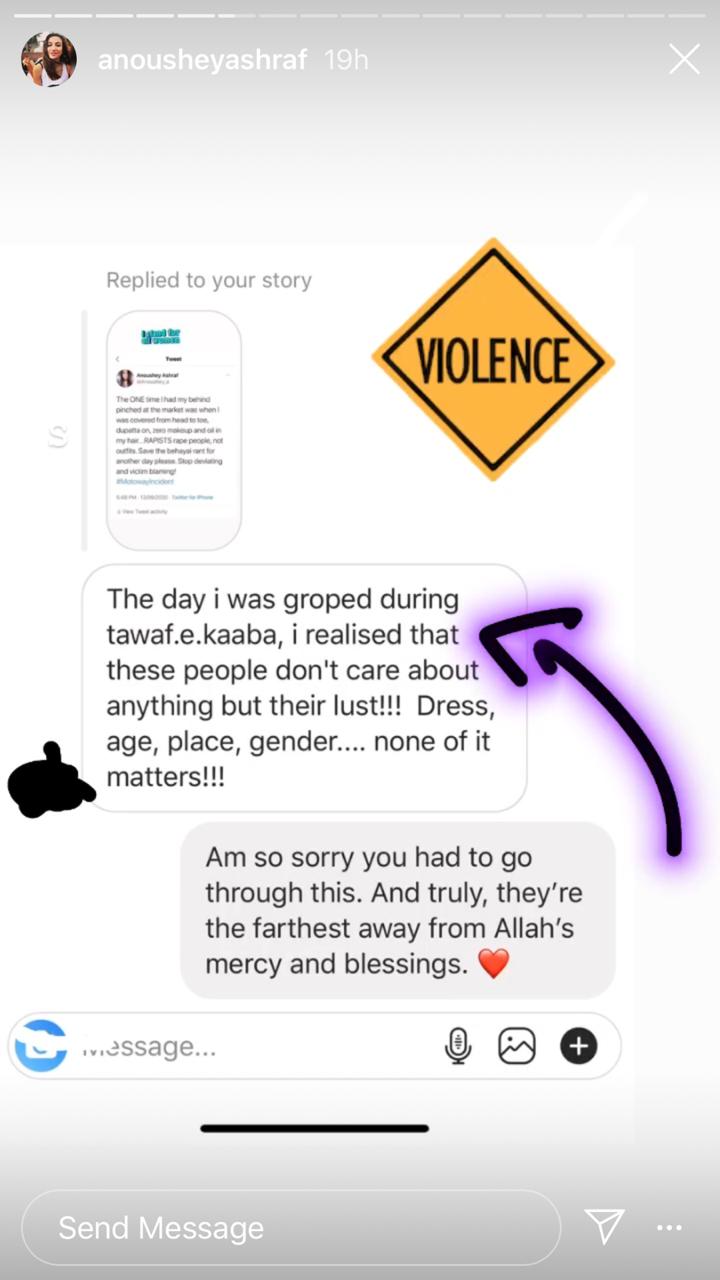 Anoushay is quite active on her instagram and uses her public forum to talk about taboo, social topics- to inform the people and make them aware.  
Ashraf then added her own perspective on rapists' mentality;
Rapists rape people, not outfits, she wrote, urging people not to resort to victim shaming and blaming.

Save the behayai rant for another day, please. Stop deviating and victim-blaming, she added.
Many people had protested and called for the removal of CCPO Lahore Police who blamed the victim and shamed her on national TV; he said the victim should have taken a different route for her journey or checked her fuel tank. He has recently apologized for his statement and said he did not mean to hurt peoples' sentiments.
Several country-wide protests took place over the weekend that called for a rapid action against rapists and perpetrators. Many celebrities and common people rallied for capital punishment.
PM Imran Khan has recently footed a bill to chemically and surgically castrate rapists, and hand them in public. Will this law be passed?
#HangRapists has been one of the top trends on Twitter for the past week and people aren't shying away from speaking against this heinous crime. 
Have something to add to the story? Share thoughts in comments below.
Stay tuned for more interesting articles and updates.