A total of 9 Pakistani students flew out to the AMMUN 2022 Conference in Jordan as a part of a delegation with their trainer Mr. Murtaza Jafry as Team MJ. Most of these students were from Karachi Grammar School with a couple of students from other institutes.
The conference hosted over 400 students across South Asia with more than 50 schools participating at the Amman Baccalaureate School.
The delegation from Pakistan (Team MJ) won all 9 'Best Delegates' categories and took a clean sweep.
We received a chance to reach out to Mr. Jafry and his students to get their personal accounts of what their emotions were at the time.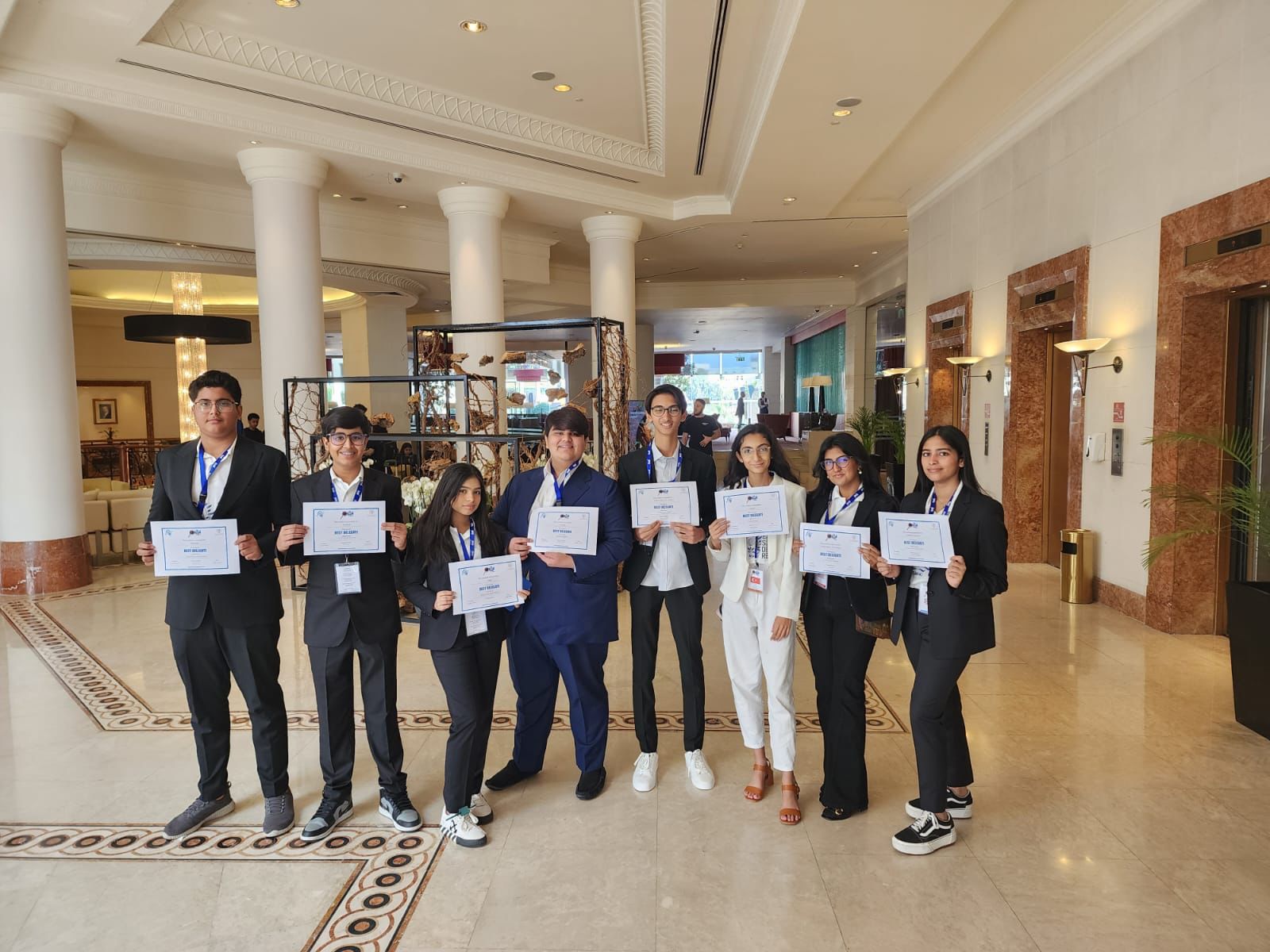 Zabrain Ali – Head Delegate
It was my first ever experience at Model United Nations, I always wanted to speak in front of an international audience and advocate for what I believe in. So while standing at the rostrum of the disarmament commission, a Pakistani representing Pakistan, I learnt advocacy as well as practicality.

Thinking and moulding my mind to be smart, advocating and defending my country to every little extent. At the rostrum of dc, I can surely say, I was able to inquire into some of the worlds pressing issues and present a practical solution, advocating as it while being the delegate of PAKISTAN.
Mohammad Mandviwalla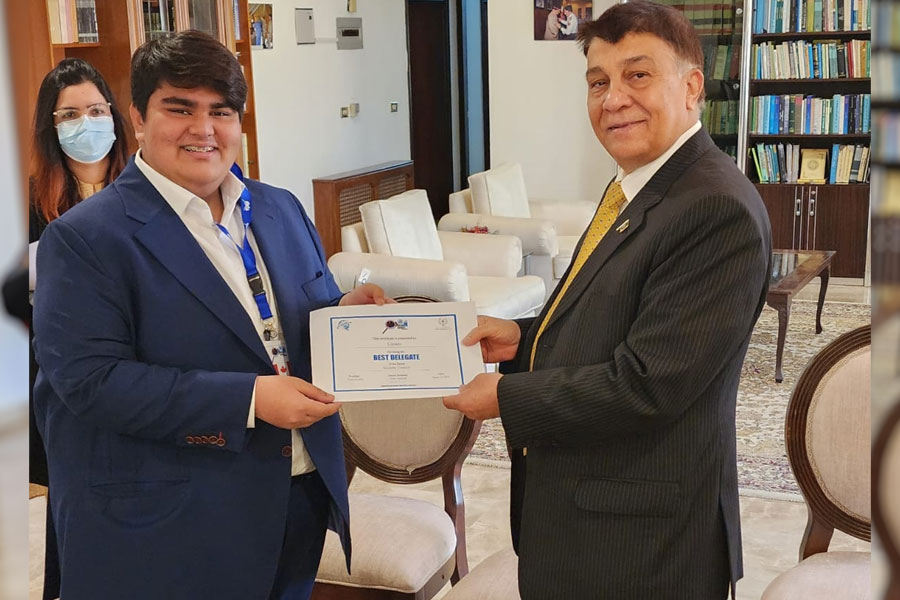 Representing Canada at the Security Council at AMMUN XXI, not only helped me learn about international relations, politics and the UN, but I also learnt how to communicate and talk to people I had no idea existed.

The experience was overwhelming, and anxiety-inducing, but was the most exhilarating experience I have ever had. Each and every person included, whether it be my coach, my delegation or even my chairing panel, made the experience so much better. One main thing I realised is that there are both bad and good people in the world, and not everyone will judge you or ridicule you.
I'm so thankful for this amazing experience, and it truly was a once-in-a-lifetime experience for me, as travelling with some of my new best friends for the first time is something that I can never live through ever again. The week in Jordan was a whirlwind of emotion: apprehensiveness, stress, sadness, and hopelessness, but was also the happiest, most exciting week of my life.
Imaan Ahmed
This was an experience I never thought I would have but has affected me so much as a person. I really enjoyed representing Turkey in the Advisory Panel and speaking about my country, regarding the issues we had to solve at hand, was invigorating. Surprisingly, I looked forward to giving speeches and asking questions and felt like it came to me naturally. All the hard work definitely paid off and this MUN brought me a lot of joy and introduced me to people who I now think of as my second family. I would like to thank my trainer Mr. Jafry for everything.
Shahvaiz Khalid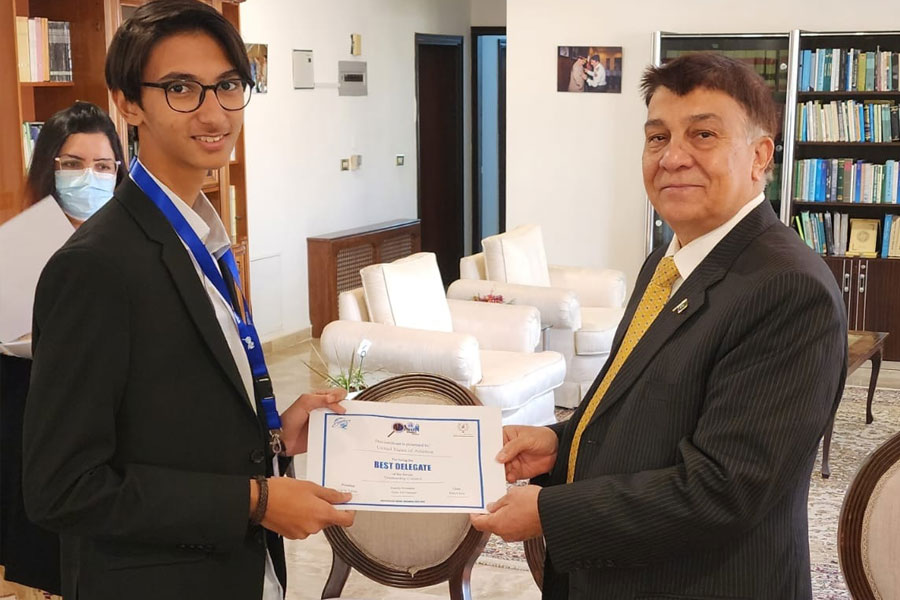 When I finally began my MUN classes, learning diplomacy and the art of politics, I did not anticipate that I would be winning an international conference. When I was told that we were going to be travelling to Amman, Jordan for the conference, I was dumbfounded. Soon, I started preparing with all my heart, hoping that I could become the best delegate of my committee, which was the Trusteeship Council, representing the United States of America.

Landing in Amman, all the adrenaline began to kick in, along with second thoughts and anxiety. I kept my cool and worked even harder in those couple of days. Eventually, the time came to perform and prove that all that extra work and late nights were worth it. The experience was rather fun and exuberating, but the stress was always there. I used all the skills I had learned from the past 6 months which definitely helped me achieve that best delegate certificate.

This MUN conference taught me one major lesson: hard work and faith in yourself and God always will result in something you desire. I Am honoured to be sharing this wonderful and unforgettable experience at AMMUN 22' with everyone reading this article.
Aysal Jalal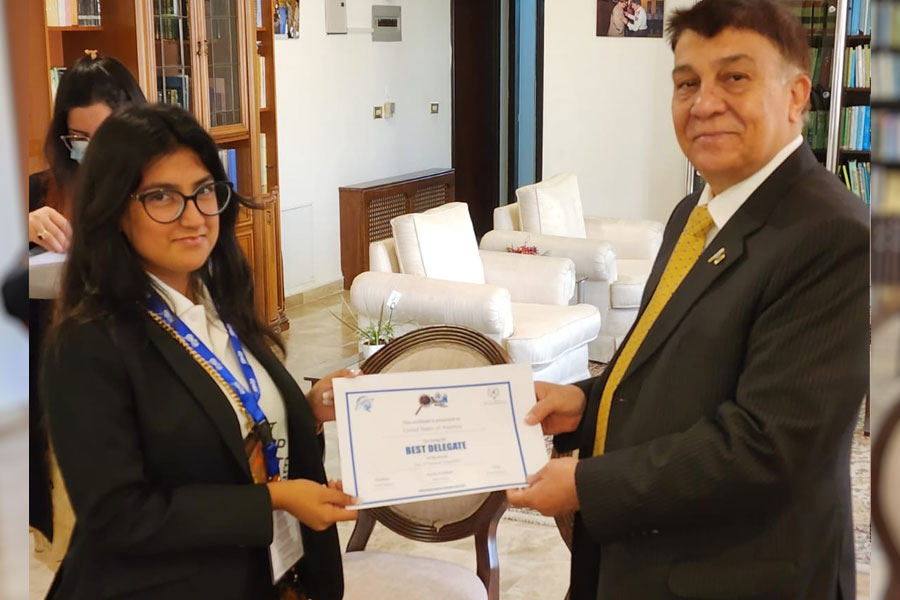 I was the delegate of the United States in the 3rd General Assembly and my experience throughout those three days, in one word, can be described as quite stirring. Each day there was one thing or another to look forward to and even though the pressure was mounting on us, our passion and zeal drove us forward and made it seem possible to reach our goal.

Standing at the podium, addressing the audience, interacting with other delegates, making your point and creating your stance on each topic and resolution being presented; showed us our own potential and our capability of achieving our goal and becoming the best delegate. However, all in all, it was an unparalleled experience and an amazing opportunity to showcase our competence on an international level.
Haajrah Baksh
This year we attended AMMUN a Model United Nations Conference held by Amman Baccalaureate School. I participated in the Committee Economic And Social Council and had the honour of receiving the best delegate award.

We had the opportunity to sit together and draft suitable solutions where we all could play a small part in aiding the world's largest crisis but apart from this, it was a life-changing experience, to say the least. Many of us go by life without actually experiencing it but at the age of 15 I had the opportunity to be arbitrary of change and for that, I would like to thank my trainer Murtaza Jafry.
Falisha Shah
Going into the Human Rights Council, representing the United Kingdom, I first thought would be easy, however, I realized that it doesn't matter which country you represent – what matters is how you defend it. Overall, interacting with others came quite easy since they were quite open and were ready to put themselves out there. The biggest takeaway from this whole experience was how to be confident especially since you would be speaking in front of 50+ individuals while having to critically think when faced with difficult situations.
Anaya Shafiq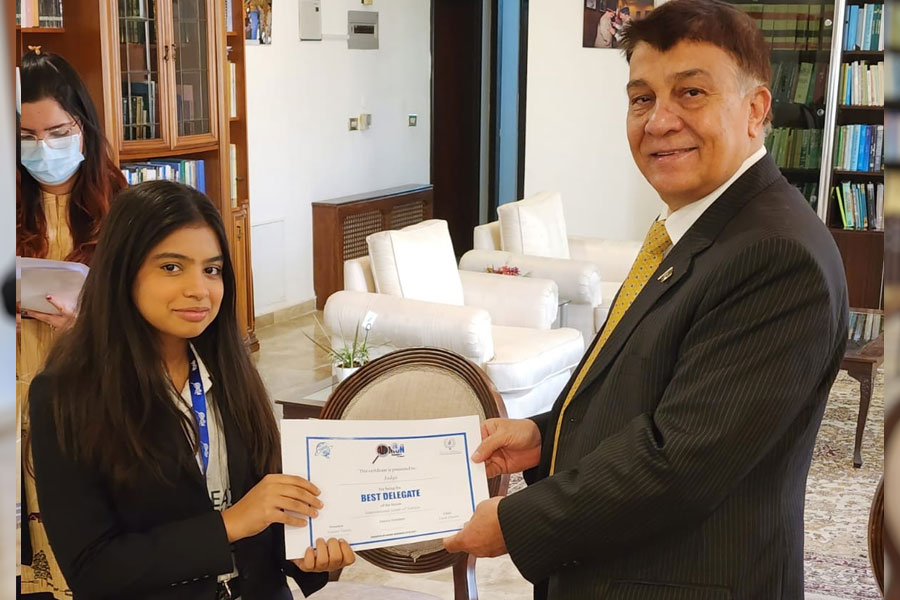 If I had to sum up this experience in one word, it would be "eye-opening." We all live in our own little bubbles and are only exposed to the world up to our eye. In the midst of it all, we forget that there is a vastly larger world than the one we have constructed for ourselves.

In addition to helping me redefine my limitations and set new goals for myself, my trip to Jordan was a character-building experience that demonstrated that you could accomplish a lot once you believe you can. We limit ourselves too much, and there is so much more out there that we can strive for.

A team of nine of the best delegates returning from Jordan was simply an unrealistic aim, but now that we've achieved it, I firmly believe that constraints are only what we convince ourselves of.
Raahim Chagla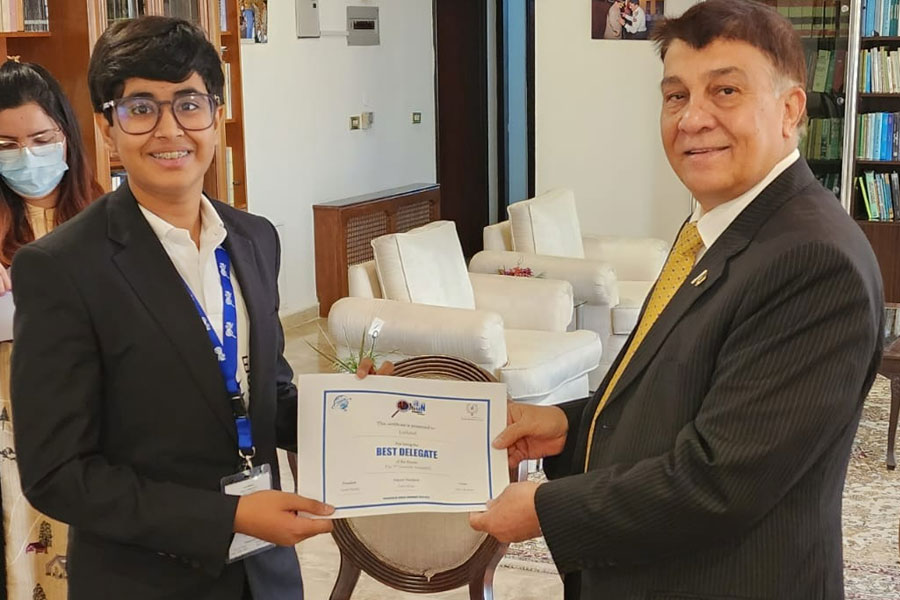 The whole experience of being in Jordan was a lot of fun. We got to stay with our friends and relax. Throughout the conference, we met new people from all over the world. They had all internalised the countries that they were representing. It was a tough game to get the best delegate but each delegate pushed through and did their best.

However, in the end, there was only one. Getting the best delegate award, there was an expression of shock and happiness on my face. I was surprised how I pushed through and got the best delegate over 120 other delegates. There were some ups and down during the conference days, however, our supportive teacher, Mr Murtaza Jafry, motivated us to push through, despite the fact that we were losing confidence.

In the end, each one of the delegates from our delegation pushed through and we exited the Karachi Airport terminal with the best delegate certificates in our hands. We were greeted with familiar, smiling faces and we were embraced warmly. Each one of the delegates went home with a happy face accompanied by proud parents.
Team MJ was later invited to the Embassy of Pakistan in Jordan by Ambassador Maj. Gen (Rtd) Sajjad Ali Khan. The Ambassador congratulated the Pakistani Delegation on their flawless achievement at AMMUN 2022.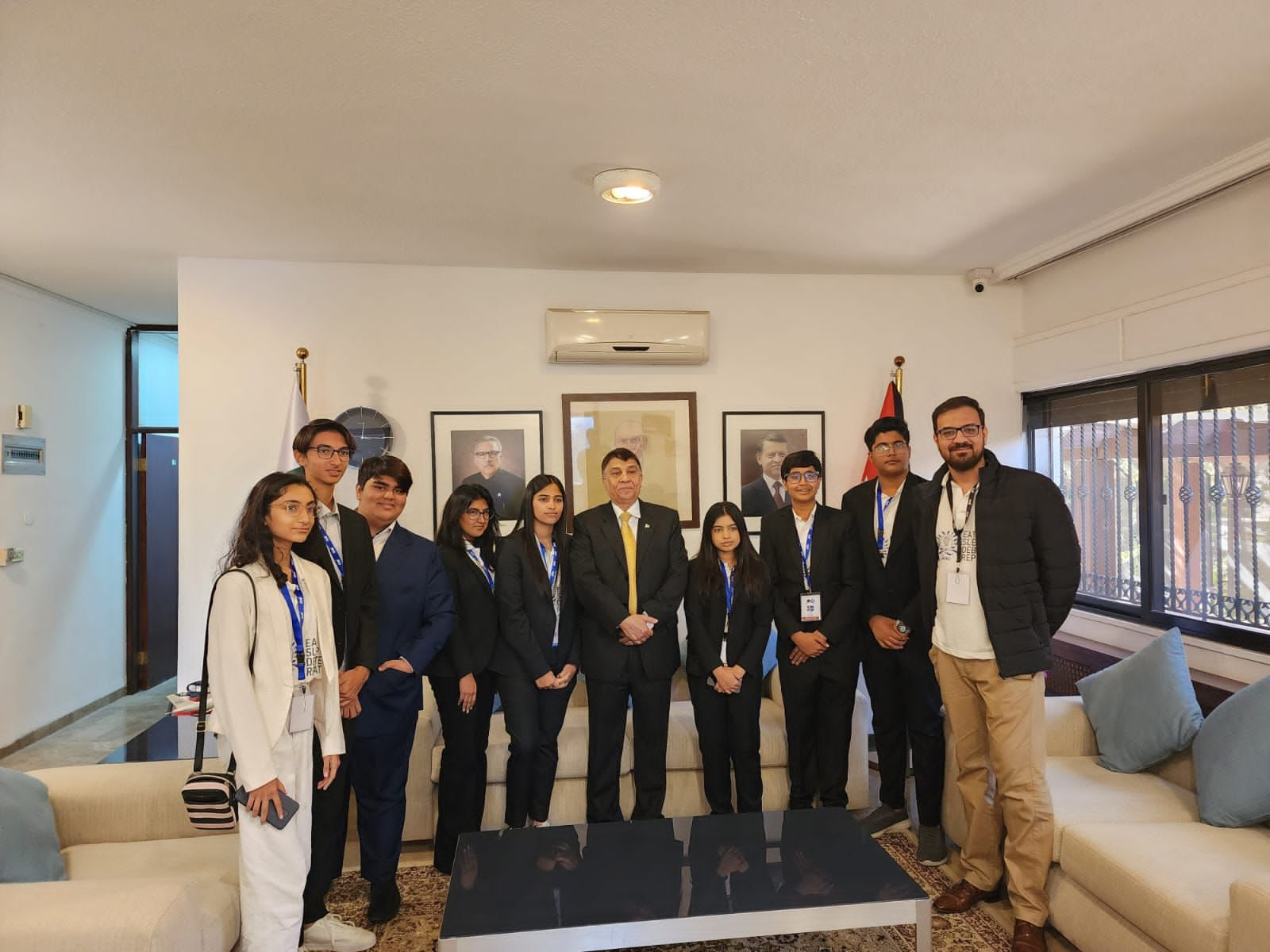 About AMMUN
In today's constantly evolving world, the Middle East finds itself at the epicentre of many of the political, social and economic changes. The youth who raised their voices against oppression and called for freedom during the heady days of the Arab Spring proved to be a catalyst for change and continue to press for reform.
Therefore, it has become AMMUN's vision to provide a platform for youth in the Middle East and from all corners of the globe to hear student delegates speak their minds and continue the call for reform.
Investing 4 years of training and 9 months of work in preparation for AMMUN and working in a range of departments; administration, conference organization, media, finance and the secretariat, the AMMUN team hopes that every step taken is a step down the path towards a dream of continuous success and uninterrupted growth.
Until next time, stay tuned to WOW360 for more news and all the latest updates.