Pakistani movies are ready to hit cinemas after the pandemic and they'll be opened very soon for all the film lovers. 
Netflix series La Casa De Papel also known as Money Heist broke records internationally – becoming a superhit series ever since it released. However, you all will soon see a desi Pakistani version of the movie on your screens called '50 Crore'
Want to know more? Lets dive in!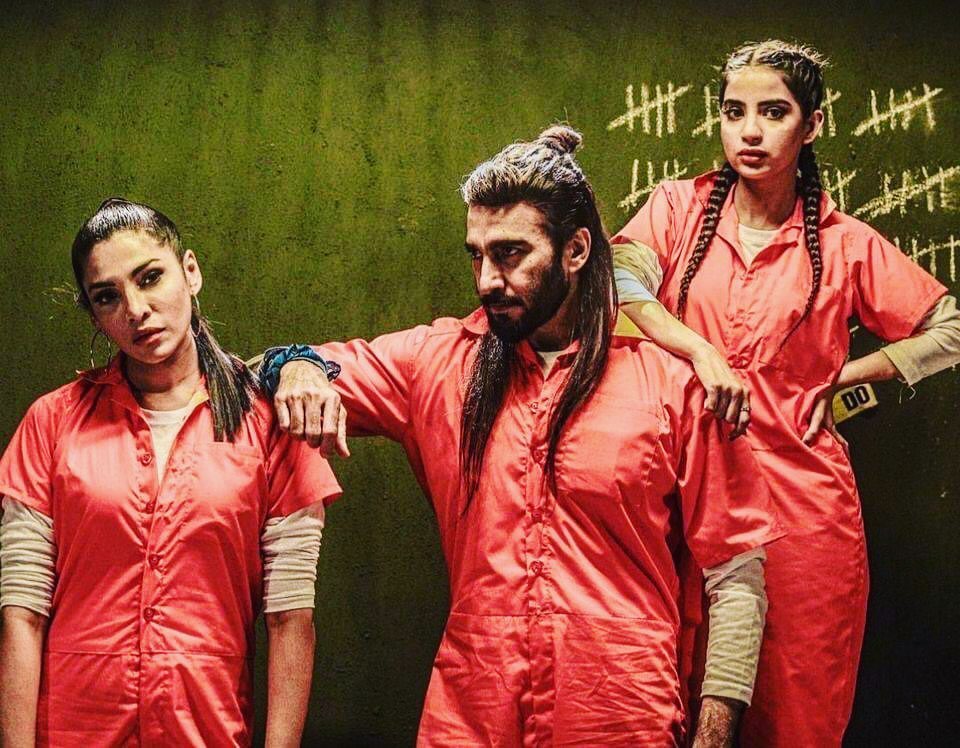 10 Pakistan celebrities including Faisal Qureshi, Saboor Aly, Zalay Sarhadi, Asad Siddiqui, Anoushey Abbasi, Faryal Mahmood, Naveed Raza, Umer Shehzad, Mehmood Aslam, Noman Habib and Ijaz Aslam will be starring in the upcoming Pakistani film.
Recently a mugshot poster was released including all the celebrities. 
What seems interesting is that each celebrity is named after a city in Pakistan such as Ijaz Aslam as Rahim Yar Khan, Aly as Sahiwal, Abbasi as Bela and Zhalay as Mianwali.
Ever since the picture took over the internet – Social media users immediately pointed out the similarity between the upcoming Pakistani film to Netflix series Money Heist and Twitter users just can't stop with the trolls and believe that the movie will be a complete rip off of Money Heist.
The internet is exploding with memes and people can't stop laughing and making fun of the upcoming '50 Crore'
Here are a few trolls on Twitter regarding the film:
They go for HBL heist and the accountant will tell them,
"SIR SERVER DOWN HAI, MONDAY KO AANA SUBAH SUBAH".#50Crore https://t.co/qt74E6JTy5

— Dev!L 2.0 (@Iv2cky) October 19, 2020
Money heist
Money heist lite#50crore pic.twitter.com/Jg7PPGcfel

— Saqib Karim (@ARMANI1056) October 18, 2020
am i the only one who finds this embarrassing?? why did they think this would be a good idea😭😭 pic.twitter.com/X8VMSLvB5y

— Manal (@manalalis) October 18, 2020
Ghareebon ki money heist!#50crore #PakistaniMovie #MoneyHeist pic.twitter.com/coiomzimBY

— Zeeshan Khalid (@Zeelander90) October 16, 2020
Pic (1) what you order
Pic (2) what you get #MoneyHeist #50Crore pic.twitter.com/jEzGHLLzza

— _.eeza 🐼 (@Eeza_here) October 18, 2020
Money heist 1080p Money heist 144p#50Crore pic.twitter.com/STdJGmi7eO

— IHassanHK (@hmuhammadhk11) October 18, 2020
On the other hand, after coming across thousands of trolls and memes regarding the similarity between Money Heist and 50 Crore – here is what the upcoming Pakistani film's director had to say:
"We understand the similarity with the internationally renowned series but for us it is much bigger than that. We are not just inspired by the story lines of the western movies like Oceans Eleven and other similar hits but are also extremely thrilled to bring a similar concept to the Pakistani film industry."
Nonetheless, despite of constantly being trolled on the internet due to similarity in content – the upcoming movie is going to be quite an entertaining and an action-packed film and is going to be something new to see on the big screen in Pakistan. 
The official release date hasn't been announced as yet by the production house.
What are your thoughts on this? Let us know in the comments.
Stay tuned for more exciting articles and updates.