Ahad Raza Mir is known for not giving many interviews and leading a personal life. He tends not to overshare his experiences even though most celebrities in the entertainment industry tend to share their lives with the public by revealing private details ever so often and let's not forget that social media plays a vital role in making the process seamless and easy.
Finally, after years of staying in the industry, the star sat down with YouTuber Anas Bukhashand and gave a candid interview that revealed many hidden things about him.
Here are 5 things Ahad Raza Mir would never reveal about himself if it weren't for this candid interview:
1- He Left Canada to Give Acting a Shot
Ahad lived in Canada for the longest time and only moved to Pakistan to give acting a shot. He had to leave his life and family behind, which was difficult for him to do. He also mentioned he didn't pursue acting because his father was in the industry, but he deeply felt this was his forte.
2 – He is Close to His Mother
Like all boys, Ahad also shares a strong bond with his mother, Samra Raza Mir. He said he is close to his father, Asif Raza Mir, but obviously it is not the same as his mother.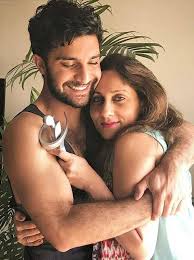 3 – His Grandfather and Father have both worked in the Entertainment Industry
While it was quite a turn for Ahad to leave his life behind in Canada, he said he looked forward to coming to Pakistan even though he had been kept away from this side of his father's life for the longest time. Before he entered the field, his father and grandfather both worked in the entertainment industry.
4 – He Makes Decisions Based on Intuition
Ahad revealed he takes decisions based on intuition be it leaving Canada to move to Pakistan, studying drama, giving acting a shot and so many more similar decisions.
5 – He Married Young Because He made an instant connection with Sajal Aly
Marriage is a huge decision for everyone. Especially today, people tend to take more time to understand each other. More so often, they don't end up being with people because of excessive scrutiny. The case was different for Ahad Raza Mir. He married early as he felt an instant bond with Sajal Aly. He said they are perfectly compatible and completely different people.
Watch the full interview here:
Have something to add? Let us know in the comment section below.
For more news and updates, stay tuned to Wow 360.