9th December: Pakistan's latest local airline, AirSial is all set to begin operations this month. The crew of the airline will be donning tailored designer-wear created by none other than Nomi Ansari.
The team at Nomi Ansari is delighted to announce the collaboration between the airline and designer.  In a post, the team wrote:  We are delighted to announce our affiliation with Air Sial! As the airline is set to spread its wings, we have designed a range of sleek yet stylish uniforms for its crew members. ✈️
This is not the first time when Nomi has designed tailored uniforms for an airline. Pakistan International Airlines' (PIA) crew currently wears his creation with a headscarf created by, Sania Maskatiya.
See you onboard!
See you onboard!

Ticket bookings are Open Now.

Visit https://t.co/OPxix0B6i5 or dial 021-111-247-742 for ticket reservations. #AirSial – The Pride of Pakistan

#FlyAirSial pic.twitter.com/5qQq7bRcKQ

— AirSial (@airsial) December 5, 2020
While the uniform for women is out, men's uniform is undergoing a few changes and will be out soon. The general public will witness Air Sial's staff in his yet another sleek and stylish creation in no time. Here's to hoping the aviation industry in Pakistan will improve after Air Sial begins its operations in the country.
2nd December: AirSial Limited is the first Pakistani airline owned by the business community in Sialkot. The airline's formal launch is all set to take place on the 9th of December by Prime Minister Imran Khan in a special ceremony held at Sialkot International Airport. The details were revealed by Chairman Sialkot International Airport Limited (SIAL), Mian Naeem Javed, on Tuesday in a meeting attended by Vice-Chairman Qaisar Iqbal Baryar, Chairman AirSial Fazal Jillani, Vice-Chairman Muhammad Afzal Shaheen, and CEO of SIAL Babar Iqbal.
The privately-owned airline is all set to enter into commercial flying! Today, local news outlets have announced the delivery of its first Airbus A320 in Karachi. Other than that, two aircraft will be arriving shortly to join the fleet.  All three aircraft are leased by the world's biggest aircraft leasing company in the world, AerCap.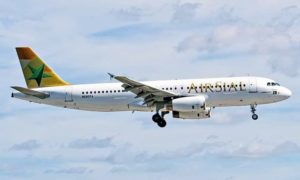 The first flight took off from storage facilities at Phoenix Goodyear Airport, Arizona, on the 27th of November. It began its journey to Karachi, Pakistan. Due to range limitations, the aircraft made several stops at airports in New Hampshire, Northern Ireland, and Egypt before arriving in Pakistan.
While the airline will formally launch on the 9th of December, operations will take some time to commence. Many sources reveal that the airline will be operational from Mid-December 2020 across 5 cities of Pakistan, which will include Islamabad, Karachi, Sialkot, Peshawar & Lahore.
Reportedly, the operations will commence with 3 daily flights from Karachi to Lahore & Islamabad. The airline plans to add 3 weekly flights to Sialkot and 4 weekly flights to Peshawar soon.
AirSial is now a reality and the only airline established by the Pakistani business community by themselves. 

Message from the Chairman:
In a PR, the chairman, Mian Naeem Javed, said, "Honorable members of the Sialkot Chamber of Commerce were determined to accomplish this project. During the past years, we had gone through testing times; particularly, Covid-19 has changed the entire dynamics of the Air Sial to Formerly Launch on 9th December, Airbus A320 Receivedaviation industry. However, with the constant support of all EBODs, we, as a Team of AirSial, are now seeing this "Dream to come true."
If you are an avid traveller, the news must have come as a fresh breath for you. Hoping this airline provides Pakistanis with a top-notch travel experience. Have something to add? Let us know in the comment section below.
For more exciting news and updates, stay tuned to Wow 360.