Kanza Malik is the captain of the team Bikestan Crank Addicts and Pakistan's national cycling champion. Asma Jan has won the gold medal in the women's 40 km cycling race after recently entering the cycling arena.  These inspiring ladies participated in the national cycling championship 2020.
Both are mothers, in their thirties and forties respectively. It is very inspiring to hear about their journey into cycling, what it's done for them and how they're going to take this forward on an international level.
Our editor-in-chief, Farhat Kapadia Mehboob, sat down with National Cycling Champion Kanza and Gold Medalist Asma to speak about their journey as cyclists.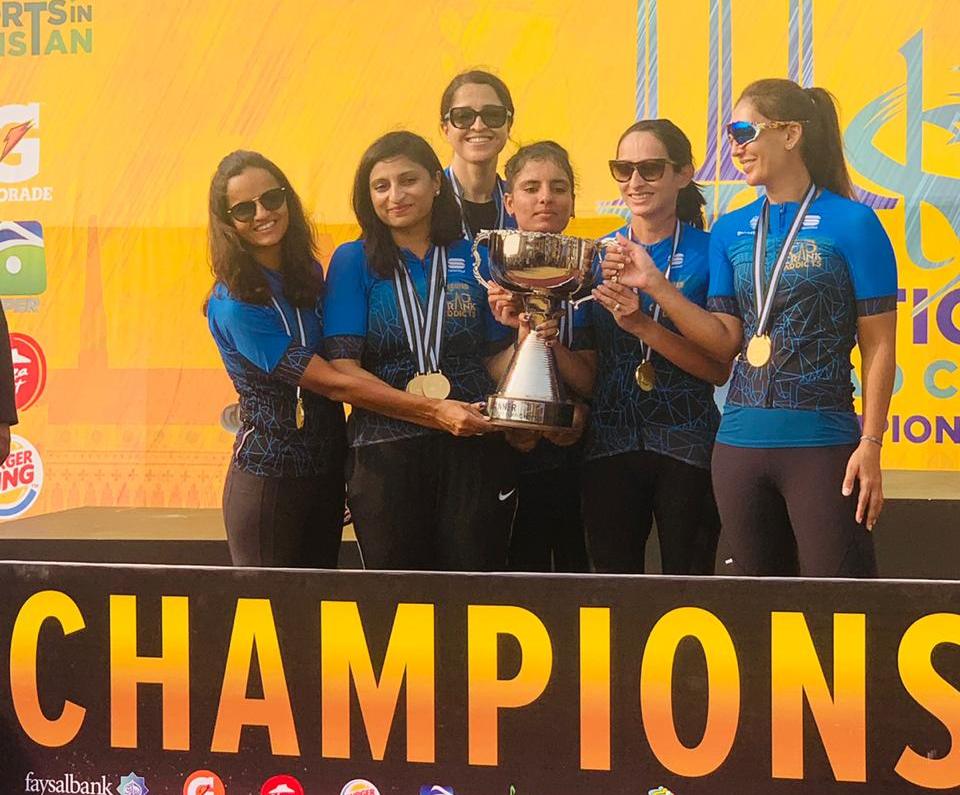 How did you develop a passion for cycling?
Kanza Malik: Well, I had done sports all my life, and cycling was something that was a recreational break from a very hectic, tough routine life with work and children. My husband started cycling with his friends and he started really enjoying it. He knew that, of course, I also needed that outlet and he really encouraged me to go out and have fun.

And slowly when you feel the speed, the thrill, it's a really great sport, as in, it's not hard on your joints. Overall, it's really fun because you're enjoying , socializing as well as exercising. Someone saw me cycling and asked me, why don't you try out for the nationals two years ago. So that's how it started.

 

Asma Jan: So I got into cycling purely as a result of COVID. I'm a polo player. I've played polo all my life. So for me to have to let go of the stables as a result of COVID was very difficult, but I made a conscious decision that  is best to just shut the stables for now and take on something entirely new.
You Recently Started Cycling and Won a Gold Medal in the Competition. How did that happen?
Asma Jan: when I took on cycling it was something I realized I should have done all my life. First of all, my grandfather was a champion cyclist, in 1938 and in 1940, he was chosen to go to the world Olympics. His name was Mehta Abdul Khalique, and he was a champion cyclist. So when I was introduced to cycling, it was something I figured that I will be cycling, the same as something daddy was doing, which I had never thought of in my life. I'm very sporty and I did a time trial, Kanza was also there . As my timing was very good I was able to get into the team.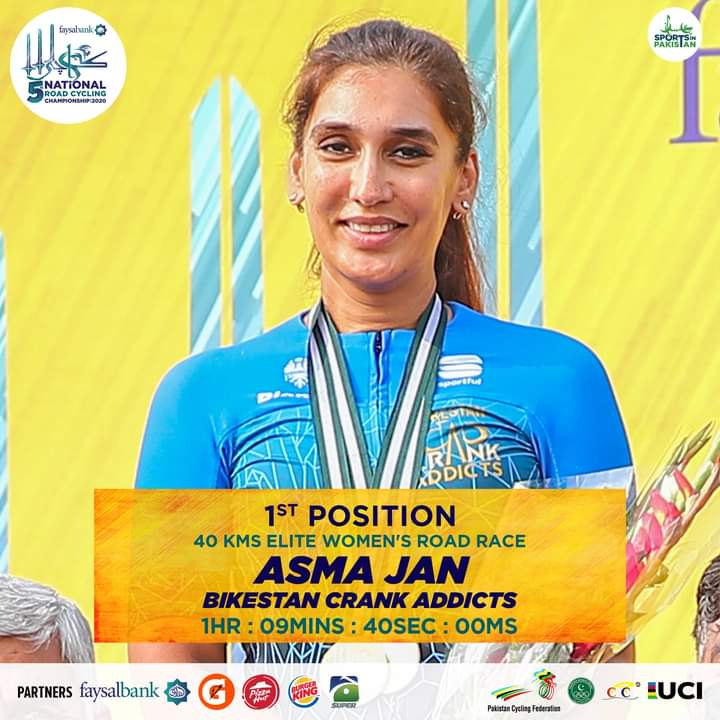 How much preparation is required to compete on a national level?
Kanza Malik: I think competing at a national level takes a lot of blood and sweat and it requires a lot of pain. You need to have a high pain threshold and a lot of grit and there's really no two ways about it. As Asma mentioned, you can't really cut a lot of corners. You have to put in that hard work – make your heart and legs go through that structured training so that you can make it on the national field.
Tell us a bit about training – is there structured training? Where do you go to train for road cycling?
Kanza Malik: When you ask about training, yes, we do structured training.  Unfortunately cycling for the past decade or so, they've just been putting in a lot of hours in gyming and that's not really the way science tells us to do this. It's more about varying how much stress you put on your heart versus how much stress you put on your legs. There will be different days, and you cannot continue to do it. So you will do hard threshold work, and then you will do the spinning. Then you will take a break.
If you aspire to become a champion, what kind of cycles and equipment is required? Are they easily available here?

Kanza Malik: So that's a very good question, which is why it isn't easy to pursue this sport all the way to the nationals. It doesn't really matter in training what equipment you have, as long as you have a bike it's usable. It does matter if it's a road bike or just a simple off-roading bike. It matters because you get used to the aggressive geometry  but as you go on and when you want to compete and want to put all those gains you've made to your body into speed, yes, you need the equipment. And for that, you need carbon frames.

 

Asma Jan: Yes, the equipment is very important. You do need a race bike for the national championships, you definitely need to upgrade your equipment. You have to have the carbon wheels to go with the carbon bike. When I didn't have the carbon wheels, even in the training I was falling behind the rest of the Peloton. I would be the first person to fall off the Peloton, which is quite dramatic when you're training, and you're not able to keep up. I was using so much of my energy and power, but it was not translating into anything positive. For that, Kanza, the captain of the team, advised me that your wheels are just not going to cut it, It is just not going to happen. She arranged wheels for me, which I got right before the nationals and as soon as the wheels came, you know, the training just went to a whole different level.
What do you most love about cycling?
Kanza Malik: It's probably one of the best exercises there. The thing is that it's actually very easy on your body. So when you're running or doing other exercises, there's a lot of strain overall on your body while you're doing cycling, your knees, your joints, your ankles, none of them are being strained. You're just losing inches like anything, and this is coming from someone who has done sports their whole life and tried all these certain day challenges, etc. to remove the post-baby weight that I could not lose before cycling.

 

Asma Jan: When I took to cycling, I realized it was the next level of fitness. It was an overall fitness for the entire body. I've never felt so fit in my life. Although I've been into fitness for so long, cycling gives you the edge. It has made a tremendous difference. I look at myself four months ago and I look at myself now, its transformed me to become a new person. So, I think it's excellent.
You're both mothers, and in your 30's and 40's respectively, people tend to avoid strenuous sports as they get older, any comments?
Kanza Malik: I think you, you are as strong as, as hard as your mind. I can't blame a lot of the women for being this way, because this is what they've seen. They've been brought up – this thought, being entrenched in them that it is over and after marriage half of your life is over and after children, you have to live for them, that's it. You can't live for yourself. It's completely over. So I don't think I blame them, and I really hope with the Bikestan Crank Addicts team and with at least my team coming forward, we can really inculcate this culture. A woman is an extremely strong being and if she is determined as normally women are, if they get a chance at any age. So cycling actually is a sport that has no age. As I, as I told you, the science of it, it's not hard on anything of your body. It's not hard on your joints so if you come in and you train and have zero sports backgrounds like the few team member. They come, and they train, and they come to a level which they can compete in the nationals. So there is no age or limit to who can come into cycling. You need patience and a lot of persistence.
How safe is it for women to cycle alone, and do you ever face harassment?
Asma Jan: Unfortunately, in Karachi, you can only train on the roads in phase 8 or a few of the other areas of Karachi but what I have to say is that you have to be confident. There are people laughing at us and would come really close on the motorbike and scream at you. You could tremble etc, but you concentrate, and you have the bigger picture in mind. I realized that these kids – they are kids to me right. They don't know any better, and this is just like fun and games for them. They don't realize they can cause an accident here or somebody's life is at stake here. When we are training, you are concentrating that power that you're able to crank out at that time, but nobody understands that. So, unfortunately, that is a part of it, but what do we do with it? We have to deal with it. If I kept getting harassed by these people on the street, trying to harass me, I would never be able to compete in the nationals. I make sure that I'm there in broad daylight and my driver is on-call, he doesn't really follow me, but he can, if their issues in broad daylight. I find this much easier, but it's not the best time to train as it starts getting darker.
 

Kanza Malik: Our society right now is not that equipped for women to go out there and be training in cycling clothes. What we've done for it, as Asma also mentioned, we take precautions to decrease the risk of harassment or being out there alone as much as possible. How do we do that? We know that 6:00 Am to 8:00 AM is our cycling time and we have different groups of riders all around – walkers runners, riders, at least in Karachi. In Defence, fitness has become a big thing now so there are a lot of people around you and it will be very difficult for someone to mark you or harass you. So for me, it's a huge source of comfort even when I leave my house alone almost every morning for riding, I know that around the loop, there will be at least three or four different groups. There will be other team members riding.
Have you thought about competing on an international level?
Kanza Malik: Asian Games and South Asian Games always come up. Even last year, I was selected for the South Asian Games, which were to be held in Malaysia, but because of COVID and other political reasons. We couldn't go through, but Pakistan always participates.

So in March next year, I'm really looking forward to them and we will inshallah, I think Bikestan Crank Addicts would definitely represent Pakistan.