Centuries ago, Velvet was once upon a time exclusive to French royalty and a staple in the closets of celebrities. Even today, with a hundred kinds of velvet available in the market, it still articulates of luxury with its silky-smooth texture and jewel-toned finish.
Since the festive season is here, we are here to embrace the elegance of velvet and most importantly guide you on how to take care of it. Velvet is a tricky material to style, and if not styled correctly, the same luxurious cloth will make you look wide and out of shape.
Here are some tips to save you from the drama
In Pakistan, winters span over a short period, this is the best time to don your velvet pieces. Start adding little bits to your wardrobes such as velvet capes, trousers, kaftans and experiment before spending a hefty amount. Velvet is flexible; you can either dress it up or dress it down, according to your needs. For a bolder look, wear statement earrings, strappy heels, and a statement clutch with plain velvet dresses. With pieces that are already too crowded, keep it minimal, let the piece shine on its own.
When choosing a velvet outfit, make sure you pick a colour that compliments your persona. Your best bet would be to choose a dark one, play it safe. Since velvet is a thicker material, only slim-fit cuts will make you look good. Otherwise, your outfit will look like a lost cause. People have also been trying out lighter colours, but it depends on person to person. If you think you can carry it, then why not?
Velvet Jackets
Velvet jackets are also a thing this time around. Many designers have come up with velvet jackets full of embellishments. If you fancy jackets, might I suggest, this might be the outfit you need this festive season. With an outfit like that, pulled back hair, heels, and studs tend to look better.
Festive Velvet Kameez
Basic kameez with kaam and other fancy embellishments of your choice can be paired with same colour trousers. With a deep back, a bun with gujray will look absolutely stunning. For jewellery, use a heavy pair of jhumkay or any other kind of earrings you prefer.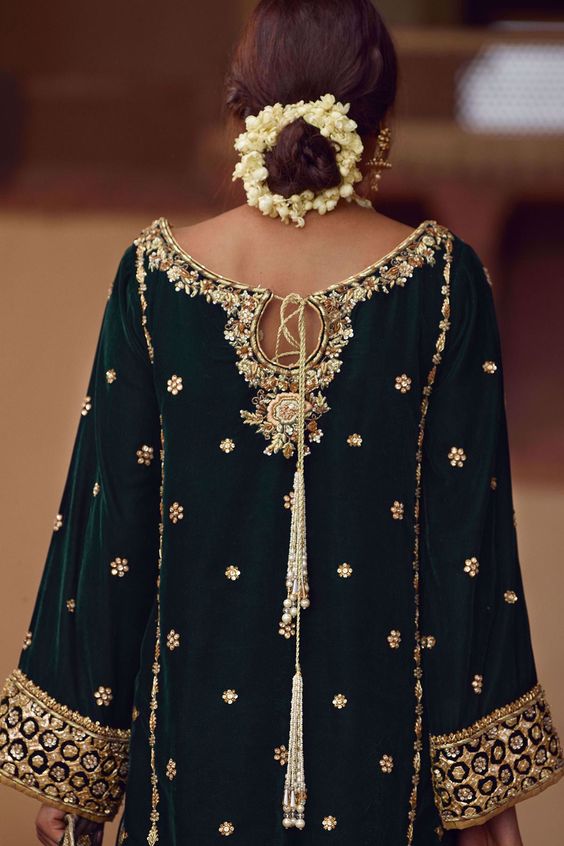 Velvet Trousers
Slim fit velvet trousers look pretty great with solid tops, long or short with a sherwani collar. Some lace or intricate flowery patterns will add more oomph to your outfit. Paired with plain heels, velvet trousers, if picked correctly, can lighten up your night.
Kaftans
Kaftans are not everyone's cup of tea. However, they are trending. A lot of people have been spotted donning them this festive season. Kaftans can be styled differently depending on the kaam on them. A simpler kaftan means bold makeup, dramatic eyeliner, blowdried hair, and pair of strappy heels. Something fuller can be paired with little jewellery pieces, and a well-sculpted and contoured makeup look.
Shawls
Shawls seem to do the job too! You can pick an old outfit from your wardrobe and pair it with a new velvet shawl full of embroidery and embellishments. Tada! You have a completely new stylish outfit at your disposal. Plus the shawl will keep you cozy too!
Once you have chosen a piece to experiment, here is how you take care of it:
1 – We think we need to iron everything but not this cloth. Avoid ironing velvet as the heat can damage the pile texture. You will ruin it as it will look flattened and unattractive. Instead of ironing your velvet, experts suggest to steam it inside out. You can steam on the lowest temperature from a distance with a quick hand. Steaming in some areas for longer will most likely damage the colour.
2. Velvet can't be folded and stored in a corner. If you do fold it, you will end up with noticeable lines that will break the consistent pattern and direction of the fibres. Store it in the open on a padded clothes hanger.
3. Feel like you have worn it plenty of times, and now its times to wash? Nope! Dry clean only. Most tags also instruct dry clean only. Adding it to your washer will again disrupt the look of the garment. If you have spent a lot of money on the piece already, spend a little more to keep it neat and clean. In some cases, hand wash is okay too.
Fancy a velvet piece? Let us know which one in the comment section below.
For more news and updates, stay tuned to Wow 360.