Chicken Wings are a relatively new culinary creation, having been invented as recently as 1964 by the Bellisimo family, who owned and operated "Anchor Bar" in Buffalo, New York. Today this classic is now one of the top menu choices at restaurants internationally and more and more eateries are specializing in serving this famous classic in increasingly creative ways.
This recipe is a fusion of an American classic with a homemade traditional Thai Sauce. A few substitutions are given below in case some of the ingredients are unavailable in the country where you live.
For a more detailed version of this recipe or if you have any questions and need to contact the author of the recipe go to untoldrecipesbynosheen.com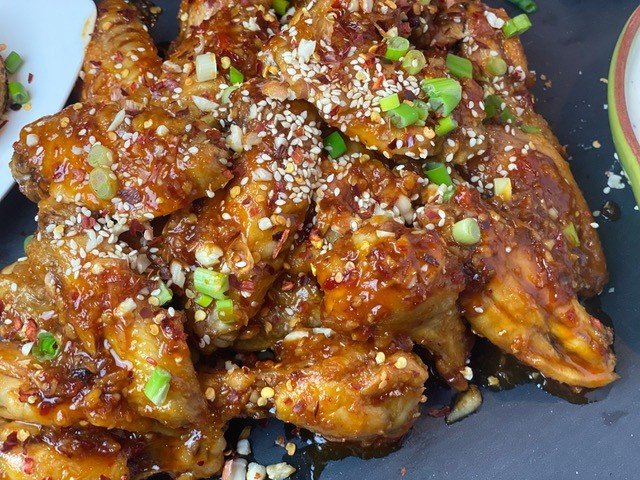 INGREDIENTS
Chicken Wings
4Lb Chicken Wings
2Sticks Celery (optional)
1Whole Onion
10Cloves Garlic
8Cups Water
1Tbsp Salt
¼Cup Franks Hot Sauce (or any spicy sauce such as tabasco)
1Tbsp Baking Powder
Thai Chili Sauce
¼Cup Sweet Thai Chili Sauce
¼Cup Sambal Oelek Sauce (Substitute: ¼ cup vinegar and 2 whole red chilies puree)
¼Cup Sriracha Hot Chili Sauce
2Tbsp Lime Juice
2Tbsp Soy Sauce
2Tbsp Rice Vinegar (substitute: Apple Cider Vinegar)
¼Cup Brown Sugar
1Tbsp Garlic
1Tbsp Ginger
1Tbsp Lemongrass(optional)
2Tbsp Dark Sesame Oil
4Tbsp Butter
Garnish
1-2Tbsp Chili Flakes
¼Cup Green Onions
1Tbsp Sesame Seeds
2Tbsp Peanuts
INSTRUCTIONS
Chicken Wings
If you get whole wings that need to be cut, remove the tip and discard, separating the remaining piece into the drumette and the wingette (I personally get precut wings to save time)
Put the 8 Cups of Water in your pot along with the whole peeled onion, celery sticks, salt, and garlic, and bring to a boil
Once the water is boiling vigorously add the prepped chicken and the Franks Hot Sauce and boil on medium heat for 8 minutes
Remove the wings using a slotted spoon, taking care to drain all liquid and lay flat on your cookie sheet rack to dry for about 10-15 minutes
Preheat the oven to 425° while waiting for wings to dry
Once the oven is ready dry off any residual water with a paper towel and toss the wings in the baking powder
bake for 30-45 minutes, depending on your oven, flipping them halfway through (prepare your sauce while the wings are cooking)
Remove from the oven and toss in the prepared sauce
Thai Chili Sauce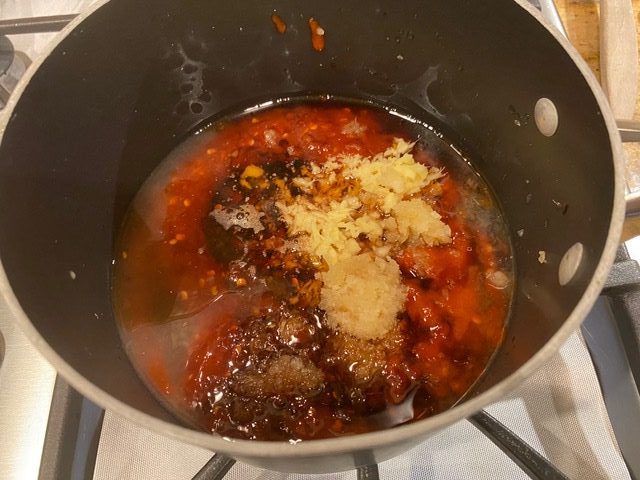 Grind, crush or grate your garlic, ginger, and lemongrass
Add all of the ingredients to a saucepan and bring to a boil.
Simmer for 5-10 minutes to get a well-blended consistency
Cover and set aside till it's time to toss the wings
Garnish
Chop the peanuts (I use raw peanuts for this)
Finely chop the green onions
Once the wings are out of the oven and tossed in the sauce plate them and add all of the prepped garnish ingredients to the wings and serve. 
TIPS:
You can do some prep work ahead of time if catering to a large group. Boil your chicken wings and make your sauce the day before. Then bake and toss the day of.
Make a little extra sauce and save it for later. If you have any leftovers, reheat the wings at 350 degrees for 10 minutes and toss in the sauce you saved. They'll be good as new!
The sauce tastes great as a glaze on Baked Salmon or Chicken! Double it up and get a second meal out of it!
About Nosheen: She graduated from Southeastern University and completed her high school at Karachi Grammar School. She later worked at Bank of America and ANZ Grindlays Bank. She has also served voluntarily for several boards, including Treasurer of an Elementary School Board, Second Vice President of an Elementary School Board, Treasurer of a Middle School Board, and On the board of a Non-Profit (O.S.E.F-Ocean Springs Education Foundation)
For more interesting recipes from Nosheen, watch this space.