The origins of this delightful chickpea fritter can be traced back in time to the 16th century in the city of Gujrat in India. Today there are numerous variations of the pakora. The spongy bread-like variety is favoured for breakfast, and the crispier version is usually a tea time treat, often purchased from street vendors.
Crispy vegetable pakoras are the most popular type in India, and the "Beguni" (eggplant fritter) is a Bangladeshi speciality. Pakora curry, made with plain pakoras dipped in a yoghurt curry, has its roots in the Punjab region, while In Pakistan, the chicken pakora is increasingly popular. Try my chicken-pakora-kebab if you haven't already for a version of this.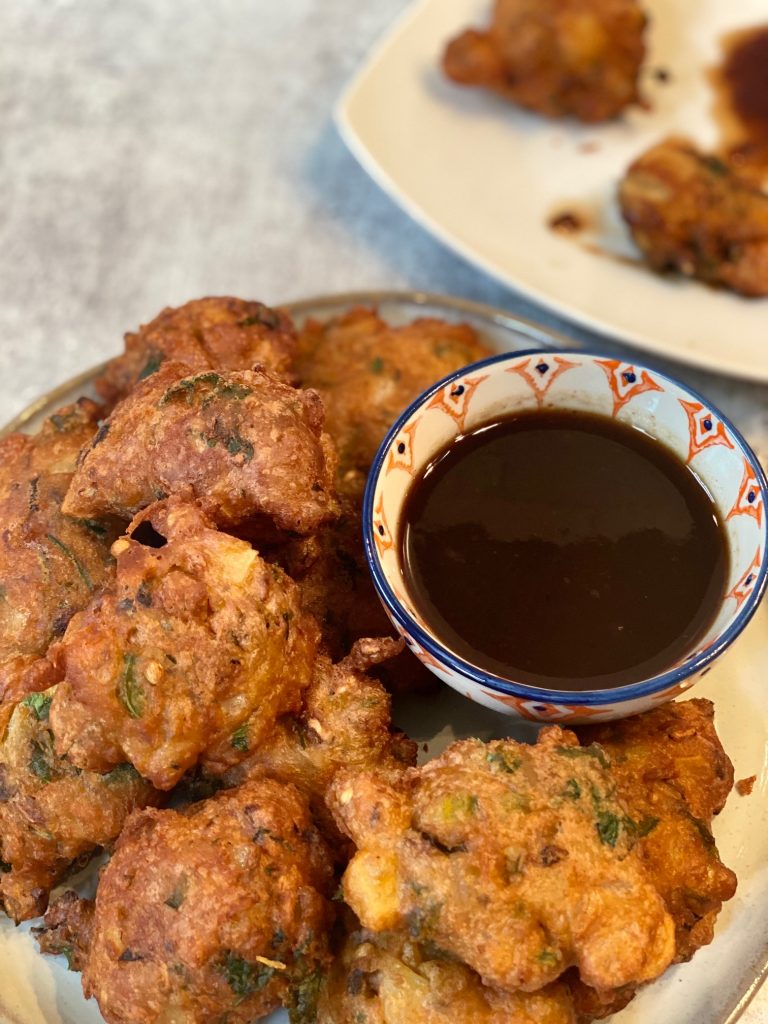 FUN FACT!
It is believed that Portuguese and Spanish traders stopped in India on their way to Japan and took the pakora recipe with them. The Japanese, in turn, changed the recipe to create what we know today as Tempura!
INGREDIENTS
1 cup chickpea flour
1 tsp salt
2 tsp red chilli powder
1 tsp cumin seeds
1 tsp coriander seeds
1 tsp dried fenugreek leaves (Optional)
1 tsp carom seeds (Optional)
1 tbsp pomegranate seeds
¼ tsp baking soda
2 tbsp cornflour (Optional-See Notes)
2 green chillies
½ onion
2 tbsp cilantro
1 baby potato
10 curry leaves (Optional)
2/3 cup water
2 tbsp yoghurt (Optional-See Notes)
2 cups oil
INSTRUCTIONS
Mix all of the dry ingredients and spices (and the cornflour if using) in a bowl
Finely dice the onion, chilli's, cilantro, potatoes and curry leaves (See Notes)

Add the water (and yoghurt if using) to the dry mix and stir well till there are no longer any lumps.
Add all of the chopped fresh ingredients
Set the batter aside for 20 minutes
Heat the 2 cups of oil to 375° F ((190° C)
Add approximately 1 heaping tablespoon of batter at a time and fry till the fritters are a deep brown Bottom of Form.
NOTES:
Corn flour: Corn flour can be added to make your pakoras crispier if that's how you like them. I use the yoghurt mentioned below for a softer version, but if you prefer yours crispy, leave out the yoghurt and add the cornflour.
Yoghurt: Yogurt will help make your fritters spongy and light. If you like the more bread-like texture, then this is a perfect way to get the desired.
Potatoes: The potatoes have to be very finely chopped—almost the same size as the onions in order for them to be cooked through.
For a more detailed version of this recipe and others, visit untoldrecipesbynosheen.com